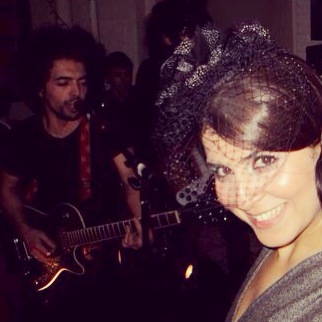 Ali Eskandarian performing New Year's Eve 2011
My first year of living in New York was a nightmare. This was 13 years ago. I had just arrived to the U.S. after the closure of the newspaper I was working for in Tehran. I had been thrown in jail for three months and after my release, I fled the country to avoid further harassment by the regime.
I did not know anyone when I reached New York City. I had no relatives or friends. Back in Iran, I had a life, an established career, and hung out with well-known Iranian writers. My future appeared promising when everything came to a sudden grinding halt.
Living in Hispanic Harlem on 160th Street in a cramped room was not easy - certainly not for a well-brought up Iranian girl. I had to make a difficult choice between toughing it out in the U.S. and returning to a bleak fate in Tehran. Finally, after many days and nights of mental anguish, I decided that life in a tiny room in Harlem was still better than a prison cell in Tehran.

Talented young musicians fresh from Iran regularly reached out to me to ask about the political asylum process. In the winter of 2011, I was at the residence of "The Yellow Dogs" rock band in Brooklyn with a few other Iranian friends.
I told them: "You're going to make it. The first couple of years will be difficult, but that's it." What else I could say then?
I met them for the first time on New Year's Eve of 2011. After dinner, my Iranian friends took me to Williamsburg in Brooklyn where I was told the rock band "The Yellow Dogs" were performing for free.

Full of the legendary Iranian charm and hospitality, their loft in Williamsburg was packed with Iranians and Americans. They appeared to welcome anyone who came to listen and enjoy good music. I chit-chatted with them during the break and returned to the house a few more times that winter.
Monday, November 11, I returned to New York from my an overseas trip and I was so jetlagged that I logged onto my Facebook and Twitter accounts in bed. And that is where I learned the horrible news of the shooting in Williamsburg. Two brothers from the band and a singer were killed by the assailant, who later took his own life.

The entire Iranian community in the US and many Iranians living in Iran were horrified by the tragic incident. I never met the shooter, Ali-Akbar Rafie-Zadeh, but what I read and heard about him indicated that he was suffering from a deep depression. He had been thrown out of the band, and he had failed to forge a new life for himself in New York.
He told one of his former friends, who was also injured in the shooting: "Why did you bring me in and then throw me out?"
The horrible reality faced by people who are compelled to migrate to another country can never be understood by those who need never go through it.
Many migrants from oppressive countries succeed in forging a better life for themselves; but many do not. To continue living with the burden of failure and the weight of unfulfilled expectations is torturous.
Few weeks ago, I joined a small group of journalists to meet Iranian film-director Asghar Farhadi at the Waldorf Tower in Manhattan to discuss his new Oscar-nominated movie "The Past".
At the end of the session, I put my question to Farhadi. After the tragic incident in Williamsburg, what message should young Iranians glean? Was it a mistake for those young musicians to have left Iran in search of a better life abroad?
Farhadi, overcome by sadness, replied: "In spite of all the difficulties in Iran, perhaps it is better to stay and brave those challenges, rather than leave the country. Perhaps, if we all stayed instead of leaving, we would be more influential and bring about changes."