During a lunchtime assembly President Barack Obama will announce to students, teachers and parents, "I"m working hard to fix up your classrooms... ...but you've got to do your part too." Fortunately for him, a global network has spent the better part of a year already doing their part.
The 2009 Open Architecture Challenge, a biennial design competition, brought together more that 7000+ K-12 students, teachers and building professionals to work on upgrading and expanding their learning environments into innovative, cost-effective and sustainable classrooms for the future.
Lead by Architecture for Humanity, Orient Global and a consortium of 30 partners, this initiative created over 400 buildable solutions -- from safe and sustainable alternatives to the ubiquitous portable trailers to urban upgrading in Colombia and India. From June to August an international jury of design professionals, educators and K-12 students went through every scheme before settling on eight finalists. Each finalist was thoroughly vetted and this week a winner was selected.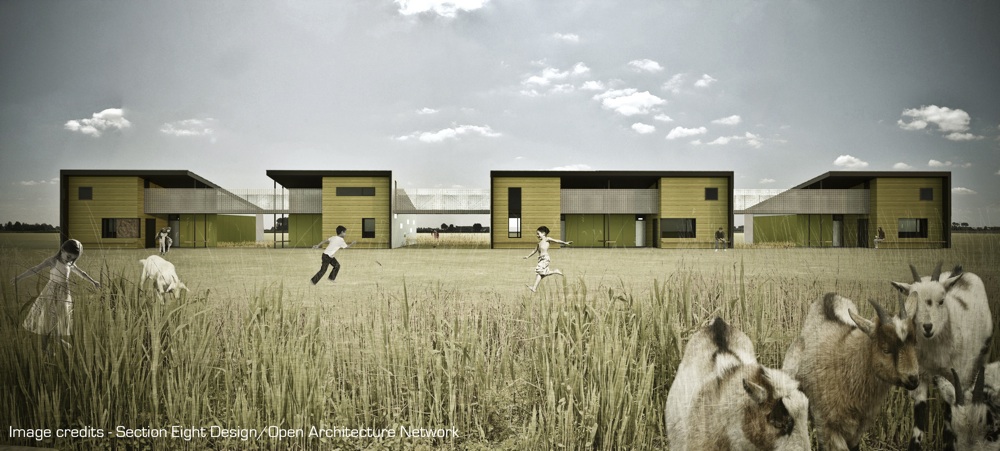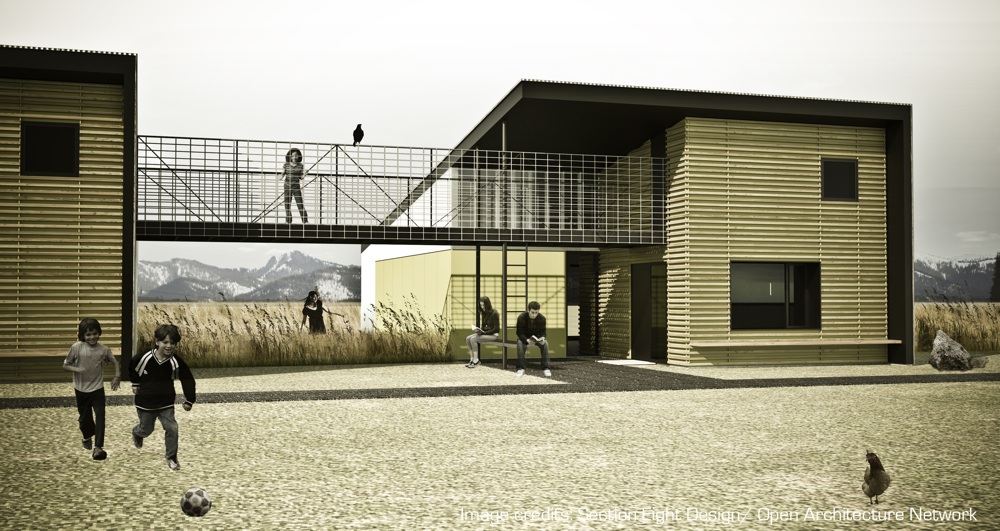 So this morning, an hour before the President takes the stage, a small independent non-profit school in Victor, Idaho (pop. 1200) will be holding their own special 'back to school' assembly to celebrate winning this international competition. The school, the Teton Valley Community School, receives $50,000 to help fund their new classroom and the winning design team, Section Eight [Design], is awarded $5,000 to help implement the scheme.
By providing cost-effective and sustainable teaching spaces the designers have looked to extend the learning environment beyond the four walls of the classroom. Movable panels allow students to reconfigure their space as needed. The building itself is designed to be a learning tool. The mechanical room, a building component normally closed from view, can be seen from the science lab allowing students to learn how heating and cooling systems function first hand. Their design for a potentially off-the-grid stand alone classroom will allow the school to emerge out of their existing structure, a remodeled house, into a space designed specifically for their students and teachers.
The lack of access to education is not only here in the United States but it is a global problem. The World Bank and the United Nations estimates more than ten million classrooms in one hundred countries need to be built just to give every child the basic right to primary education. Tens of millions more are in dire need of repair or improvement. The competition showed the sheer diversity of opportunities from tensile structures for the children of salt pan workers, a fog-catching school in San Francisco to an earthquake resistant traditional earthen school in Bam, Iran. Most schemes were priced $50,000 to $150,000 in the West and $2,000 to $8,000 elsewhere. Additionally by open sourcing these ideas we can transform and support the lives of more children around the world. All competition entries are held under a creative commons license, allowing designers to share their innovations with those who need them most.
This year long effort has shown that there is certainly not a lack of skill or desire -- it is, as always, the hurdles of enabling strong political will and committed long term financial support. We can either wait for the stars to align and for strong leadership to right the ship OR allow agile non-profits, progressive school boards and social ventures to collaborate and push the system in the right direction.
When six million children in this country are taught in portable trailers, many of which increase the risk of cancer, I'm not willing to wait. We, spurred on by the competition, are starting a $6M classroom upgrade fund with the hopes of improving at least 300 learning spaces around the world.
If the current administration truly believes that the United States has "the best schools in the world" then we should be encouraged to lead by example.
----------
Check out the winners and finalists here.
Challenge Winner: Teton Valley Community School, Victor, Idaho, USA designed by Section Eight [design], Victor, Idaho, USA
Founders' Award: The Corporacion Educativa y Social Waldorf, Bogota, Colombia designed by Arquitectura Justa, Bogota, Colombia
Best Urban Classroom Upgrade Design: Rumi School of Excellence, Hyderabad, India designed by IDEO, San Francisco, CA, USA
Best Rural Classroom Design: Building Tomorrow Academy, Wakiso and Kiboga, Uganda designed by Gifford LLP, London, UK
Best Re-locatable Classroom Design: Druid Hills High School, Georgia, USA designed by Perkins and Will, Georgia, USA
-----------
10am Update: Here is a photo from the Teton Valley Community School 'back to school' assembly.