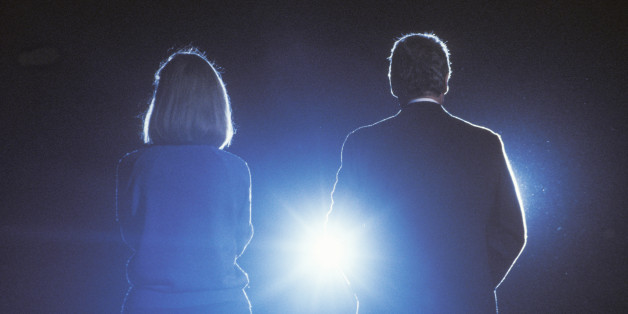 While the rest of the country has spent months getting to know these two candidates from New York, we've been scratching our chin, surmising how well Trump and Clinton will stack up. We're like a bunch of old geezers chessing it out in the park by Gracie Mansion. We may not know these two personally but we kind of do, don't we?
I've met Hillary Clinton's a thousand times over on Manhattan's Upper West Side - brilliant well-educated female lawyers with purpose. They are in a loving but often confusing marriage to their husbands who are equally capable and yet somewhat more at ease at a cocktail party. Couples who came to the scene out of nowhere - out of state, humble beginnings, something to prove. These women have a following, and a soap box - it's a real soap box, they're changing laws up in Albany, they're getting shelters built and volunteering at organizations which support a woman's right to choose. They summer in Woodstock or Vermont. They visit their brother's family in East Hampton. Their determination is their beauty. Their children struggle with the greatness of their parents, they intellectualize their family's real life missions with more yuppy leanings from the softer life of privilege they have already lived. It's an emotional struggle and it's a hard mantle to wear. When New Yorkers of a certain age say "I'm with her" I sometimes think, of course "You ARE her." You know this woman of women very well!
And don't you know Trump? You know you do. No, I'm not talking about the candidate. I'm saying there's a man just like him you know. Second generation, originally from Queens, made a mint, married a foreigner forging her way up the ranks of New York society, private schooled the children to new status. Of course, we also know Trump everything - the bankruptcies in Atlantic City, the glitzy developments, the man of the WWE, the clothing at Macy's, and now the Trump water bottles at Wolman Rink. We know him. Like a friend of mine said in the building business. We all knew them - Trump's Dad would drive by their locations in a black limo, roll down the windows and say, "For sale...." His dad would say "No." The window went back up and the limo disappeared.
I remember when I was at Forbes, heading over to Trump Towers as Trump was popping in to greet the media at the opening of the Gucci store in the lobby. He was much taller than I had imagined. Towering, charming, confident and less orange than on TV. Trump had a New York affectation of Queens. He was shouting at you even when he was speaking. He was arguing with you even when being friends. It's this thing we are so used to as New Yorkers. It barely registers and then you watch it on TV before the American public and you realize this old mob habit has a big effect on the out of work, out of hope men of this country.
Sometimes I feels like Trump surprises himself, as he declares things like "we're doing really well here." A loud mouth kid from Queens, visiting the Mid-West, and they like him. "Yes, it's all a bit of a surprise, in fact months and months of surprises. I want to shout back, "Yes, Donald they like you, of course they like you. You sound like the union chiefs they miss and in their eyes you're the rich great white hope -- King of The Apprentice!" Guys my age are clinking bud and foaming at the mouth with glee shouting "You're Fired!" into the television sets as they suck in the debates at Hofstra like another episode of a reality show with really high stakes.
Here's where things get really weird. A reality show, including the visual marketing package of a reality show set in a New York TV studio is going to set the tone and the course of the future of the free world. Those producers could never have imagined that. I've watched every highlight of this campaign show reel this year and this will be where Trump creates extreme tension ahead of the finale, plays the expert enough to impress but makes sure the public knows he's a businessman not a politician.
If Trump and Clinton knocked heads at the diner, she'd flip her hair out the swing door and roll her eyes in the morning rush with something pressing to do and no doubt he'd lean over the counter with a shit-eating grin to the white aproned short-order cook and whisper, "Dumb broad." The next week they'd eye each other sheepishly at a cocktail party in the neighborhood. Unfortunately, it's all a bit more serious than that.
Whomever wins I hope they pull off a New York miracle for this country, and consider serving the diverse valuable lives of our nation. May the winner strive hard for the growth and protection of our prosperity and freedom more than their own ends. They can't get elected without you. So one New Yorker to another - act, register, vote.
For more native intelligence follow us on @newyorknatives and on newyorknatives.com