Since 1976, when Muhammad Yunus made that first $27 loan to 42 women in Bangladesh, microfinance has been championed as a major tool for tackling poverty. Small loans have a rare ability: they give people the resources they need to lift themselves out of poverty. And what's more, these people almost always repay, no matter how poor they start out.
While microfinance has traditionally focused on women, more and more men are taking out small loans to build stable businesses and provide for their families. We see this every day at Kiva, the world's first and largest microlending website serving the world's poor. Our site is home to hundreds of loans for hard-working fathers, doing everything they can to give their children better opportunities. And anyone with an internet connection can help them get there by lending on Kiva.
So, this Father's Day, we want to celebrate four of these incredible men, and give you a sense of what even a $25 loan can do for another person, and all the lives they touch.
Eladio has grown cacao on the same farm in Belize all his life. And now, at age 54, he and his wife, Virginia, have built a 31-acre plantation to be proud of. He's also the dad of 15 children (grandfather of 13!), and is still working hard to teach them how to run thriving cacao operations of their own. All of them have grown up to be enthusiastic, engaged and tri-lingual, speaking 2 indigenous Mayan dialects and English.
In addition to cacao, the family grows mango, coconut, ginger, lemongrass and Jamaican lime. The farm has sustained the family for decades, and has even become an eco-tourism destination thanks to some ingenuity on Eladio's part. Today, his farm is a perfect example of integrated agriculture, with compost is used to enrich the soil, and sustain crops for years. This also means a lot more work though, and Eladio has taken it all on in stride.
Fortunately, he was able to get a $525 loan through local social enterprise Maya Mountain Cacao and Kiva to hire additional help and prepare 15 additional acres of land to grow more cacao crops. With the added income, he'll be able to invest even more in his family's livelihood and his grandchildren's futures.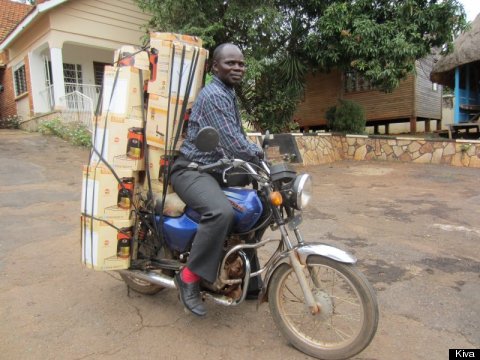 Aaron, the clean energy entrepreneur
Orphaned at a young age in rural Uganda, Aaron lost 6 of his 7 siblings, and was only able to complete 7 years of education before entering the workforce. But today, he's a well-known and respected member of his community.
Amazingly, like Eladio, Aaron is also the father of 15 -- 5 of his own children and 10 orphans he has taken in, providing them with shelter and sending them to school. He values being able to support kinds growing up without families, much like he did.
To better support this extended family, Aaron is buying and selling energy-efficient, clean-burning cookstoves that use 50% less firewood. Not only do these stoves help prevent respiratory disease, they also end up saving a lot of money and time that would have been spent to purchase or collect firewood. By bringing this technology to his community, he's making a better living to keep his kids in school, and he's helping others improve their quality of life at the same time.
To help him buy enough stoves to sell upfront from social enterprise UpEnergy, Aaron first took out a small $375 Kiva loan. But sales proved so successful that he's already been back for a much larger $750 loan to double his inventory. He paid off that first loan after just one month.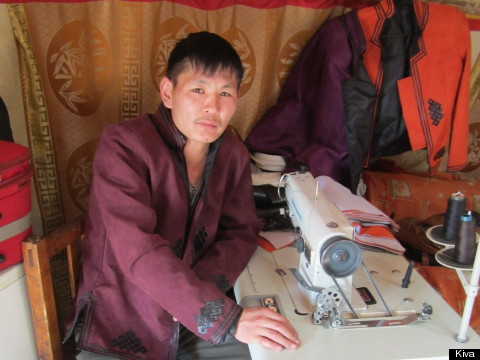 Erdenebayar, the craftsman
Living in a traditional Mongolian ger, or yurt, outside of the country's capital of Ulaanbaatar, Edenebayar is 36 with a wife and three kids. And even though they technically live in a major city, their residence lacks basic infrastructure, like running water. Even so, all three of his children attend a local secondary school -- an incredible achievement considering the tiny percentage of Mongolian students who make it past primary education.
Erdenebayar pays for all of this with the family's tailoring business, started with his wife in 2004. They still use their home as a workshop, but have steadily been making more money sewing dresses for national celebrations, weddings, and other events. Not many tailors can make these garments because they require specialized skills, but Erdenebayar and his wife have worked hard to make a name for themselves in their community.
To take their business to the next level, Erdenebayar took out a $1,250 loan through Kiva and microfinance institution Credit Mongol. He used it to buy an electric sewing machine, enabling him to work easier and faster -- much more so than the hand-crank machine he was using for many years before. With the extra income from the added productivity, he was able to repay his loan in no time.
There was plenty left over too -- money he used to pay for his daughter to take extra classes at her high school, and provide better nutrition for his whole family. He's looking toward the future now, hoping to branch out of his own and open a market stall where he can sell their creations directly to customers, and just maybe afford three college tuitions.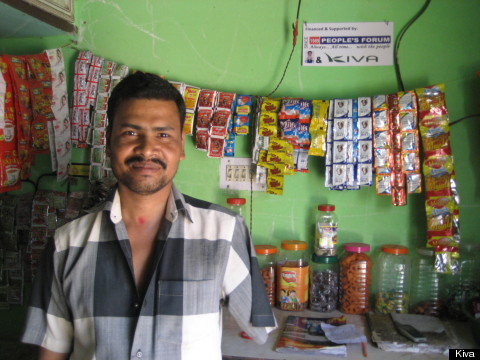 Today, Prashant owns a grocery store in Balugaon, India, about two hours outside of the capital of Odisha, the country's poorest province. But this wasn't always the case.
For most of his career, he worked as an electrician for the local government. But in 2010, he and his 13-year-old son were hit by a car while crossing a busy road. Tragically, his son was killed. Prashant also had to have his left arm amputated, making it impossible to continue his work as an electrician. For a while, it was unclear how he and his wife and young daughter would survive. With limited education and a very specialized set of skills, there were few opportunities available for him, especially in his poor village.
That's when he discovered People's Forum, a microfinance institution and social organization in Odisha that helps people like Prashant find the resources they need to rebuild. With small amounts of credit, he was able to grow a small grocery store out of his home, selling everything from rice to cooking oil to sugar and soap. It's still his family's only source of income.
The good news is that he's had to work to keep up with customer demand. His is the only store of its kind in the village, and he used to struggle to maintain his inventory for even a week. People's Forum connected him with low-interest loans, and last year, he took out a $550 loan through both People's Forum and Kiva to buy a fridge for ice cream -- a frequent request from his customers. The cold storage has opened up new channels of income.
While life hasn't been easy since his injury, Prashant, now 40, says his whole family has worked tirelessly to stay affloat. Now that his store is growing and he's able to provide consistently for his family, he plans to add even more items to his inventory.
But his primary goal? To make enough to send his 8-year-old daughter to college.
Celebrate amazing dads around the world by making a Kiva loan this Father's Day. You can even dedicate a loan to your Dad, and include a message about why you picked it just for him.
Kiva connects millions of people around the world through lending to make the world a better place. You can learn more about. You can learn more about microfinance and make loans as small as $25 at www.kiva.org.