On World AIDS Day in 2012, the New York City-based "artists' peace corps" Sing for Hope marked the twentieth anniversary of the classical music world's first organized response to the AIDS crisis. Today, two years after that commemorative concert and twenty-two years after HIV+ baritone William Parker first presented his landmark arts activist event, The AIDS Quilt Songbook sings on, reflecting the changing face of HIV/AIDS with songs about activism and antiretrovirals, love and loss, and our hope for a cure.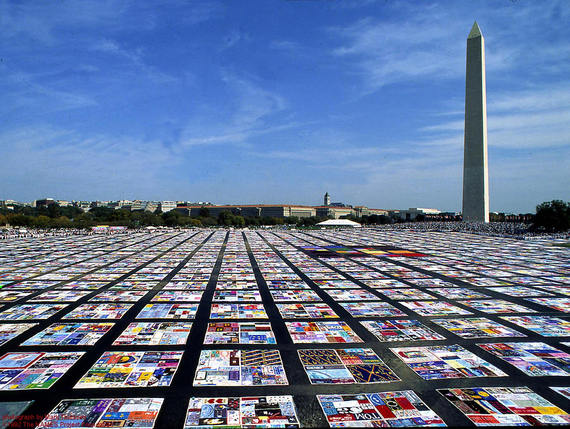 Taking inspiration from the NAMES Project AIDS Memorial Quilt, The AIDS Quilt Songbook was envisioned by Will Parker as "a patchwork collection of songs that will grow until the disease is conquered." (Photo courtesy of the AIDS Names Project)

Initially inspired by the NAMES Project AIDS Memorial Quilt, The AIDS Quilt Songbook was conceived in 1991 by William "Will" Parker (1944-1993), who felt that, "for singers, we were being pretty unvocal about AIDS." Parker -- a well-known baritone and one of the first classical musicians to openly discuss his HIV+ status -- reached out to prominent and emerging composers, poets, pianists, and singers to share his sense of dissatisfaction with AIDS benefit concerts in which, in his words, "the music is all Mozart and Puccini and the word AIDS never gets said."
Among the musicians who responded were Ned Rorem, John Harbison, Ricky Ian Gordon, Lee Hoiby, William Bolcom, David Krakauer, John Musto, Steven Blier, and Fred Hersch. On June 4, 1992 at Alice Tully Hall, Will joined these artists and his fellow star baritones Kurt Ollman, William Sharp, and Sanford Sylvan, and together they premiered a collection of new songs about AIDS, designed to be ever-expanding until a cure is found.
In Parker's words, "The AIDS Quilt Songbook invites people to take risks. Some texts are very graphic. They are about taking medication, being sick, throwing up, having to take it over again, the night sweats -- the horror of the number of diseases that exist. We're not sugar-coating it and saying, 'Well, we're just having a little difficulty.' We must show some of the rough sides. After all, most songs are about crucial times in our lives... So, why can't we sing about AIDS?"
Multiple versions of The AIDS Quilt Songbook have been performed across the country since that 1992 debut, with each performance powered by the volunteerism of the artists and all funds raised benefiting AIDS charities. Several of the songs have gone on to become classics of twentieth-century recital repertoire, including "Walt Whitman in 1989" by Chris DeBlasio (who died of AIDS in 1993) and "Fury" by Donald Wheelock. Perhaps more importantly, the Songbook has allowed a generation of classical musicians to respond directly and authentically to a pandemic decimating their ranks.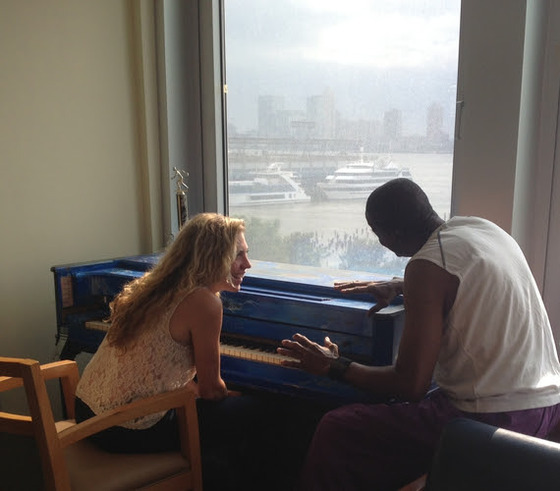 Sing for Hope Volunteer Artist Marissa Pontecorvo and a resident share songs at Greenwich Village's Bailey-Holt House, the nation's first congregate residence for men and women living with AIDS. (Photo by Shawn Hoke)
Among the artists inspired by Parker's example are myself and Monica Yunus, my fellow soprano and Sing for Hope Co-Founder (and, full disclosure, my bestie; yes, sopranos can play nicely together, given the right care and feeding). The arts service non-profit Sing for Hope that we co-founded in 2006 traces its roots to the AIDS crisis. When the promising young tenor (and our dear high school friend) Frank Logan passed away at Houston's Omega House AIDS Hospice, we brought together a group of friends to sing for life, hope, and a cure, seeding a model for artist/community partnership. As students at Juilliard in the early 2000s, Monica and I continued to envision a go-to resource for arts volunteerism that would throw open doors and explore the healing power of "art for life's sake," to quote Yo-Yo Ma. Today a non-profit "artists' peace corps" in its eighth year, Sing for Hope maintains a roster of more than 1,500 artists -- musicians, dancers, painters, actors -- who volunteer in under-resourced schools, hospitals, AIDS hospices, elder care facilities, veterans' homes, and centers for at-risk youth, bringing the arts to places that can benefit from a shot of hope.
Will Parker died in 1993, leaving a rich legacy in the Songbook. As his sister, Amy Doty, expressed, "My brother, Will Parker, looked death in the face... There he found anger, fear, and pain... But in our conversations I heard more than that. Will also found hope -- not in the form of an immediate cure nor a reprieve from death for himself -- but in the opportunity to create something good from this devastation of his life."
On World AIDS Day, we stop for a moment to remember Will Parker, whose powerful blend of art and activism continues to inspire, creating ripple effects of good beyond what he may even have imagined. Twenty-two years after his AIDS Quilt Songbook's premiere, it's our honor to continue to embroider upon the quilt he began: to sing for those lost, to sing for a cure, and to sing for hope.
HOW YOU CAN JOIN US & GET VOCAL FOR AIDS: