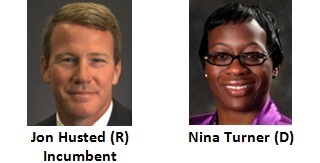 Are you looking for a nonpartisan voter guide to the Jon Husted vs. Nina Turner Secretary of State race? One that will give you an unbiased, no-spin comparison of candidate positions on key issues? That's what our Campus Election Engagement Project guide will give you! We are a national nonpartisan initiative working with college and university administrators, faculty, and student leaders to increase student participation in America's elections. For the 2014 elections we have created and distributed voter guides to campuses in more than 20 states so they can provide their communities with accurate information for informed voting. Because these guides have been so well received and are useful for all voting citizens who want to be better informed, we are also posting them here.
We developed our guides by analyzing information from trusted resources such as Votesmart.org, Ontheissues.org, Ballotpedia.com, Politifact.com, Factcheck.org, Vote411.org and from candidate websites, public debates and interviews, and statements in major media outlets. We also showed them to groups like campus Young Republicans and Young Democrats at the schools we work with to verify their fairness and lack of bias.
So here are the issue-by-issue stands for Jon Husted and Nina Turner. (You can also find Ohio's Governor guide here.)
----------
The Secretary of State is elected to a four-year term. Duties and responsibilities encompass three divisions: elections, business services, and records management. We've highlighted issues around voting rules that are at the center of the differences between the candidates.
Online voter registration: Do you support online voter registration?
Husted: Yes
Turner: Yes
Same-day Registration and Voting: Do you support the elimination of the Golden Week when Ohioans could register to vote and cast in-person ballots the same day?
Background: Senate Bill 238 shortens the early voting period and eliminates the Golden Week that has allowed Ohioans to register and vote the same day. To learn more about Republican and Democratic arguments for and against the bill, see Eliminating Golden Week voting and Kasich signs voting bills that end Golden Week and limit distribution of absentee ballots.
Husted: Yes
Turner: No
Early and Weekend Voting: Should boards of elections in large counties with major urban cities be able to extend evening and weekend hours of operation to accommodate early voting?
Background: U.S. District Court Judge Peter C. Economus recently issued a permanent injunction that prevents the Ohio secretary of state from restricting or eliminating voting for the three days prior to all future elections. Nonetheless, the secretary of state can set uniform voting hours in all 88 counties for all four weeks of early voting, including the final three days. And still at issue is the elimination of evening voting hours. By contrast, in 2013, Turner introduced legislation dubbed the Voter Protection Act that would have, among other things, restored the Golden Week, expanded early voting, mandated evening voting hours, added more than one voting location in the nine largest counties, and counted provisional ballots cast in the wrong precinct by legally registered voters with no intent to vote in the incorrect place. To learn more about the candidates' opposing views on early and weekend voting and to see the new early voting hours for 2014, go to Three days of voting to be restored, New early-voting hours set after federal court ruling and State Sen. Nina Turner unveils bill to boost registration, ease voting rules.
Husted: No
Turner: Yes
Absentee Ballots: Do you agree with the law that prohibits county boards of elections from mailing unsolicited absentee ballots to voters and paying for returned postage?
Background: Senate Bill 205 prohibits anyone other than the Secretary of State from distributing unsolicited absentee ballot applications and requires the Secretary of State to distribute them statewide during even year elections if the state legislature appropriates funds specifically for that purpose. (Husted will send them to Ohio voters this year.) The bill also prohibits election officials from assisting voters in completing the application unless the voter is blind, disabled, illiterate, or unable to come to the polling location. For additional information on legislative actions effecting early voting and absentee ballot applications, see Kasich signs voting bills article.
Husted: Yes
Turner: No
Minor Party Ballot Access: Do you support SB 193 that institutes new rules and greater signature requirements for minor party candidates?
Background: Senate Bill 193, passed in 2013, imposes significant barriers for third parties wanting to gain ballot access. On January 15, 2014, the Sixth District U. S. Court of Appeals denied the state's request to expedite its approval of a lower court's injunction against SB 193. For a better understanding of the controversy surrounding the bill and subsequent injunction, see Ohio legislature passes new ballot-access rules and Minor parties aided in Ohio ballot access by court ruling.
Husted: Yes
Turner: No
Provisional Ballots: Do you support the imposition of tighter restrictions on the casting and counting of provisional ballots, where provisional ballots cast in the wrong precinct or incorrect polling locations are not counted?
Background: A provisional ballot affords a person the opportunity to vote on Election Day if a problem arises at the polls, such as if his or her name is not on the roster because they recently moved. Senate Bill 216, approved in February 2014, sets forth what it takes to cast a provisional ballot in Ohio and when it will be counted.For example, those without proper identification or a social security number cannot vote or cast a provisional ballot. A provisional ballot cast in either the wrong precinct or in the incorrect polling location will not be counted. A person has seven days to prove identity and eligibility and have his or her vote counted. For details on the bill and its party-line votes, see Ohio lawmakers pass new provisional ballot rules and Bill would change rules for casting provisional ballots.
Husted: Yes
Turner: No
Redistricting: Do you support reforming the process by which legislative and congressional district lines are drawn?
Background: In 2012, a Redistricting Reform Task Force was charged with facilitating the drawing of state legislative and congressional district lines. In 2013, Turner asked the Ohio Constitutional and Modernization Commission (OCMC) to reform the redistricting process. Husted has been an advocate for similar reforms, suggesting the creation of a seven-member bipartisan board to draw state legislative and congressional lines. A supermajority, which includes one person from the minority party, would be needed to pass the plan. See, for example, his 2013 and 2014 calls for action.
Husted: Yes
Turner: Yes
Campaign Finance Reform: Do you support mandatory reporting of out-of-state campaign expenditures in Ohio elections?
Background: Turner supports required reporting of out-of-state independent election spending and proposed legislation to close a loophole in Ohio campaign finance law. Husted supports voluntary disclosure, refusing to enforce the current rule, created by former Secretary of State Jennifer Brunner, because he considers it unenforceable. While serving in the Ohio Senate, Husted co-sponsored a bill with Turner that would have closed the loophole.
Husted: Supported it when in the legislature. Considers current administrative rule unenforceable.
Turner: Yes
-----------------