I was guardedly hopeful when I entered my food memoir, Licking the Spoon, in the New Mexico-Arizona Book Awards.
I was ecstatic when I found out that it had been chosen to be a finalist in two different categories.
But I almost didn't go to the New Mexico-Arizona Book Awards ceremony last Friday night.
What was that all about?
Monday: SOCIAL WORK
You know that feeling you get when you THINK your gut is telling you something, but you have a funny feeling that your weenie self is masquerading as your gut, but you're not sure? That's when Facebook comes in handy.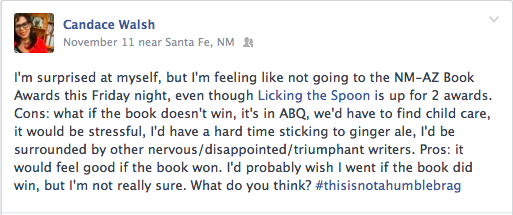 Side note: How many male authors have dithered about going to a book awards ceremony because of child care? My other issue, which I was too ashamed to mention in the post: I didn't feel like I deserved to go because I felt chubby, which made me not want to be visible. Another female brain-shackle. I am not blaming society, because I have all the tools to be more conscious about this kind of thing. I just wasn't using them.
Thirty-two people urged me to "Go," a handful of people shared thoughts that helped, but didn't pressure me one way or the other. AND my friend Emily offered to watch the kids. My friend Vicki introduced me to the amazing bit of intel that a reasonable number (i.e. two) of vodka tonics with a twist of lime don't cause bloat or weight gain.
Tuesday: THERAPY
I brought it up at my therapy session and proceeded to blubber a bit. My therapist, Lauren, got me talking about what was behind my feelings.
I wish my parents were proud of me, but they don't even know about the finalist status because my mother thinks my book is a character assassination of her and my father has never acknowledged it. Therefore, I didn't think it would be productive to tell them about it. But isn't it true that when we do something important, like publish a book or get a new job or become a parent, we want to show our parents, and we want them to be proud of us?

I got this image of myself, 6- or 7-years-old, in braids and a jumper, showing my mother a picture I drew, my face upturned as if a flower angling toward the sun.

I also remembered how angry and indignant my mother would get if I entered a contest and didn't get first prize. Her heart was in the right place, but when she yelled after I told her I got honorable mention, it just didn't feel good. I felt ashamed. I internalized those beliefs. If I didn't even get 1st prize in a high school writing contest, how would I ever succeed in the great big world out there? The stakes were way too high. Better not to engage. My wife, Laura, helped me with my aversion to engaging by submitting the book for me. But apart from being my date, she couldn't help me to avoid my feelings at this stage.
So, my therapist and I spent some time connecting with that 7-year-old, letting her know that it's an honor to be recognized even if you don't walk away with 1st prize. That you should enjoy being with other people who are also brave enough to put their words on the page and put their pages out into the world.
"I think your 7-year-old would like to feel like she could enjoy this awards ceremony. I think you should take her with you."
I saw my 7-year-old's eyes on me, hoping. I saw her face open up in a big, pre-braces, gap-toothed grin.
"I think she'd have fun," I said.
Twelve hundred books were entered into the NM-AZ Book Awards, and only 200 were selected as finalists. That's a big deal... but my baggage was obscuring that truth.
Before my Facebook post, and before my therapy session, all I could think about was going down there, sitting in the banquet hall, and getting passed over. I didn't want to feel rejected. I didn't want my feelings to depend so much on factors that were completely out of my control.
But as I re-educated my 7-year-old, I started to see how I could in fact enjoy it regardless -- not just at the ceremony, but every time I thought about doing something creative. It wouldn't have to mean risking utter failure. It could be less fraught. It could be fun. Even if the food was terrible that night, as I imagined these awards dinners' banquet offerings always were.
I said yes to Emily. I announced on Facebook that I was going to go. But what would I wear?
Thursday: THE OUTFIT
In the back of my mind, I thought that I could always wear the knockout red satin pleated sheath that I wore to a friends' wedding in March. It would magically transform me into svelte-itude. Magically, because I was thinner in March, and I hadn't just come back from a 10-day, hog wild gourmet vacation in Paris, which included the ingestion of copious amounts of Burgundy, Champagne, steak tartare, and butter-bathed escargot. Oh, and crusty, gossamer-stranded bread, of course. Because, Paris.
The red satin dress was not dry-cleaned, as I thought it was. It was folded on a shelf in the closet. I put it on anyway. And noted that the diagonal pleats made me look like a steamed dumpling. A red, satin steamed dumpling. No to that. So, what? I didn't have the time or money to go shopping for a dress. I felt like it would jinx me, too, to show up in a splurgy, last-minute, neurosis-influenced, not-the-size-I-want-to-remain-at schmatte. Isn't that the slippery slope that dumps women off at red carpet worst-dressed roundups?
It was time to go to work. I let it go for the moment.
Friday: AGAIN WITH THE OUTFIT
Friday morning, I had to make the kids' lunch, and I had to be on the radio at 8:30am, and I had to do my makeup for the night's event before I leave, as I'd be heading straight from work.
I stared at my closet as if it were a cavern of mean girls. I wondered why I still had the gunmetal satin ballroom skirt I wore at my cousin's wedding in 2000. And then it hit me. I'd wear the simple gray dress that has fun shoulder cutouts over leggings, with stiletto boots. Comfy as a nightgown.
Friday night: SHOWING UP
We pulled into the parking lot of the Hotel Albuquerque about 10 minutes before cocktail hour ended, a blessing, given my desire to not drown my feelings with fattening booze. In a large, light room that didn't feel at all like a bleak catering hall, we sat at a table with two other authors and their dear ones. Everyone was friendly, if on edge. Laura got the two of us vodka tonics with a twist of lime, and I was happy to see that the tumbler was a big 'un.
I was also happy to see that I was dressed just right for the occasion. Men wore suits, but the women were in New Mexico dressy garb: denim, velvet, Navajo patterned vests and such. My red dress would have stood out like a carbuncle.
A decent starter salad was followed by a shockingly good meal. Pecan-crusted chicken thigh, mashed potatoes, and nicely steamed asparagus. Another assumption smashed to bits!
It was delicious, although I was too nervous, and diet-minded, to clean my plate. I had two satisfying bites of the cheesecake dessert, and got us another two vodka tonics before the awards began.
Biography, my book's first finalist category, was announced early. I had pretty much resigned myself to not winning it, since my foodie memoir book was lumped in with historical biographies of notable New Mexicans like Millicent Rogers and Ernest L. Blumenschein. I was right about that, but the GLBT prize was still in the offing.
My competition in the GLBT category was Michael Chavez. I thought he was a fine writer; I'd reviewed his book Creed positively for New Mexico Magazine. And this latest book, Haze, was about gay bullying, a hot topic. Also, he'd been a finalist last year, with Creed, so he was due a prize. I held my breath.
"And the winner of the GLBT Book is..." time slowed. Would his mouth open with the glottal C sound or would his lips press together to make an M? Or L, for my book's first word?
"And the winner is... Licking the Spoon, by Candace Walsh!"
I stood up, and one of the volunteers walked over to hand me my frosted glass award with brass plate, my book's name inscribed on it. I shook her hand, smiling, and sat back down.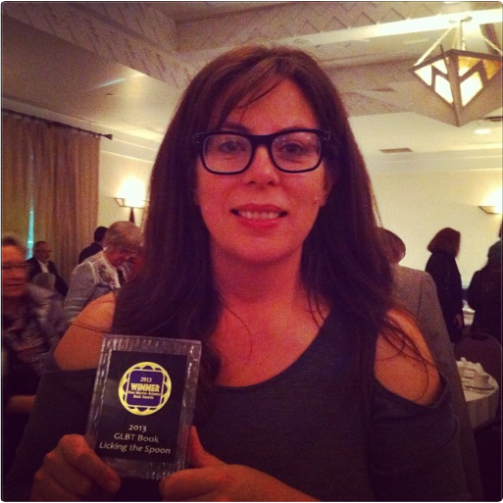 So very much better to get a prize when you don't feel like the world will end if you don't get it. So much gentler on the system.
After the ceremony, Laura and I walked out towards the car, a rain falling with the kind of gentle pitter-pat that reminded me of e.e. cummings' line, "nobody, not even the rain, has such small hands."
It reminded me of my 7-year-old, with me that night. In the way that I felt at peace, hoping to win, but knowing it wouldn't derail my trajectory if I didn't. In the way that I could enjoy being in such good company without feeling insecure or threatened.
I looked up the poem, Viva [W], the next day, A few more lines jumped out at me.
in your most frail gesture are things that enclose me
nothing which we are to perceive in this world equals
the power of your intense fragility
Unchecked, my 7-year-old's frail gestures could enclose me, and her fragility had the power to paralyze me. It almost had. But we were learning how to look at the world differently, together.
It already felt easier to be alive.
And it felt safer to try.