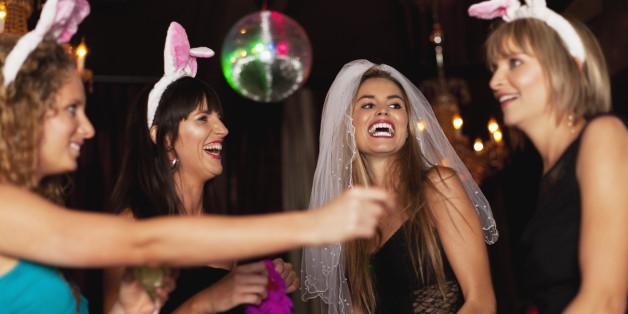 I've done a lot of harrowing things in the name of being a bridal party member. I've attended countless brunches and showers and rehearsal dinners, always with a gift in hand, a smile on my face, and an answer as to why it still wasn't ME walking down the aisle again this go-round. I've worn cowboy boots with short cocktail dresses and rhinestone flip flops with long evening gowns because that is what the bride wanted and who the hell was I to question her infinite fashion wisdom? I've sucked it up maid-of-honor style and walked a tuxedo-clad ring-bearing shih tzu down the aisle instead of the fresh-off-the-plane-from-his-latest-shoot underwear model best man because as it turns out dogs like to stop and pee on things. And don't get me started on my Pinterest-related crafting injuries. These scars tell tales, friends. My closet closely resembles an Alfred Angelo sample sale, I can tie a tulle bow in five seconds flat, and I know where to get the best price on Jordan almonds. I tell you this not as a humble brag (but I mean, who wouldn't want to boast about being a bridesmaid for the eighteenth time at 30?) but merely to point out that I know my stuff.
But even though I have a Katherine Heigl rom-com level black belt in all things bridesmaidery and have mastered the art of bridal sacrifice there is one thing I refuse to do when it comes to celebrating someone's big day, and it's something that comes up at least once every single time I tearfully get asked to don chiffon and pay for a $50 French -- wait I don't like that/switch to something natural toned/oh crap I hate that would you mind switching back again -- $100-later manicure. I know what you are thinking. Where could the line possibly be for a woman who stood through 30 minutes of vows with a full doggie poo sack tucked in her bouquet?
The line for me begins and ends at the bachelorette party. Not the party itself per se. Not with the tiaras or the tutus or the veils with blinking penises on them (OK maybe those). My issue is with 95 percent of everyone deciding they need to take their tutued and penis-veiled selves to celebrate their exodus from singledom. My issue is with the go-to sushi dinner and dancing in the Gayborhood itinerary used by almost every maid of honor sending out an Evite for someone's "Last Blast" because they don't understand why that might be problematic.
To a generation of women raised on Queer Eye and Sex and the City, gay culture is no longer verboten in most of our circles. Unfortunately it's also not really nuanced, and in my experience with the bridal set, most women go into gay bars expecting to find hot guys in glitter who want to take them shopping and drink cosmos with them out of the penis straws they have tucked into their handbags.
They go to gay bars because they play better music, serve stronger, cheaper drinks, and have lower cover. They go to gay bars because they "don't have to worry about getting hit on." And because they "feel safe." They march in, an army of tulle and glow sticks and sashes celebrating the fact that they have one more night of freedom before they get married and tied down forever/they become a divorce statistic.
They don't think about the fact that life isn't a Sex and the City episode, and that not everybody wants to dance with us. They don't think about the fact that by being a large group of straight women we often times attract straight and sometimes aggressive men to places specifically designed to keep LGBTQ people safe. They don't think about how it might feel to have to watch a group of people commandeering a place that was supposed to be yours and using it to celebrate something that you are not legally allowed to do because not everyone recognizes your love as equal. They just want to put on some body glitter, take a few Vegas bombs, and get weird while gyrating to Lady Gaga and thinking about their future husbands.

I've done a lot for the brides in my life. I've got the glue-gun scars, taffeta dresses, and bedazzled underwear to prove it. And I will continue to put on your stupid tutus and play your bachelorette drinking games and eat your phallic cupcakes, but I won't do it at the gay bar no matter how much I love the dance remix of Britney Spears' Toxic. My living room in said bedazzled panties on the other hand? Well that's another story entirely.