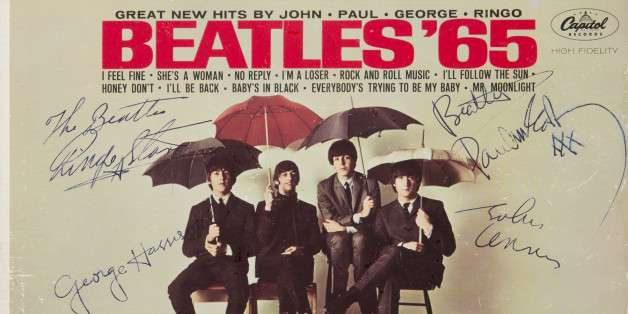 Holiday Season, 1964. There had been a steady flow of new Beatle music since the band's Sullivan debut the previous February, and Beatlemania was still in full force. Each new record was more dazzling than the one before and fans across a 15-year age range eagerly anticipated each release.
The Beatles had become a fun focal point in the lives of baby boomers. We discussed them endlessly with our friends and siblings, fantasized about being with them or being one of them. We collected Beatles trading cards and played Beatle games. Few things in our 1964 childhoods were as engaging and exciting.
The "must have" holiday gift in 1964, the first "must-have" gift ever, was Beatles '65. Fans didn't know it was one of those synthetic collections EMI and Capitol put together in order to squeeze every dollar out of the eager American market. It was released just before Christmas and leaped to number one so quickly it made Billboard history. Eager indeed.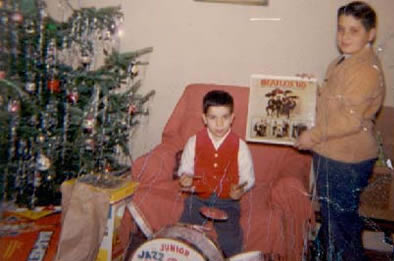 With four covers and seven originals, American fans loved this 28-minute experience. We had come to expect compelling melodies, infectious rhythms, intriguing words and ultimate coolness, but Beatles '65 exceeded even those expectations. Today, creating delight by exceeding expectations is recognized by business gurus as a strategy for successful product launches and customer relations -- but it came naturally to the Beatles. This new release deepened the trust in fans' still new but evolving relationship with the Fab Four.
The album opener, "No Reply," immediately hooks the listener, offering young fans a somewhat gritty glimpse into the world of romance. The language seems formal and British, saying "no reply" instead of "no answer." The word "telephone" is used as a verb. The singer sounds vulnerable and the song is sad, but halfway through we hear the comforting and familiar Beatle harmony and sweet handclaps we first heard on "I Want to Hold Your Hand."
The Dylan-inspired "I'm A Loser," which many saw the Beatles perform on ABC's Shindig just two months before, was a different kind of pop song; more authentic somehow. A male fan born in '49 said, "I loved 'I'm a Loser.' I liked the attitude, and it had a folky quality. It was their first introspective song. It was revealing. The words were different, and required more work."

On "Baby's In Black," fans heard brilliant Beatle harmonies, a sound that one fan said "hardwired her brain for joy." Another fan recalls listening to this song and asking her mother what "whim" meant.
Most fans had no idea who Chuck Berry was, but loved the Beatles' loud, dynamic cover of his 1957 hit "Rock and Roll Music." They recall dancing to it with friends, working themselves up into a joyful frenzy that left them breathless.
By this time, some parents, mostly mothers, admitted warming to the Beatles a bit, and "I'll Follow the Sun," written years before by a teenage Paul McCartney, was one of the songs they especially liked. One fan remembers her grandparents liking it, too. We heard a sad, beautiful song -- certainly not unique in pop music. But we also heard the singer referring to a woman as a "friend." That was a Beatle thing.
Many observers dismiss the Beatles' cover of Roy Lee Johnson's "Mr. Moonlight" because of the cheesy organ and bad lyrics. Yet a strong case could be made that the vocal is one of John's best. The raw energy in his voice, starting with the scream on the opening word, was stunning to young music listeners.
Just as most fans didn't know rock and roll pioneer Chuck Berry, they also didn't know rockabilly king Carl Perkins -- but they loved "Honey Don't," Ringo's track on the collection. Ringo was becoming the voice of Beatles rockabilly after the previous summer's "Matchbox," a Carl Perkins cover on the much-loved "Something New," and the flip side of "Slow Down." The sad, pleading, "I'll Be Back," sandwiched between two upbeat numbers, offered young listeners yet another glimpse into the complicated world of romance.
"She's A Woman," released as a single b/w "I Feel Fine" the previous month, features McCartney's Little Richard-esque vocal. Reverb in the production and Little Richard in the voice give the song an overall different sound. Studio play can also be heard on "I Feel Fine," featuring the first purposeful use of recorded feedback -- an innovation about which Lennon was extremely proud. The single was the band's eleventh and final top 10 hit for the year. Two great songs, but filler to the millions who bought the single only weeks before.
The final track, "Everybody's Trying To Be My Baby," is another Carl Perkins cover, with a bluesy lyric that rang true to the millions of teenage girls who imagined being a Beatle girlfriend. Ending with this rocking, danceable tune made fans want to flip the record over and play the whole thing again.
Beatles '65 was the grand finale of our first Beatle year. Next year's grand finale would be the paradigm-shifting Rubber Soul. EMI and Capitol continued the practice of putting out new music in time for holiday gift giving, not only through the Beatle years, but to this very day!
Beatles '65 has been a favorite of many American fans for a half-century. Beatle historian Mark Lewisohn, who grew up in the UK and didn't experience this album as a young fan, was spot on when he wrote, "Beatles '65 evokes the adrenalin-rush of Beatlemania." That adrenalin-rush, that feeling, is Beatleness. If you haven't heard Beatles '65 for a while, do yourself a favor and put it on. Happy Holidays!