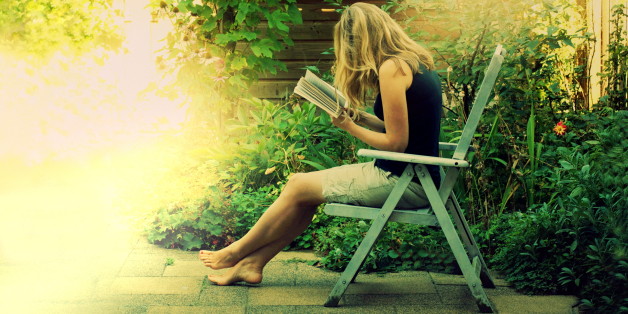 Every summer, I look forward to the chance to discover new books. With the month of August still ahead I thought it would be fun to share some of my favorite reads as well as a few that I've got piled up on my bedside table (and downloaded on my iPad). Some have made their way to the big screen. One is set for a Christmas Day release.
My hope is you will have a chance to throw down that beach blanket over those last crazy days of summer and languish in a few choice options.
For starters, I just finished a great read called The Vacationers by Emma Straub -- a family vacation you won't forget. This New York family sets off for Mallorca to celebrate the parents' 35th anniversary with adult kids and best friends in tow. Let's just say, this book's comedic screwball adventure comes packed with some endearing life lessons along the way.
Now everyone who knows me knows I love animals and for those who do too, may I suggest two wonderful true stories of beloved canines that have had impactful effects on others' lives. Sue Halpern's A Dog Walks into A Nursing Home is the story of Pransky, her family's sweet 7-year-old Labradoodle whom she has certified as a therapy dog. Turns out he's particularly adept at being a caregiver for the infirmed and elderly, one who she says "sees the elderly for 'who they are,' not 'what they are' -- disabled, aphasic, blind, mute." Pransky "started from acceptance, unlike the rest of us."
And then there's Ricochet: Riding a Wave of Hope with the Dog Who Inspires Millions -- a tears-to-triumph story that has appeared on ESPN's Sports Center. Judy Fridono has chronicled the story of the only SURFice dog in the world that actually chose her destiny "on the waves of hope." (The inspirational story of this social media darling is also on YouTube.) The golden brown lab is a therapy/service dog who surfs with children with special needs, people with disabilities, wounded warriors, and veterans with PTSD as an assistive aid and intuitive muse.
No summer would be complete without a great spy thriller, truly one of my favorite genres. This year I have two recommendations:
I just read I Am Pilgrim, Terry Hayes' debut espionage thriller that centers on a world-weary hero called out of early retirement for "one more job." He becomes caught in a race against time to save America from destruction at the hands of a terrorist known only as "the Saracen." A New York Times best-seller, MGM acquired rights and plans to turn the movie adaptation of Hayes' page-turner into a franchise.
The other is John le Carré's A Most Wanted Man, which has recently been adapted for the screen. I've just seen the film, which is anchored by a brilliant performance by the late Phillip Seymour Hoffman in the lead role as Günther Bachmann, an old school German spy who is head of a small intelligence unit post 9/11. Set in Hamburg, the unit is tracking the movements of a man who Interpol suspects is a terrorist. Enter a shady banker trying to keep him from a family fortune and a beautiful human rights lawyer championing his cause. The story is entangled with a far bigger fish to catch and rival German, English and American spies trying to nail a prime suspect in the "War on Terror."
As for that Christmas release, Angelina Jolie has adapted Laura Hillenbrand's biography of the late Louis Zamperini -- Unbroken: A World War II Story of Survival, Resilience and Redemption. It is a breathtaking story of a defiant boy, who turned his delinquent nature into a skill that would make him a competitor in the Berlin Olympics. He then becomes an airman in the WWII Pacific theater, and after his plane is shot down is left to survive at sea for seven weeks, only to be captured by the enemy and suffer brutality at the hands of his captors. After the war, his past would haunt him, his days filled with nightmares, rage and alcoholism until he found his faith in Christ after meeting Billy Graham. This hero's unforgettable story of survival, resilience and redemption, on or off the screen, is one you won't want to miss.