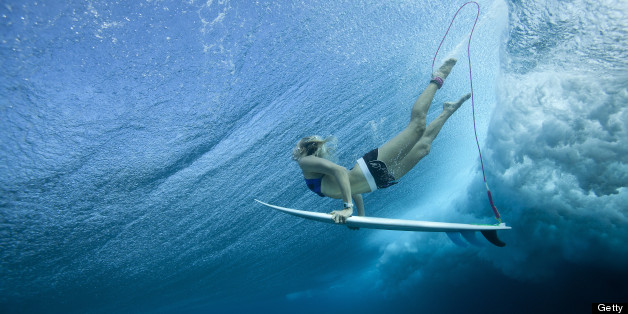 It was my first solo surf. I grabbed my slick, nine-foot teal and hot pink surf board and headed out into seemingly friendly Hawaiian waters. I was proud that, after weeks of struggle, I finally felt confident enough to paddle out alone.
"BOOM." The first wave that hit sent me somersaulting underneath it. "SWISH" the second dragged my board under water with me attached. "GASP" I could hear myself struggling, swallowing water in the surf while heading dangerously close to a collection of jagged rocks on the shoreline.
My first surge of panic was calmed by the sight of a buff Hawaiian surfer heading my way. "Whew! A hot fellow surfer I can consult about these waves," I told myself. "Maybe we'll talk surfing, bond and grab a drink later," I fantasized as he paddled closer. Soon, the red cross on his board and the word "Lifeguard" written across his chest made the reason for his pursuit of me embarrassingly apparent. "We're going to get you out of here," he said. He invited me to hop on his board to paddle me along the current to a rock formation where two good Samaritans were waiting to help me out of the water. Not exactly the pick-up I was hoping for.
"I'm such a disaster" I repeated to myself as we neared the shoreline and I reached for the hand of one of the Samaritans I would come to know as Pete from Massachusetts. He held on to a rock with one hand and reached for me with the other as waves crashed between us. After three attempts, he was finally able to pull me to safety from the front end of the lifeguard's long board. As Pete then fished my surf board from the sea he gave me a gentle scold. "You gotta stay on that side of the waaaata. Don't mess with this waaata!"
He escorted me to my car where I dropped my board and sat on a metal railing overlooking the surf. For the first time in the entire ordeal, I let the fear sink in. Had it not been for my rescuers, I may not have made it out.
Spooked, I stayed out of the water for nearly a week but, on the last day of my visit, decided it was time to try the same surf spot. "I can do this," I nervously told myself as I set my course towards a group of surfers waiting for waves. "I'm heading this way. This way. This way," I told myself. Still despite my intentions, the pack of surfers became more distant with each stroke. "No!!!" I whispered to myself as I realized I was trapped in the same current. Again.
"Paddle, paddle, paddle!" I coached myself as I once more found myself heading towards rocks. Boom! Swish! Gasp! Rip tide deja vu. "How did this happen!" I silently screamed.
It was the same question I had been asking myself with increasing frequency for the last several years as I tried to make sense of my love life. Despite my best intentions to find a family-ready partner, I had instead found myself, ever so consistently, in the rip tide of attraction towards unavailable men. While each at first appeared to be different on the outside, they were in fact quite similar: with multi-ethnic good looks, edgy personalities and, in the end, the same excuses: "I'm not ready," "There's someone else," "Can't we just get to know each other for the next 10 years?" Boom, swish, gasp.
I lay in a pile of defeat on my board when this time a female lifeguard approached. "You're too close to the rocks. We need to get you out of here."
Glad that she was still far enough away to not see my tears of frustration, I silently nodded my head and hoisted myself onto her rescue board. As we paddled toward shore, my board in tow, I made out the grey hair and surfer's physique of Pete from Massachusetts who again was hanging out on the shore, watching my struggle. "What are you doing out theeeya. You're a terror!"
Pete was more right than he could have ever known. As a woman who is supposedly looking to get married and have a family but has so consistently made choices to be with men who don't want either, I was feeling increasingly frightened of my own tendencies. I was a terror.
The next day, desperate to have a positive surfing experience before I left the island, I hired a Hawaiian surf pro named Jae for the 45 minute window I had before heading to the airport.
As we got tossed in waves together, he offered his take on my problem. "You have to be more deliberate," he taught me. "You have to keep turning your board back where you want to go or the current will catch you." The applications for my love life were hard to ignore.
"And you have the wrong board for you," he explained. I thought about how I had chosen this board, just as I had many of my boyfriends, for no other reason than because I found it to be sexy and cool and fitting the image of the board I belonged with.
"You want to have fun in the water, not suffer," Jae explained. I cringed as he recommended a long, soft-top board I associated with amateurs. "You have to have the right tool for the job. You'll have so much more fun."
A few weeks after my Hawaii trip, I followed Jae's advice and tried out a 9 foot 6 inch soft-top board. I also said yes to a date with an exceptionally kind, emotionally mature, family oriented and not-my-type man.
I've been happily catching waves with both since.
I don't know what will come of this new relationship but, as I've found myself smiling more than I have in years about anyone, I am reminded of the parting words by the female lifeguard who came to my rescue.
"I wish you the best with surfing," she said as she turned her board back towards her station. "By the way my name is Joy."
In the midst of my relationship dramas joy was something I had nearly forgotten about. The men I was drawn to kept me over thinking, under sleeping and consistently anxious. But the pain of it all was comfortably familiar and strangely invigorating.
My current relationship has none of those trappings. It's allowed me to enjoy stress-free conversations, sleep through the night, and, as noticed by friends, feel more peaceful and relaxed than I have in a very long time. These markers have been the guideposts that keep me where I'd like to be.
Perhaps in love, just like in surfing that day, it is joy that saves us.
For more by Cara E. Jones, click here.
For more on love and relationships, click here.