Every once and a while when the lights come up at the start of intermission of a play, I am confused because I feel like I haven't been sitting in the dark all that long. It feels too quick for an intermission. Such was the case at the Manhattan Theatre Club revival of Henrik Ibsen's An Enemy of the People, starring Richard Thomas and Boyd Gaines and running through November 11 at the Samuel J. Friedman Theatre. Partially that had to do with Rebecca Lenkiewicz's abbreviated adaptation, but it also says something about the ensemble. One member of the cast displaying a lot of fire is John Procaccino, who plays the rabble-rousing newspaper editor Hovstad.
Procaccino, who previously played the character of Billing (portrayed by James Waterson in this production) in an Arthur Miller adaptation of An Enemy of the People at Seattle Rep., is making his first Broadway appearance in over a dozen years with An Enemy of the People. His girlfriend, Pam Mackinnon, is also in town, directing the highly anticipated revival of Who's Afraid of Virginia Woolf? at The Booth Theatre. So it's a pretty good time for Procaccino.
I decided I wanted to do my "quick questions" feature, where I ask questions based on lines from the relevant play or musical, with him. But before those questions started, Procaccino began speaking about the play and his character.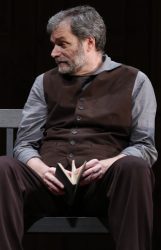 "In our adaptation, Dr. Stockmann is a very flawed man," Procaccino stated. "You feel the audience wanting a hero. Miller makes Dr. Stockmann a hero in his adaptation, in our adaptation you see a very flawed man. It becomes apparent that Dr. Stockmann is a flawed man with an exaggerated sense of himself. He's not wrong, but he makes it all or nothing."
While much has been made of the fact that Enemy is coming back in an election year, Procaccino believes it has timeless themes. "In the show, we see how quickly human beings can change," he said. "How do people deal with ethical issues? How much pressure do you deal with before you flip? I truly believe what I'm saying to Stockmann. We have to give the power to the people, not the bureaucrats. But how far am I willing to go? I wish there was a little more material to give me to make my flip a little more plausible. But this is a guy who is out for himself and probably can't be trusted."
And now onto the main part of the interview...
Are you the type of person who proceeds in moderation or do you jump right into things?
I used to jump right into things. I used to dive into things head first with a great deal of passion. As I've gotten older, I've developed the great skill of moderation. I don't want to lose the passion I had as a person. I would just like to direct the passion in a wiser direction.
When I was young, I was very much like Hovstad. 'We're right, they're wrong, we can destroy these people.' It doesn't work for me anymore. I can't get away with being like that anymore in real life, but I can get away with it onstage. I can take out all my frustration onstage, then I don't have to go see a shrink.
Your character uses the word "grizz." How would you define "grizz?"
Out of sorts. Irritated.
Are you a liberal?
Yes on some things. No on others. I have to say, yes.
Do you like to read rubbish?
I read political websites, but mostly I read books on theology. I read a lot of Thomas Merton, a monk who was one of the great catholic spiritual mystic writers of the 20th century. He lived a pretty wild life as a young man, but all of those experiences informed who he became... I read a lot of Merton. It guides me; it helps answer a lot of questions for me. It helps me deal with political things that I don't understand.
But people like to read rubbish. It is reassuring. I think you can change that to people want to watch rubbish. You don't watch the Fox News to be troubled. You watch it so you can be told what to think. You don't read the New York Post to think, you read it because you don't want to think. When you buy the New York Post you buy it to read rubbish page 1 to the end. I don't care what they are politically. USA Today, that is for kids. That's a perfect example of the rubbish that Hovstad is talking about. We've all been dumbed down. Everybody knows that. We've long known that.

Is there any person you can name that you believe is an enemy of the people?
I can't think of any one person. I think the current state of the Republican Party has been an enemy of the people. When you make a conscious decision to do anything you can to make people's lives miserable, to not alleviate suffering, that makes you an enemy of the people. To not write, craft, pass or even vote on one law that would alleviate suffering, that makes you an enemy of the people. There was a time when I voted for moderate Republicans. I would still vote for a moderate Republican. But these people have behaved monstrously -- they have done nothing. They wanted America to fail and they did it. You have to be out of your mind to reward these people for doing this. It makes absolutely no sense.
Photo © Joan Marcus