I've had a pretty crappy few days. When that happens, I like to spend time with my old friends. Unfortunately, as we've gotten older and moved to various locations throughout the country, it has become difficult to call everyone over for a This Is My Life screening. So what to do? Well, use the phone and Skype. And then watch television shows or movies about friends. Last night, I watched a couple of episodes of Playing House. I love Playing House. I don't understand why it has not been renewed yet. Get on the ball, USA Network.
There are not many broadcast or cable comedies centering on women. If you look at the broadcast shows returning in the fall, the only comedies that have women as their true central characters are 2 Broke Girls, Mom, New Girl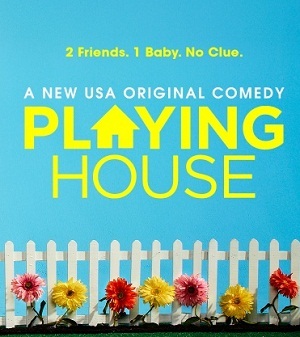 and The Mindy Project. Of those, only 2 Broke Girls is really about female friendship. And, let's face it, those women do not exactly have a completely comfortable relationship. There is no Sisterhood of the Traveling Pants, the sitcom. (No, ABC Family, I'm not trying to give you any ideas.)
Playing House -- created by, and primarily written by, its stars, Lennon Parham and Jessica St. Clair -- is about best friends. It's really not about that much more than that. In the show, St. Clair's character moves back to her small hometown to move-in with her childhood best friend, who is pregnant. As soon as I saw the winning pilot, I emailed my two pregnant friends and told them I would move in with them, but only if they moved really close to New York City. (I love my friends -- my alma mater, Wellesley, is all about sisterhood -- but I have my limits. I'm not moving to the middle of the country.)
In many ways, Playing House is similar to Parham and St. Clair's failed NBC show, Best Friends Forever, in which St. Clair's character also moved in with Parham's character. I liked Best Friends Forever, but the conceit felt a little forced. St. Clair's character moved in with Parnham's character, and her character's live-in boyfriend, because of a divorce. It was never really clear why, or for how long the situation could possibly last. The show also didn't have a shot of succeeding on NBC, because, like its treatment of Bent, the network chose to basically kill the show by putting it on air off-season with very little promotion.
Playing House takes some of the ideas the pair toyed with in Best Friends Forever and brings them into sharper focus. In Best Friends Forever, it always seemed like Parham was the together one; she needed to be there for St. Clair to lean on. Here the characters are more evenly matched. They are both lost and both need each other. Their relationship rings so true, which is a rare feat in a situation comedy. Often laughs are created by how ridiculous the underlying relationship is (see 2 Broke Girls, for example). Not so here. It is the clever, tight writing and the performances that bring about the laughs you experience when watching Playing House. It's both sweet and smart. The characters aren't perfect and neither is their relationship, but it's honest. Parham and St. Clair are hysterical. The supporting cast is great. There are a lot of insider cultural references (a bartender played by Marissa Jaret Winokur talked about auditioning for a regional Hairspray mounting; there was once a line similar to "go feel bad about your neck") but that's not a central part of the equation. You won't feel dumb if you don't get them.
So why hasn't it been renewed yet? I don't get it. I've read all the USA exec quotes about needing to look at the numbers. And I don't know how much it costs vs. how much they are bringing in. I also realize that Sirens, which has already been renewed, generally received better ratings (a .5 share as opposed to a .4 one). But Sirens premiered earlier in the season and seemingly received much more of a marketing push. An avid TV fan, I forgot that Playing House premiered. I had to catch up one day when sick. None of my friends had even heard of it. Now they are all eagerly awaiting season two.
Playing House has so much potential. Now that baby Charlotte has been born, I can imagine a whole lot of new moms watching. They may not have been interested in the first season, but they'll identify with the situations in the second. If USA targets mom-to-be and new mom blogs, they can build their audience that way. The show deserves a chance to show more of what it can do -- who it can bring to USA. Plus, I need something to watch when I'm having a bad day. It's not going to be Sirens.
Read my latest New York Times Story here. Tweet me your comments to this post and more @CaraJoyDavid or email me at carajoy@gmail.com.