I'm very attached to Love, Loss and What I Wore. I don't think I've ever sent as many people to an off-Broadway show as I have to this Ephron sisters play. So it is with sadness that I reflect on its closing this weekend.
Of course, Love, Loss and What I Wore had a great run. A big success -- the show recouped all the way back in December 2009 -- it recently marked its thousandth performance.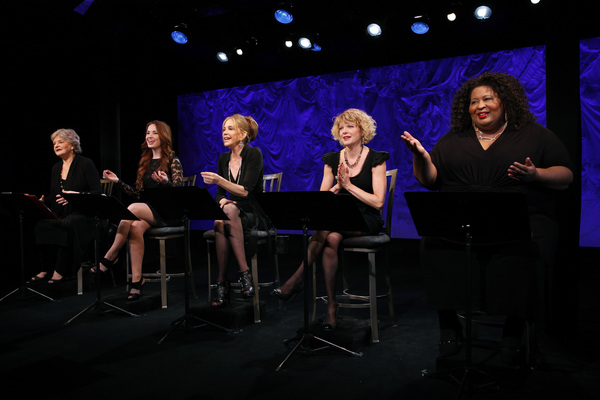 For a while, I must admit, I became so used to it playing that I forgot it was still running. For weeks the show would slip my mind, but then I would quickly remember when a female friend came to me because her mother/sister/aunt/best friend was in town and she wanted a theater recommendation. (I did every once in a while send a male to this show, but it was admittedly, and I believe justifiably, rare.)
Producer Daryl Roth said she recently had a friend go with four generations of women from her family. "It's a very shared experience," Roth said about women's relationship with clothing. "It's cross generational. It has a touchstone of familiarity for everyone -- it's about a memory a piece of clothing is triggering."
It's true -- I used to think the show was peculiarly New York, but it's not. All kinds of people (okay, all kinds of women/maybe gay men/maybe a couple of others) like it. It's somehow played on every continent other than Antarctica. Roth told me that the five women are supposed to be age segregated -- one in her 60s, one in her 50s, one in her 40s, one in her 30s, one in her 20s -- but I could also totally see it being done at Wellesley (the alma mater of yours truly and also Nora Ephron), with some possibly gray-hair powder for the student playing the grandmother, Gingy.
Based on Ilene Beckerman's book of the same name, Nora Ephron presented the idea for the stage Love, Loss and What I Wore to Roth in summer 2009. Roth first presented a short run of the show in her theater, DR2, as a benefit for Dress for Success. It was good, so it moved into its home in the Westside Theater.
Like another feminine favorite, The Vagina Monologues (which I wasn't as big a fan of), the New York production of Love, Loss and What I Wore always had a rotating cast. Some of the folks were certainly more famous than others, but a good portion of them were wisely chosen to bring in new audience members. Roth credits the rotating casts as being one of the things that helped the show stay fresh, and open.
"Every five weeks we had the opportunity to market [the show]," Roth explained. "For every cast we had an opening night with a party and press there. By virtue of the fact that I could announce something every five weeks, we had constant opportunities."
Having dozens of opening night parties is rare, as is doing something special behind-the-scenes for every new cast member. Sure, usually there is a meet-and-greet, but for this show they took it one step further. For every first day of rehearsal (vacations aside), Roth, stage managers, director Karen Carpenter, press agent Molly Barnett, some others and the new cast gathered and each talked about a piece of clothing that has meaning to her. The image of this is a ridiculous one to me, but I can see how it would help for this particular show. After all, the stories by themselves aren't genius. There is the typical Ephron quippy wit scattered throughout and some touching moments, but in order for it all to work, everyone in the room needs to feel connected to the stories, or at least the sentiment behind the stories. This is a show with no stagecraft -- it is solely dependent on selling the words. Some of the actors I've seen have been better at that than others. I've been impressed that the tracks have changed occasionally, perhaps based on who sells what better, though maybe just based on picking from a small hat.
Okay, I will stop now. Roth says Love, Loss and What I Wore is closing because it's time, going out while still on a high note and all that. She also says she is hoping to host a yearly reunion performance in NYC. Meanwhile, for the other 364 days, I am going to have to find a lower budget alternative to a big Broadway musical that I can recommend to friends and family. I'll try to pick something with pink sets, for a change.
Photo by Carol Rosegg.