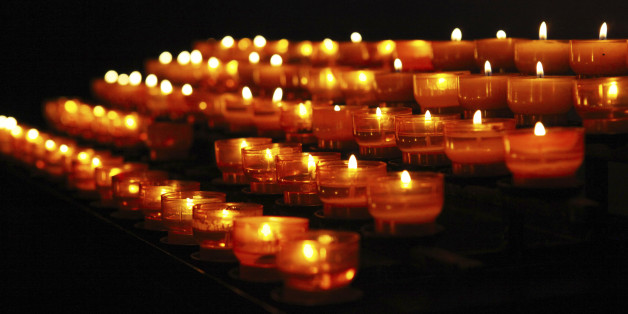 One thing the theater community does well is celebrate its own. And Polly Bergen was a member of the theater community.
Now, as I previously wrote, the League of American Theaters and Producers opted not to dim the lights for her. When I called a friend there, I was told that she wasn't enough of a theater fixture to warrant the honor. Of course, they dimmed the lights for Robin Williams and James Gandolfini, but, moving on. Rex Reed and producer Michael Alden felt Bergen deserved a big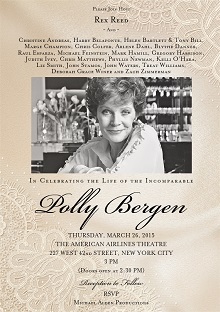 Broadway sendoff and she received one on Thursday, March 26 at the American Airlines Theater. Richard Jay-Alexander, who worked with Bergen on her acclaimed cabaret show but could not be in New York last Thursday, wrote a lovely tribute in advance.
I entered expecting a joyous celebration of a woman I know many loved. Reed, a longtime friend of Bergen's, hosted the event. What I was struck by sitting there is that this turned out to be the most touching of any of the big Broadway memorials I have attended (and there have sadly been quite a few over the years). Perhaps I felt I had more of a personal connection with Polly Bergen. After all, I did fall onto her during the first opening night I remember attending. And through the years I saw her, both onstage and off. But I don't think that was it. Usually these memorials are punctuated with at least one happy song. This one wasn't. (Michael Fienstein sang a beautiful rendition of "I'll Be Seeing You," Kelli O'Hara sang "You Are There" and Christine Andres "Absent Friends.") Of course that is not to say there weren't hysterical stories or moments of light. After all, Polly Bergen was an old time broad. A fighter. I wrote before the event that she had a grace about her, and she did, but most people at the event spoke of her, umm, spunk. For example, Gregory Harrison, one of her Follies costars, talked about how, while onstage (but off mic) she reviewed the audience and told filthy jokes.
Yet there was something so sad about the proceedings, as if it was a memorial for someone who had died young. I believe that is because of three factors. First, Polly meant so much to so many. Yes, it is typical for people to show up at memorials and tell nice stories. No matter who dies, if they have a big memorial, that is pretty much a given. However I've never seen so many people choked up during their speeches. Arlene Dahl, herself 89, could barely get through her speech. She spoke so movingly of their friendship, how they shared stories of acting in the studio system and also both became businesswomen, at a time when there weren't many. Dahl was just one of the legends that showed up -- Harry Belafonte, an early Bergen costar, spoke and Marni Nixon took the stage with the cast of Follies. (Belafonte said he still hoped to one day get an answer from her on why she chose the name "Polly" after being born "Nellie.") Almost the entire Follies cast was there onstage; Blythe Danner and Treat Williams sent notes to be read in their absence. Glee's Chris Colfer, who chose Bergen to play his grandmother in the 2012 movie Struck by Lightening, gave the loveliest video tribute about how much she meant to him. Raul Esparza spoke about how she gave him the push to continue in Taboo, a show that ended up earning him his first Tony nomination. Her grandson gave an amazing speech about a woman who was born in a dirty trailer and achieved so much. There were tons of video clips showcasing Bergen throughout the years, including one of her singing "The Party's Over." Almost everyone who was originally announced to participate, participated in one way or the other. It was just an amazing showing of love. Reed, best known as a critic, was a perfect host.
Second, before she passed away, we all thought we'd see Polly Bergen again. In that way, her death wasn't like the death of other legends, including Elaine Stritch. Yes, Bergen was 84, and, yes, I hadn't thought about her in the couple of years before she died, but I always expected to see her in something in the future.
Third, I think sitting there I realized how under-appreciated Polly Bergen was. Not only because there was no dimming of the lights and the Academy didn't choose to include her in the "In Memoriam" segment of the Oscars. Those are trivialities. More because I don't think she was appreciated or honored for all she did. As made clear in the memorial, she was a great fighter for women's rights. A woman who didn't worry about getting her hands dirty politically and never shied away from speaking her mind, even if it could impact her career. At age 17, she had an illegal abortion, which took place on a kitchen table and left her infertile. (She later adopted two children and also had a stepdaughter.) I think many actresses would have hidden such things, but Bergen went around speaking about it, stressing the importance of a woman's right to choose. (See this Los Angeles Times story as an example.) I vaguely knew all of this of course. I knew about her many years away from the business. I knew that she amassed a fortune and had lost it, or, more precisely, that one of her husbands had lost it for her. When Follies opened, and she sang the defiant anthem "I'm Still Here," this was all written about. I read it then and again when she died. But I don't think I processed it all until sitting at the American Airlines Theater. This was a woman who accomplished so much, even before Follies. Yet she was constantly having to fight. Reed spoke of how she couldn't get an audition for Follies and had to write to Stephen Sondheim herself. Approximately 45 years before that she bought the television rights to Helen Morgan's story when she failed to get the same role in the film. Polly Bergen was a great performer. She shouldn't have had to fight so hard. Though at least she succeeded! Most others would not have.