I sometimes feel like I have my own Tony Awards black cloud. Last year, my guest got injured at Party #2 (and Matilda lost, which made me sad). This year, I decided to go solo, and I got food poisoning in the morning. (Life lesson: When you're violently ill all day, a drink at midnight is probably not the best idea for mental or system functioning.) Nevertheless, it's the Tony Awards! It's the culmination of every New York theater industry professional's year. It's the time to put on nice clothes, watch an award show and then go celebrate the theater community.
I am not even sure what to say about this year's broadcast. There was so much thrown in there that it is all a blur. I still don't think I've comprehended it all. It was a broadcast that relegated the writers of musicals to commercial breaks, but highlighted the writers of plays in a new, unexpected way. There was hopping. Someone thought it was appropriate for the "In Memoriam" segment to be shown at Radio City during a commercial break. (FYI: Not cool, CBS, American Theatre Wing and the Broadway League.) Two upcoming musicals (only one of which has a Broadway house or announced dates) were featured because their songs were sung by celebrities, but the one 2014-2015 Broadway musical currently playing, Holler If Ya Hear Me, was only mentioned by its director in his A Raisin in the Sun acceptance speech. I was surprised by Beautiful 's Brian Ronan winning for Best Sound Design of a Musical and A Raisin in the Sun winning its three awards. In my book, speech of the night goes to Lena Hall; Jessie Mueller in second, Audra McDonald in third. I would have much preferred the Best Featured Actress in a Play award went to Celia Keenan-Bolger or Mare Winningham, but I wasn't devastated as is. I wasn't really personally invested in any category, and therefore I didn't care how they shook out. (I thought Gentleman's Guide would win, but I did have a whole column planned on press agent Molly Barnett had Beautiful pulled it out, complete with retro Richard Kornberg and Associates office photo, so I was a little sad I couldn't do that, but then I don't think the Tony Awards should fall according to my column preference.) I followed Variety's Gordon Cox and Time Out New York on Twitter for non-broadcast material, sat back and just watched what there was on air.
I thought the telecast was disappointingly overstuffed and yet under-inclusive. And I was sick all day. But there is no Tony night for me without Tony parties. I love the whole thing. This year, I stopped by Best Musical winner A Gentleman's Guide to Love & Murder, Beautiful (featuring Best Actress in a Musical winner Jessie Mueller) and the O&M after-party at Cafe Carlyle.
Needless to say, Gentlemen's Guide had a very happy party. In my favorite Tony party location, downstairs at Rockefeller Center (home to last year's Vanya Sonya Masha and Spike fête), the party featured some ecstatic winners and supporters and an eclectic DJ playing everything from "Timber" to "Respect" (maybe in honor of the Aretha Franklin After Midnight rumors, or maybe not) to "MMMBop." I caught up with lead producer Joey Parnes (who is also a producer on the winning revival of A Raisin in the Sun)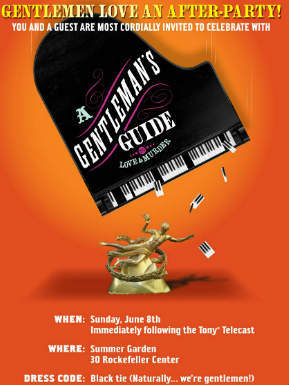 to ask him how he felt a couple of hours after A Gentleman's Guide to Love & Murder took home the top prize. Parnes explained how long the creatives were working on the piece, not an obvious commercial hit, and how "gratifying" it was to be at this point. "In music, you keep playing the seventh over and over again to get to the tonic," he said. "We kept playing the seventh, playing the seventh, playing the seventh, because we knew if we kept playing the seventh, we'd get to the tonic. We finally got to the tonic."
Sitting inside one of the large indoor spaces, in a booth with her whole family around her, I found nominated cast member Lauren Worsham, who gave a great Drama Desk speech, but sadly didn't get the opportunity to accept an award on the Radio City stage. She said she was happy to be relaxing with her family, but had a really amazing night, with the two highlights being her show winning and LL Cool J taking the stage. ("It was LL Cool J! That's my childhood right there," she said.) Worsham said that if she was ever nominated again, she'd let it sink in more. Understandable.
I also was greeted by some very gregarious fellows who were friends with producer Jhett Tolentino, whom I had never met before. Tolentino and producing partner Joan Raffe (they go by "Joan Jhett Productions") were proudly sporting Gentleman's Guide pins and talking about their experience. (They also produced A Raisin in the Sun this season, as well as the less successful Velocity of Autumn.) "We've lived together seven years," Raffe said, looking at her producing partner. "He's gay, I'm old. There is no sex, but we win Tonys."
I left the Gentleman's Guide party at about 1:30am, at the height of its popularity. Star Jefferson Mays had just arrived with a dog, and Mothers and Sons nominee Tyne Daly had also walked in, signaled by a shout-out from the excited DJ. (I never previously thought I'd hear a DJ say: "Tyne Daly is in the house!") I wanted to get to the Beautiful party though, which was down the block at the smaller Bobby Van's Steakhouse. Unlike the ever-growing Gentleman's Guide party, the Beautiful party had already partially thinned out. Luckily though the guests still included the spectacular Lillias White, nominee Jarrod Spector (so great in the show) and one of the night's biggest winners, Mueller. Mueller was already proudly sporting flats and beaming at the folks who came over to congratulate her. "To be here, with all our friends and our family, it's such a wonderful moment," she told me. "I feel wonderful."
I just caught Mueller, Spector and others because they, like me, were soon to be at the Carlyle, where public relations firm O&M hosts its annual after, after party. The swank affair seemed bigger this time, bigger and yet more crowded. Many presenters and winners were there. The After Midnight cast was having a fun time in a group, posing and telling stories. It's always interesting to see the interactions at this point of the night; Zachary Quinto walked right passed one of the night's winners, Darko Tresnjak, with just a "Hey" before doubling back with a: "Oh, Darko. Congrats!" I overheard Hall, still overwhelmed and exceedingly excited after 3am, telling someone she changed five times during the night. When I told her I thought she gave the best speech of the night, she said she was "looking forward to seeing it" because it was such a blur for her. Actually, many of the Tony winners I spied without their actual award, but each time I saw Hall, she had it, possibly so she would know winning it was real. I have many other Carlyle stories, but I don't think it is necessary to quote people that late at night. Let's just say, everyone had a great time at the packed affair.
And with that, Tony night was over. At 4am, I left many people still at the Carlyle, enjoying some live music, animated patter, free-flowing liquor and amazing cookies. Now we all start planning for next year's night.