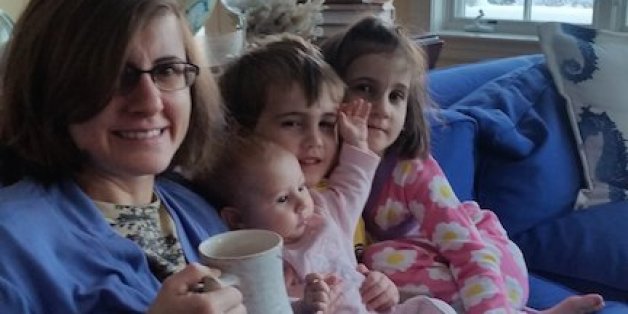 Having our third child this summer definitely didn't make me an expert on parenting (although I am an expert on who's got the best coffee in town, trust me).
But there are some things I understand much better now than when I had my first baby six years ago.
I think that becoming a mom or dad for the first time is an experience you have to trudge through on your own in many respects; a lot of the advice that comes from your own parents, grandparents or friendly strangers is sure to fall on deaf ears.
No matter how many people told me not to worry about a nap schedule with my newborn all those years ago -- assuring me she'd fall into a pattern soon enough -- I didn't listen. I tried and tried until I realized they were right. With my second child, I knew he'd come around by four months or so and truly loved those initial, unplanned weeks, letting him sleep wherever and whenever.
That being said, I decided I'd try to impart at least some of the practical knowledge I've learned since becoming a mother. Not the sentimental stuff so much, because there's plenty of that out there (yes, your baby is beautiful, and your new post-baby body is incredible and all of that), but a few real steps that might make you feel better in these first few crazy months.
1. Make friends with other new parents. Although you really, really want to tell the guy ringing you up at the coffee shop about the fact that your baby doesn't like to be swaddled, but needs to be swaddled, he probably doesn't want to talk about it if he's not in the throes of new fatherhood himself.
But other new parents do! (Plus, the fact that their babies will only sleep in the swing, or on their chest but never, ever in the crib). Indulge yourself in these topics freely for now -- you'll return to more worldly conversations in months to come. Look for local parenting support groups online or through the hospital where you gave birth.
2. Get comfortable with nighttime feedings. It's easy to classify middle of the night bottle or nursing sessions as "pure, unadulterated misery" and revel in the exhaustion, but making the experience more pleasant is worth it.
A comfortable glider is a great investment. Entertainment helps, too. Newborn babies can't comprehend all the violence, sex and bad language in a television show, so live it up. I made it through all three seasons of Girls while nursing my baby at night during her first month. At the end of an episode, she was full, deeply asleep and ready to be placed back in her cradle. And instead of cursing everything and imagining how tired I was going to be the next day, I was like, "What the hell is up with Marnie?"
3. Saying "I'm sleep deprived" with a big smile goes a long way, like when you leave all your groceries behind at the checkout and have to return to get them, or when you inadvertently leave your breast hanging out of your shirt.
4. Plan a trip. In your former life, you made plans as you saw fit, but life with baby means both uncertainty and tedious chores on a daily basis. Take some of that control back by planning a day trip, a weekend getaway to a well-loved locale or a visit with out-of-town family to introduce the new arrival. This will give you something to look forward to, and is a happy reminder that while you might be mired in the joys and pitfalls of parenting, the rest of the world is still out there.
5. Take a break from the never-ending stream of parenting articles available on social media. As ironic as it sounds coming from writer who covers this very subject, I know that being reminded to "enjoy every second," "take care of yourself," "get rid of mommy guilt" and "plan a night out with your spouse" is fine until all the directives to not get overwhelmed get... overwhelming.
Put your smartphone and computer aside, at least for a little while, and plan your new life in ways that make you feel good. If you like books, pick up an easy read by a favorite author and let your baby sleep on your chest (you'll make it to naps in the crib someday, promise). Get outside for a daily walk if you miss your regular exercise routine.
I'll be the millionth parent to remind you that these first few months can be tough, but are fleeting, so do what works best for you and your family. Soon enough, you'll be onto the next chapter, having survived life with a newborn, and giving out advice to new parents yourself.
Like Us On Facebook |

Follow Us On Twitter |

Contact HuffPost Parents
Also on HuffPost:
PHOTO GALLERY
Seven Things You Didn't Know About Babies