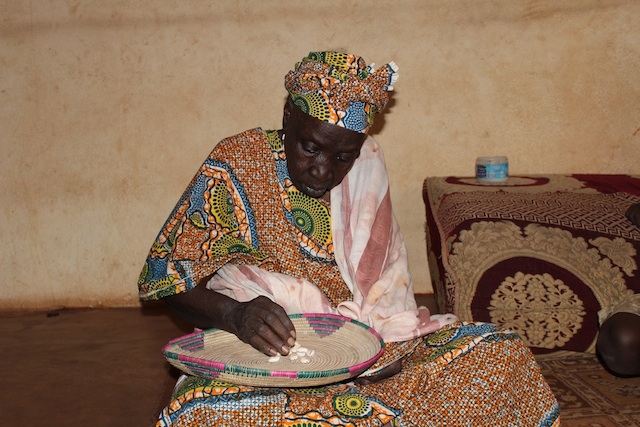 By Adel Sarkozi/CARE International
In an outer suburb of Bamako -- Mali's capital -- with half finished buildings on dusty dirt roads covered in litter, you enter a two-story house. Like many other derelict houses in the neighborhood, you're told, it is inhabited by 'Northerners.'
They are most often women with their children, or just children, teenagers torn apart from the rest of the family and forced to flee the Timbuktu region, its violence and chaos, its dread-filled streets, empty shops, schools and health centres shut down since last April.
Their stories sound the same, with small variations, punctured by half sentences, and words such as fear, "had to flee," "on the road for four days," "could not take anything with us," "husband left behind," "life turned upside down." They are probably the best summed up by Komjo, a grandmother in her 60s:
"Everything that was good in my life, I had to leave behind. I live on memories, those before the fighting," she says.
You find her seated on the floor, surrounded by younger women and their children, some her relatives, some neighbours from Timbuktu. There are about 40 of them in the house, having joint relatives or just good-hearted people. At night, they cram in two semi-bare rooms, and on a bare balcony.
As every morning since she has fled to Bamako six months ago, Komjo is bending over a large plate, full of small shells. "She is reading the future," says Haussa, a woman in her 30s, seated on her right.
"So what do the shells say today?" you ask.
You expect her to say something about her future, that of Timbuktu -- liberated just the day before -- or that of Mali, but she starts telling you about your own future. And from the way she touches upon your past, you cannot help believing that her predictions might be true as well.
When you ask about Timbuktu, she says: "Only God knows... We cannot be sure."
She starts tossing the shells in front of her for a few seconds, and then she adds: "But I would go back straight away, this very instance if I could." For the first time, there is passion in her voice, and a shade of smile on her face neatly lined by the trace of time, tucked under a bright headscarf.
"We will go back as soon as there is complete peace there," Haussa pick's up the story.
She arrived in Bamako on the 10th of January, after a journey of four days -- most of it by boat. The story of her family's journey over the past seven months is intricate, marked by painful decisions. Last May, Haussa and her husband decided to send their three older children -- between seven and 12 years old -- to Bamako, in the safe hands of helpful relatives. They were worried about their safety after violence erupted in Timbuktu last April, but they also wanted them to continue going to school. "In Timbuktu," she says, "There has been nothing since last April: no schools, no clinics, no electricity, no water, no services whatsoever. It was hard for the children."
They kept only their youngest son with them -- Abdul, a playful, two-year-old. Then, a few weeks ago, fearing the worst, her husband insisted that Haussa should leave as well with their little one. They set off on a four-day journey, leaving their husband, father behind. He stayed, worried that their house would be vandalized.
Abdul found the journey difficult, she explains, and often cried out of tiredness, pleading for them to stop.
She pulls him over, in her lap, whilst Abdamane, the eldest son, joins them on the floor. When asked what he misses about his life in Timbuktu, Abdamane says shyly: "Everything... my school, my friends...my father, most of all."
His story is sadly too common -- of families torn apart, predicting a future just as uncertain and disrupted, they say, as their recent past.
A bright, well-articulated Salif, taking refuge in the same house, is here with two of his younger brothers. School is important to him, he says. He wants to become an agricultural engineer, and is now in his last year of high school. Last year, he spent five months out of school, until he too fled from Timbuktu.
You turn back to Komjo who is still staring at her shells.
"More news?" you ask.
She pauses, eyes still cast on the shells.
"Life is hard here. Everything is expensive. We live from one day to another... We have to borrow money, cope with whatever little we have... When we heard Timbuktu was freed, we were filled with joy. It was unbelievable... There is little left there. It will be hard but we want to go back... As soon as we can," she finally says.

Note: CARE International plans to restart its activities in Timbuktu, and assist the returnees and those who have remained in the conflict-torn city. In the following days, CARE and its local partners aim to distribute food (18,794 metric tonnes) to over 130,000 beneficiaries over six months.
CARE has been working in Timbuktu in partnership with local organisations, and has been already distributing much needed food and other essential items in Ségou and Mopti, two of the five areas most affected and in need of humanitarian assistance. It assists both internally displaced people (IDPs) and host communities in Ségou and Mopti who are still recovering from last year's food crisis.