Thirty-year-old Manal's baby was born in Beirut two months ago. Manal says that she has never thought that her first baby would be born as a refugee; that he would not get to hear as he is growing up how much joy his birth brought to his large, extended family; that he would not have a stable home, growing up surrounded by love and security.
Manal and her baby are Syrian refugees in Lebanon.
Although grateful that she could give birth in a health center in Beirut, she is worried about her child's health, and that she can no longer access health services. "My baby hasn't been vaccinated. He was sick and I went to the clinic but they asked me to pay. How could I? I had to turn back."
As life in Beirut was increasingly becoming difficult with her husband unable to find work, feeling isolated, and rent prices becoming unaffordable, the family decided to move to an informal camp, about 40 km south of Beirut. They knew another family in the camp, and they stayed with them until they managed to get their own tent. They are part of 33 families living in an olive grove, with blue and white tents and temporary shelters raised on rocky terraces.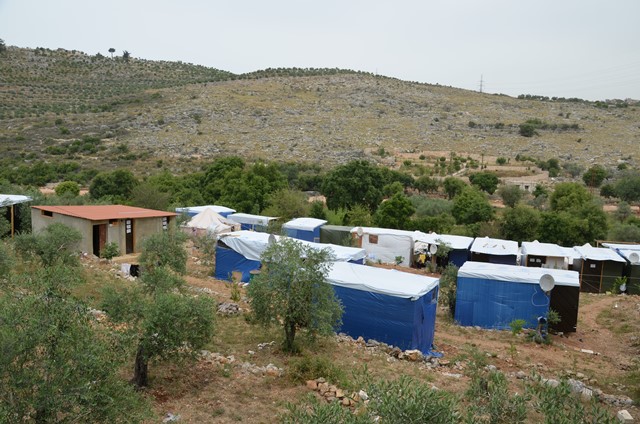 Photo: The informal camp where Manal lives with her family CARE/Adel Sarkozi
Though the family feels less isolated here, and the refugees help each other, Manal is concerned about her baby's health, especially with the onset of the summer months. "He is suffering from rashes, and the heat, and there are a lot of insects here. I have no baby food for him or medication. Often I boil rice, and when we finish eating it, the water I used to boil the rice in is our next meal... I have also been sick, but can't afford the doctor. I have no sanitary napkins," as her grievances keep rolling, so are her tears. She feels helpless, she says, as she keeps fanning her child inside the shelter, which leaks when it rains.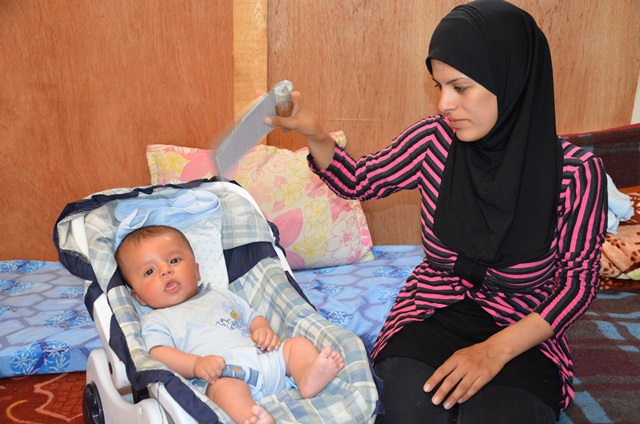 Photo: Manal with her baby CARE/Adel Sarkozi
Nada, a 27-year-old Syrian refugee is raising her four children, including an 18-month-old son alone in Amman, Jordan. Her husband is trapped in Syria and has been unable to join them. "Since yesterday, I have no milk. I have to give him whatever we are eating. Often we can eat only once a day. The rent is just too high. I'm in debt, and whenever I receive some assistance, I have to pay back the debts. We keep living on borrowed money, and the owner's good will that he would not evict us."
Under the long, black headscarf, Nada's face is pale, and her eyes are red and heavy. She has been unwell. Often, she feels uneasy to venture out by herself. "I am scared," she says. "I went a few times to ask for assistance. But I am ashamed, I have never had to queue up before, asking, begging for help." She sleeps with her children in one windowless room -- they live in the basement -- often on the bare floor, as there are not enough mattresses. "I am not used to this," she says shaking her head, looking around her. "I want everything to calm down so that we can go back. I want my life back."
Ralia, a 27-year-old Syrian refugee living in Mazboud, Lebanon, was about to give birth in eight days when we saw her at the beginning of June. He will be raised in a school where 37 refugee families have been seeking shelter. The first children he will get to know and play with will also be refugees (most families have five children).
"I am feeling OK. It hasn't been a difficult pregnancy. All I want though is for my son -- he is a boy! she says smiling - to grow up home. In Syria," says Ralia.
Note: By the end of 2013 UNFPA estimates that 250,000 Syrian women -- in Syria and refugees in neighbouring countries -- will become pregnant. Women and children make up 78 percent of the number of Syrian refugees, and are most vulnerable during crises and displacements.
By Adel Sarkozi/CARE International