Female Forces of Nature in Business: Interview with Sarah McMoyler, RN, Labor and Delivery Educator, Author of The Best Birth, and Triathlete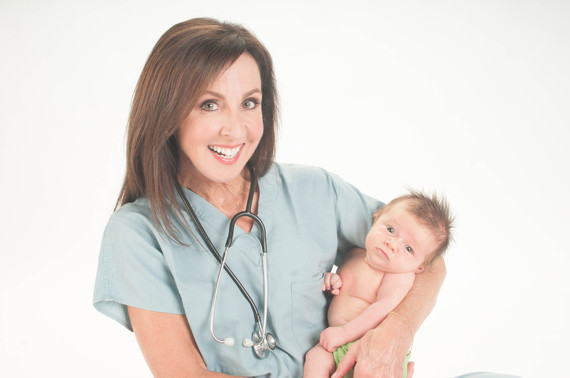 I had the great fortune to meet Sarah McMoyler as I was preparing for the birth of my first child last December. I read her book, the seminal The Best Birth, and took her new online birth preparation course as I was traveling nearly non-stop in the lead up to my due date and grateful for her no nonsense approach that I could access from Dubai on my Ipad. To be honest, I was dreading taking any course as I had heard so many nightmare stories from friends who took various classes offered at hospitals. But Sarah and her approach, the McMoyler Method, are legend in the Bay Area as the best and only place to go when you're expecting.
Sarah is different everyone would say and they could not have been more right. Sarah is not only different, she is in so many respects a force of nature. She has dedicated her life to coaching women and their partners through some of the most challenging and memorable times in their lives as they prepare to become parents for the first or fifth time. Not only is Sarah an accomplished educator, entrepreneur, and author she is also a triathlete who threads insights from her intensive training throughout her classes because as she states, "Birth is an extreme sport and one should prepare accordingly." In honor of Mother's Day, I thought it would be fitting to interview Sarah for this series to learn more about her experiences guiding 25,000+ moms-to-be on their journey to becoming mothers.
Q: You've been a labor and delivery nurse and educator for 25+ years. Why have you dedicated your professional life to helping women and their partners through the birth/parenting experience?
SM: PASSION! I have been passionate about birth, babies, and new families for most of my life. I actually wanted to have a baby when I was 17 years old; the good news about that statement is that I was 34 years old when I gave birth to my first son. Delivering my two boys into the world, are without doubt, the biggest gold-star, amazing, awesome, fantastic days of my life. I fight every day for knowledgeable, empowered, and confident expectant parents and caregivers.
Q: What prompted you to develop the McMoyler Method? And what makes your approach different?
SM: NEED! As a L&D nurse, I was seeing way too many people arrive in the throws of labor, with moms absolutely not coping; partners unable to be involved, and neither one of them knowing how to communicate with the health care team or make decisions. This, combined with my own experience of going through a childbirth class (preparing for my first baby) planted the seed.
There was an obvious NEED for something beyond Lemaze and Bradley. Lemaze and Bradley were fine last century, at letting our society know that we needed to prepare to give birth. Their approach is now outdated. (I have picked up where they left off, designing class content that is engaging, theatrical, dramatic, and dynamic... when adult learners laugh a little, they remember a lot more.
Q: You've trained thousands of expectant parents in the Bay Area over the years. What are the most common pitfalls that expectant parents make when preparing to give birth?
SM: First, I would say people rely way too much on birth plans. Seriously, how can people expecting a baby sit at home and write a 7-page dissertation about how this birth is going to unfold? The reality is that no one can control what will happen on the day they give birth. Which is why the tenet of my classes is: Healthy mom, healthy baby... however you get there.
Also, the expectations that pregnant women have of themselves, of their partners, of the nurses and doctors... has no basis in reality. I'm all for having a picture, a vision, and goals for birth, as long as they include a sense of flexibility and switching gears as needed along the way. Unrealistic expectations lead to unsatisfying birth experience and memories -- which is a crying shame, as this is one of the biggest event of their lives. So let's make sure that they have a stunning memory of the day their baby was born. I help mothers learn to allow themselves to be primitive, prepared and partnered. It sounds simple but for many of my A-type expectant mothers this can be extremely difficult.
Q: As a triathlete you've spoken and shared with those in your classes insights from your extreme sports training and the parallels to giving birth -- what are the most important take-aways from this for expectant parents?
SM: Attitude and visualization are key. Any extreme sport athlete understands the power of mental conditioning to not only have a positive attitude throughout their training process but to actively employ a variety of visualization techniques to get you to your intended goal. Preparing for labor and the transition to parenthood, whether this is your first or fifth baby, is no different. Pregnant women and their partners need to invest some time and energy cross-training and focusing on their mindset so they can begin "seeing" themselves having a baby -- well ahead of the due date.
Q: As a fearless female entrepreneur, is there any advice or insight you would share with others who are about to launch their own businesses? What are some of the most powerful lessons you've learned in the course of running your own business?
SM: For me, building my business first began with pursuing my passion. There is no way I could have survived this many years if I wasn't truly doing something that I felt was my purpose in life. I also believe that one should never stop learning or challenging yourself. I am training now for a half Ironman that I will run in August. It is pushing me to my edge and I am learning so much about myself throughout this journey. Every race, like every birth is unique and requires extraordinary commitment, preparation and focus.

I would also say that practicing gratitude, actively expressing your appreciation for those who help you along the way, is essential. Too often we are so focus on the day to day challenges that we forget to show appreciation and thank those who motivate or encourage us in even the smallest of ways. Thanking people is a powerful expression that reinforces the work you're doing and really lets other people know how much they've meant to your success. It has made all the difference in my business and in my life.