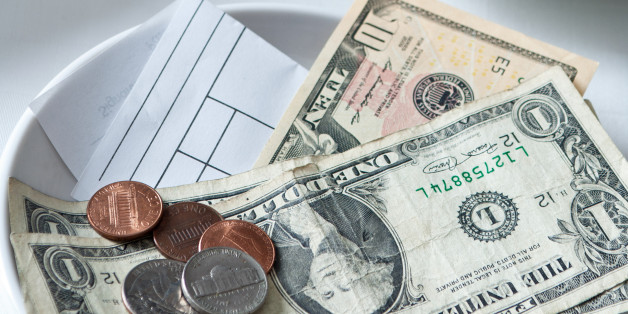 It was my first vacation as a single mom. I had no money, no hope and was unequivocally overwhelmed by the stress of living hand-to-mouth... paycheck to paycheck, which didn't go far, even when moonlighting on the weekends in the catering business or slinging drinks at $50,000 weddings. Nevertheless, I was determined to take my two kids on vacation that summer.
It was a long day. We had closed down the water park. Tired, wet, and water-logged, we sought out a decent open restaurant at 10:00 p.m.. Denny's in the heartland of a touristy Tennessee town was our best option. We were seated at a booth, surrounded by a concoction of vacationing families, carefree, half-drunk college kids and one man who sat alone.
He was seated in a booth directly across from me, and every time I looked up, our eyes met. He was an older, distinguished gentleman with a shaved head and black-rimmed square glasses. He watched us the entire meal, always with a slight smile on his face, which eventually made me somewhat uncomfortable. My daughter finally whispered in my ear, "Mommy, why is that man staring at you?" I quietly responded, "Uh.. .I don't really know. Maybe I look funny with wet hair? But shhhhh."
As our dinner concluded and we were ready to leave, I asked the waitress for the check. She slyly grinned at me like the Cheshire Cat and said, "Someone already paid for it." Instinctively, I looked up at this stranger across from me, and he stared right back and smiled. He grabbed his newspaper as he got up to leave and paused as he walked by our table, just long enough to kindly smile yet again and say, "I remember what it was like to be a single parent, how hard it was. But you're doing a great job," and all I could do was smile back at him as he walked away. I was so touched in that moment that I don't even know if I said thank you, or anything at all. I sat there for a few seconds, teary-eyed, while my kids waited either for me to say something or to embarrass them by having a breakdown in the middle of the restaurant. Instead, I jumped up out of the booth and rushed to the door, hoping to yell "Thank you so much!" across the parking lot. But it was too late. He was gone. And I stood there thinking thank you wouldn't have been enough, anyway.

Sometimes words just aren't enough. As much as I am in love with words, as much as they tirelessly enrapture my mind each day, sometimes they just can't encompass the depths of what I feel.
That evening, a stranger reached right in and touched my heart, as broken and tired as it was, and left a little piece of hope in it.
That is really what I'd like to thank him for.