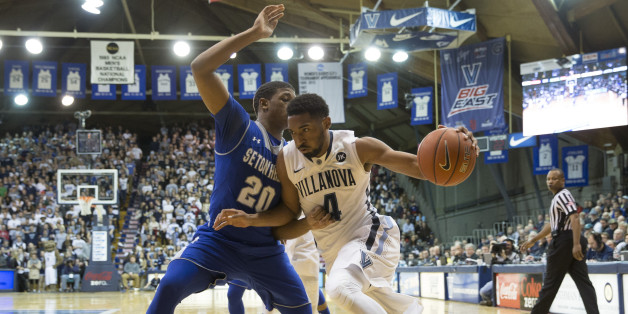 Darrun Hilliard had a clutch week for Villanova in tough road wins at Providence and Butler. The Bethlehem, Pa. native has been named NetScouts Basketball's National Player of the Week for games from February 9th to February 15th.
The 6-foot-6 senior opened with 16 points on 5-of-13 shooting in a 74-68 win at Providence on Wednesday. After earning the key conference victory, Hilliard set career highs with 31 points and eight made three-pointers including the game-winner against Butler. He was 9-of-16 from the field, 8-of-13 from beyond the arc, and added eight rebounds, three assists, and two steals. On the week, Hilliard averaged 23.5 points, 5.5 rebounds, and 2.0 assists per game while shooting 48.3 percent (14-of-29) from the floor and 50 percent (9-of-18) from deep.
As Villanova sits in first place of the Big East Conference, the Wildcats have made national attention for their unselfish play and 23-2 record. Hilliard's exceptional play this week, however, earned the individual award. As the team's leading scorer, Hilliard will be critical to Villanova's postseason run.
On the other side of the country, freshman Pascal Siakam posted impressive numbers in a pair of New Mexico State wins. The Douala, Cameroon native has been named NetScouts Basketball's International Player of the Week for games from February 9th to February 15th.
The 6-foot-9 forward had a consistent week, as he started with 24 points and seven rebounds in a 73-47 win over Seattle. Siakam was 8-of-11 from the field and 8-of-8 from the free throw line. In the following 74-58 victory versus Cal State Bakersfield, Siakam had 20 points and seven rebounds while shooting 7-of-12 from the floor and 6-of-6 from the line. On the week, he averaged 22.0 points and 7.0 rebounds per game while shooting 65.2 percent (15-of-23) from the field and a perfect 14-of-14 from the free throw line.
With a roster featuring nine international players, New Mexico State leads the Western Athletic Conference with a 9-1 record. Siakam has been the top player for the Aggies, averaging team-highs in points (13.5), rebounds (7.5), and blocks (1.7) per game. He'll try to lead New Mexico State to its fourth straight NCAA Tournament appearance with strong play down the stretch.
Carl Berman is Managing Partner of NetScouts Basketball.