I love a challenge, and I love my sister. And, not uncommonly, nothing stirs my competitive spirit quite like sibling rivalry. So for the past year or so, I've been in an ongoing competition with my sister Carolyn focused on a passion we share -- reading books.
You see, in June 2012, the Library of Congress, through its Center for the Book, issued a list of Books that Shaped America. As soon as I learned about it, I tallied up the number of books I had read and called Carolyn to compare.
And so a challenge was born. We're now each working our way through the list. Next up for me: Little Women and Invisible Man ... while Carolyn just finished The Great Gatsby and is about to start A Tree Grows in Brooklyn. I thought I had her beat, because I know she'd never finish Moby Dick (I did). But she claims she's in the lead (darn you, Joy of Cooking!). I think it's because she read To Kill a Mockingbird three times.
Given my interest in labor history, it didn't surprise me that many of the books on the list address issues related to work, workers and workplaces (for example: Atlas Shrugged, The Feminine Mystique, How the Other Half Lives, The Jungle, The Words of Cesar Chavez). But the diversity of books with work as a central theme really impressed upon me the role published works have played in shaping our view of American work. And so another challenge was born. Necessity may be the mother of invention, but in this case, sibling rivalry sure helped.
In honor of our centennial this year, the U.S. Department of Labor, in partnership with the Center for the Book in the Library of Congress, has created an exciting project called Books that Shaped Work in America. For an initial list, we asked members of the Labor Department family and others for their suggestions.
We are off to a great start. The books suggested so far are superb examples of the breadth and depth of American work that is captured in the pages of fiction, non-fiction, poetry, plays and even children's books. Among Secretary Perez's suggestions: Supreme Court Associate Justice Sonia Sotomayor's autobiography, My Beloved World. Former Labor Secretary George Shultz, one of only two individuals to serve in four cabinet positions in the U.S. government, selected Leaves of Grass. Labor Department intern Mandy Kraft included The Devil Wears Prada on her list. And Liz Claman from Fox Business suggested a book that was a movie first: On the Waterfront.
You can read their book recommendations -- and those of others -- by visiting dol.gov/books. Want to make your own suggestion? We make it easy for anyone to suggest a book and add it to the list. The site also includes U.S. Department of Labor resources related specifically to the individual books on the list. It's a terrific way to learn about the mission, history and resources of the Labor Department.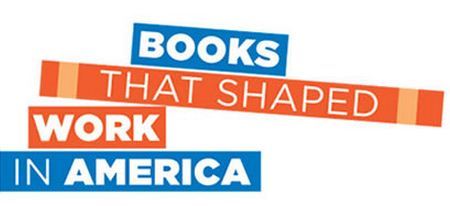 Of course, the list of Books that Shaped Work in America is a work in progress, and essentially always will be, since -- like America itself -- work is constantly changing and evolving. I certainly hope that people will take this opportunity to engage with the U.S. Department of Labor in an unique way.
Carolyn has already checked out the site. She claims to have read Quality, Productivity and Competitive Position as well as The General Theory of Employment, Interest and Money when she was in high school. And she's sending me How to Win Friends and Influence People for the holidays.
I've got my work cut out for me... and some reading to do.
Carl Fillichio heads the Labor Department's Office of Public Affairs and serves as the chair of the department's centennial. Learn more about the department's 100 years of service by viewing an interactive timeline and watching a special centennial video at dol.gov/100.