"Never give up work. Work gives you meaning and purpose, and life is empty without it."
That advice comes from author and theoretical physicist Stephen Hawking, and every day at the Labor Department, we see how jobs provide dignity and purpose for workers across the nation. Unfortunately, we know that people with disabilities, like Hawking, often face challenges when seeking employment.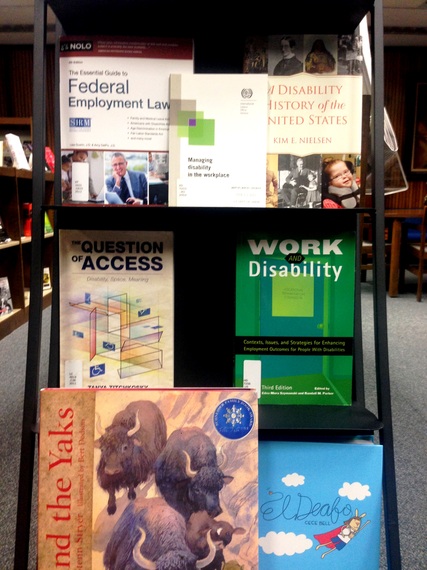 During National Disability Employment Awareness Month, we focus on the many important workplace contributions of people with disabilities because, as my colleague Kathy Martinez likes to say, at work it's what people can do that matters.
And people with disabilities can do a lot. Just ask Kathy, who heads the Office of Disability Employment Policy. Or Randy Lewis, who launched an inclusive employment model at Walgreens' distribution centers that led to employment for thousands of people with disabilities and has made Walgreens a model for disability employment. His book, "No Greatness without Goodness," is one of five new additions to our list of Books That Shaped Work in America. Just in time for NDEAM, each of these books reflects on the influence of work on Americans with disabilities.
"Workforce of One," written by Susan Cantrell and David Smith, focuses on similar themes, including how adapting a job to the skills of the workforce can have major benefits - not just in terms of disability employment, but as a practical management strategy for all workers. And Dr. Carolyn Hughes and Dr. Erik W. Carter's "The New Transition Handbook" has tips and techniques to prepare students with disabilities for life after graduation.
Anne Fadiman's "The Spirit Catches You and You Fall Down" chronicles the cultural clashes between the family of a young Hmong girl with epilepsy and her American doctors. This book shows the impact of varying expectations for people with disabilities and attitudes about how to best help them.
Finally, Malcolm Gladwell's "David and Goliath" explores the strengths that arise from what are often perceived to be weaknesses, and how "disadvantages" often have major benefits.
Read more about these books and how they relate to the Labor Department's work at www.dol.gov/books. Or better yet, tell us about a book, poem or play that shaped your view of work, workers or the American workplace.