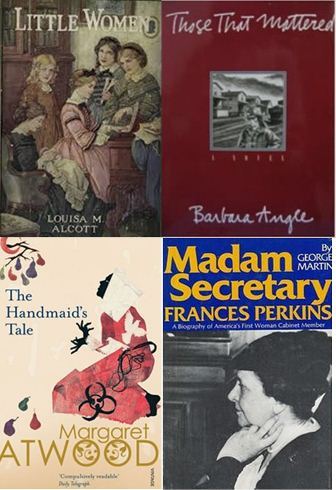 Last week, in honor of Women's History Month, I suggested five titles worth reading from the U.S. Department of Labor's Books that Shaped Work in America list. This week, I'm suggesting four more because, as we seek to improve the future for working women, it's so important to reflect on where we've been.
Earlier this year, in his State of the Union speech, President Obama said: "When women succeed, America succeeds." He urged action on key issues that would benefit working women, including increasing the minimum wage, equal pay, paid family and sick leave, early childhood education and childcare, increasing nontraditional and STEM (science, technology, engineering and math) jobs for women, and advancing women's leadership.

To help determine innovative ways to address these issues, on June 23 the president will host a White House Summit on Working Families, bringing together business leaders, economists, labor leaders, legislators, advocates and other key stakeholders to discuss and put forth concrete solutions. In the months leading up to the summit, the administration will host regional forums and events across the country. We'll learn a lot at these sessions. In the meantime, there is much to be learned from these great titles.

"Little Women" (1869) by Louisa May Alcott: Loosely based on the author's own life, this wonderful story chronicles the four March sisters -- Meg, Jo, Beth and Amy -- as they transition to adulthood. Through their experiences, the novel stresses morality over materialism and the interconnectedness of family, work and love in shaping each woman's identity and individuality. It also is a book about women and ambition that was written long before women were allowed to be ambitious.

"Those That Mattered" (1994) by Barbara Angle is a partly autobiographical novel about a young woman who comes of age in a West Virginia coal mining community. Facing limited opportunities after a divorce, she follows in the footsteps of her grandfather, father, brother and nearly all other men in the town by going underground, becoming one of the first women to do so. The book lays bare the physical and mental harshness of mining as well as the scorn and harassment faced by women in a male-dominated occupation.

"The Handmaid's Tale" (1985) by Margaret Atwood is an example of dystopian fiction, or science fiction. It is a cautionary story that takes place in a futuristic society in which the former U.S. is governed by a totalitarian religious regime. The rulers suspend the U.S. Constitution and take away all women's rights, freezing their assets and restricting their employment and education. Due to declining birthrates, some women are separated from their families and kept by the ruling class for reproduction purposes.

"Madam Secretary" (1976) by George Martin details the life and work of Frances Perkins, the (sadly, not well-known enough) secretary of labor from 1933-1945. The first female Cabinet member, Perkins was a tireless advocate for workers' rights and the principal architect of the nation's minimum wage, overtime, child labor, social security laws as well as other landmark employment regulations during Franklin D. Roosevelt's administration.

The list of Books that Shaped Work in America is a work in progress. We're always looking for titles to add, so send us your suggestions.

Carl Fillichio heads the Labor Department's Office of Public Affairs and serves as the chair of the department's centennial. Learn more about the department's 100 years of service by viewing an interactive timeline and watching a special centennial video.