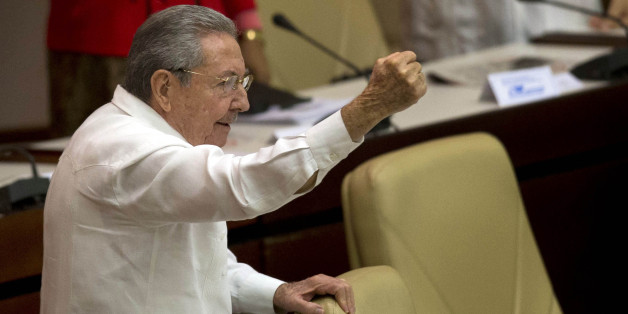 "We got nothing in terms of democracy and human rights. We got nothing about political freedoms." -- Senator Robert Menendez
"I'm going to continue to oppose the... foreign policy on Cuba because I know it won't lead to freedom and liberty for the Cuban people, which is my sole interest here." -- Senator Marco Rubio
These sentiments have been echoed time and again as those who oppose President Obama's new take on U.S.-Cuba policy have spoken up. And they've come from both sides of the aisle.
"We didn't get enough in return."
"All that matters is human rights and democracy in Cuba."
They're not misguided. Sure, it may seem that we got little in return for a change in policy. Washington received no commitment from Havana that there will be any effort to further civil liberties and democracy in Cuba. And those are and should be important to U.S. interests.
But there's a problem with that argument: it fails to see the forest for the trees. In other words, it's missing the bigger picture.
President Obama's new policy toward Cuba isn't just about human rights, and it's not just about democracy -- though this new policy could well prove more effective than the old one in advancing these objectives. The policy isn't even just about the bilateral relationship.
The president's shift in policy is about much more than that: the role of the United States in the region and beyond.
Let's look at the timing. It's been more than 50 years since Washington and Havana have shared diplomatic relations. President Obama is the first leader to reform the framework that underwrites bilateral ties. So why now?
In part, we have to look at Venezuela -- especially relevant for Cuba. The island's staunchest ally in the region lost its steward when President Hugo Chávez passed away in 2013. Despite the efforts of his successor, Nicolás Maduro, Venezuela quickly spiraled downward in 2014. Political instability, economic mismanagement, scarcity, inflation and crime are rampant, and the oil-driven economy was further crippled by this year's plummeting oil prices.
And all of this developed as Russia's economy was in free-fall, set for its worst year since the global financial crisis crippled its growth in 2009. The ruble's value plummeted as the Russian government repeatedly adjusted interest rates in an attempt to stave off a full-blown crisis.
What does that mean for Cuba? The foundations are crumbling under the country's most loyal friends, ideological partners, and financial-support systems.
So Cuba is, in short, vulnerable. With its past and contemporary bankrollers apparently crumbling, leadership in Havana cut the best deal it could get under the circumstances.
Let's keep that in mind as we look at what this shift in policy means for the United States beyond its relationship with Cuba.
Venezuela, the second beacon of leftist ideology in the region, is in crisis. Instead of digging into that friendship, Cuba cuts a deal with its "nemesis." Venezuela and the leftist coalition it represents (ALBA) are, suddenly, defenestrated by the United States, while the one country in the region the U.S. couldn't quite reach cozies up to Washington. Venezuela's leadership and legitimacy are in a tailspin.
Suddenly, the United States appears to be in control. And the Venezuelan narco-state, arguably the biggest threat in the region, is the biggest loser, even as Washington takes a victory lap.
As Venezuela falters and the U.S. and Cuba move closer together, the Latin American political left, whose narrative depends heavily on anti-U.S. sentiment, may find itself disoriented, unsure of where renewed cooperation leaves a movement that traditionally vilifies the United States.
And the rest of the region has long had diplomatic and commercial relations with Cuba, despite protests from the United States. Washington's perceived stubbornness toward Havana has been a sticking point for the region's leaders for decades. With that sticking point removed, much of the anti-U.S. rhetoric for now appears forgotten.
The tone has fundamentally shifted.
That builds credibility for the U.S. in Latin America beyond its affairs with Cuba, allowing Washington to better advance its regional priorities. And it opens up doors to advancing U.S. interests -- including human rights and democracy -- in Cuba, Venezuela and the rest of the region.
There are already rumors that President Obama and Mexican President Enrique Peña Nieto may work toward cooperative efforts to push for democracy and greater protections for human rights in Cuba -- cooperation that was impossible until just a few weeks ago.
In other words, transparency, credibility and engagement become the currency of influence -- and in this round, Washington has all three.
Beyond Latin America, the White House is sending a strong message: even where U.S. non-influence is viewed as a foregone conclusion, Washington can and will project its power to fuel its priorities, the primary drivers of U.S. foreign policy.
Since the revolution that brought Fidel Castro to power, Cuba was Russia's stronghold in Latin America. As the Cold War ended and most of its territorial competitiveness fell away, Cuba still stood out.
That's not true anymore. Cuba is now one of several unsavory governments the U.S. engages with in the region and globally. By making that clear -- that Cuba is not exceptional, but rather that it is one of many -- this new policy highlights the limitations of Russia's ability to project power. Last summer, Moscow granted relief for tens of billions of dollars in Soviet-era debt to Havana -- and six months later, Cuba appears just as willing to work with Russia's greatest antagonist.
In other words, Putin is calling for a relationship of equals with the U.S. in 2015, even as Washington takes away the last reminder of Russia's influence in Latin America.
Without a doubt, there's still work to be done -- though Cuba came through on its part of a historic deal with the United States by releasing 53 political prisoners yesterday. The messy work of diplomacy has just begun, and it won't be easy. But for now, let's make sure we don't let our justifiable myopia get the better of us. And let's not forget that the potential gains of this policy could be transformational for Cuba, and for the U.S., too.
This post is part of a Huffington Post blog series called "90 Miles: Rethinking the Future of U.S.-Cuba Relations." The series puts the spotlight on the emerging relations between two long-standing Western Hemisphere foes and will feature pre-eminent thought leaders from the public and private sectors, academia, the NGO community, and prominent observers from both countries. Read all the other posts in the series here.
If you'd like to contribute your own blog on this topic, send a 500-850-word post to impactblogs@huffingtonpost.com (subject line: "90 Miles").