Babylon Favela, Rio de Janeira, June 2012
The first person I met at the small organic farmers market just off the beach at Ipanema was the charismatic founder of the global Slow Food Movement, Italy's Carlos Petrini (U.N. Mega-Conferences like Rio DO bring people together from all over the world).
The second introduced herself bluntly. "I am a multiplier," Regina Tchelly told me, explaining her role as the founder of Favela Organica, a favela-based organic catering business she spearheads.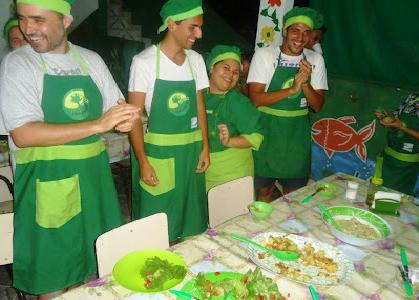 Regina is an explosive force in a green uniform of her own design. With less than $100 and her own salary as a full-time maid, Regina launched a business that now employs 20 people, caters for the likes of England's Prince Harry, creates dishes out of otherwise wasted foods like banana skins (delicious -- but stick with the organic ones) and trains favela dwellers in how to afford nutritious and delicious food on poverty incomes.
To find out how she does it, our guide and interpreter, David Hertz, an Ashoka Fellow who runs Brazil's Gastromotiva branch of the Slow Food Movement, take us to Babylon, the Favela from which Regina does her work. Babylon, David explains, is the equivalent of a "Five Star" Favela -- with much better conditions than most. It was recently "pacified," in a controversial and challenging program launched by Rio Mayor Edwardo Paes to reclaim slums from drug violence. (The apparent consensus in Babylon -- the drugs are back, but the drug violence is dramatically decreased -- partial success.) And as in most favelas, the external signs of shantytown are not necessarily reflective of what is inside the homes -- it's not a good idea to show off in a favela, but the big issue is not the quality of housing, but the lack of infrastructure, services and ownership.
Babylon, perhaps because it is just uphill from the Copacabana District where many of the Rio side events took place, was also the chosen scene for a visit by New York City Mayor Michael Bloomberg. And in honor of the visit, Babylon got spruced up -- we saw new sidewalks and gutters, their concrete barely cured. But even if these improvements were made as part of the Bloomberg visit, improvements they are -- so this is a good thing.
But while most people we talked to think that Paes has done a lot of good for the residents of favelas, there was still a certain Potemkin Village quality to some of the preparations. There were scores of signs, for example, urging residents to put their trash in the designated place -- but it would have been considerably more valuable to provide trash cans, which were noticeable absent. And the strips of turf that were laid down by the side of the steps up the steep hillside of Babylon will die within a month -- they were simply flopped down on top of rubble.
Inside Regina's home, it becomes clear that the mere fact that an organic catering business can be run from her tiny kitchen is an emblem of where the real hope lies for people in slums like Babylon all over the world. It is the ingenuity and creativity and hard work of these people themselves that, given even a slight opportunity, will make transformational change. David's job is to facilitate that opportunity -- and to help Regina become, as she says, "a multiplier." Mayor Paes' role is to provide the infrastructure, physical and social, that enables her business to thrive -- and to make sure that violence doesn't extinguish the flame she represents.
But Regina is only part of Brazil's Slow Food, Base of the Pyramid supply chain. The farmers who brought their produce to the market at Ipanema are also marginal producers -- but their produce is still only a third of the cost charged by Brazil's supermarkets for organic food. And on the edge of Babylon an exciting new restaurant has been opened with David's input and support. So, sustainability and poverty alleviation are being linked in fascinating and unexpected new ways - ways that will flourish much faster if the rest of us seek them out and support them as customers.
Slow food in the favelas may seem like a contradiction in terms -- but such disruptive innovations, not the bland, frothy platitudes of the official Rio + 20 declaration, are in fact "the Future We Want."
A veteran leader in the environmental movement, Carl Pope is the former executive director and chairman of the Sierra Club. Mr. Pope is co-author -- along with Paul Rauber -- of Strategic Ignorance: Why the Bush Administration Is Recklessly Destroying a Century of Environmental Progress, which the New York Review of Books called "a splendidly fierce book."