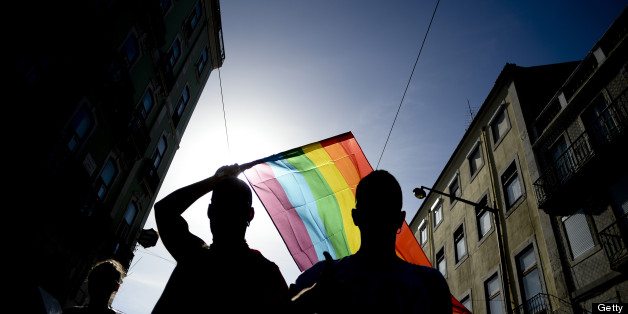 So, it's that time of year again. The time when many of us squeeze our overgrown feet into two-sizes-too-small hooker heels, dust off our adult-sized dog collars, and dig deep into our closets in search of that pair of silver lamé booty-shorts and spray-on body glitter. Yup, you know what I'm talking about. Pride!
For some, Pride is THE event of the year -- bigger than the Oscars, Tonys, and the finale of RuPaul's Drag Race combined. Pride is a rare opportunity to come together with our gay brothers and sisters, celebrate our achievements as a community, and just let the fuck loose. And with this week's historic decisions on marriage equality by the Supreme Court, it's bound to be 'off the charts'.
But it's a party not all gay people plan to RSVP to. Many among us will run away from the sweaty, bedazzled, masses, embarrassed by its flamboyance, disappointed by its commercialism (Pride Water? Really?), and disgusted by its often borderline-pornographic pomp and circumstance. Not to mention all those topless lesbians. On motorcycles. "That's not what I'm about," some say. "Men prancing around in the streets in their underwear aren't helping our cause!"
I know how they feel. I'm usually one of those people. But not this year. This weekend, I'm celebrating Pride in San Francisco, a place that's pretty much Ground Zero for all things gay. Pride is to SF what fois gras is to Paris: a rich part of its cultural DNA. Everyone, and I mean everyone -- gays, straights, preachers, and politicians (even Republicans) alike -- will, in some way, be taking part in the pink triangle party. And if that's the case, I'll be damned if I'm going to be left out!
In preparation for the big day, I've been thinking a lot about my disenchantment with Pride and what the day means to me. Surprisingly, like a drag queen putting on heels for the first time, I've readjusted my stance a bit. This year more than ever, I think it's important for the rest of my fellow gay grinches to come join the party and let their freak (rainbow) flags fly. Here's why:
Free to be You and Me
For those too young to remember, Pride is intrinsically linked to the revolutionary events of June 28, 1969, a.k.a. The Stonewall Riots. The first Pride march -- then dubbed "Christopher Street Liberation Day" -- was held on the one-year anniversary of that infamous night when gay patrons inside the New York City gay bar The Stonewall Inn decided they'd had enough of the homophobia and discrimination inflicted on them by police and fought back. Described by the Village Voice as "the out-front resistance" grown "out of the police raid on the Stonewall Inn one year ago," the march was insistently not about fitting in, but rather an assertion of individual identity and the right to live as such outside of mainstream society. Each and every one of the brave gay, lesbian, and transgendered men and women who marched no doubt felt an acute sense of ostricism (and shame) related to their sexuality. Unlike today, they didn't have the luxury of apathy.
The space these brave people created was one in which all could freely express themselves, their sexual preferences, and their love without judgment or precondition. They came together, as individuals, because of their differences, not in spite of them. This is something to think about, if you're the kind of person who bemoans men in feather boas sashaying in the street.
It's a Thin Line Between Love and Hate
Many Pride detractors claim that it doesn't reflect who they are or speak to their experience. Others detest the way the "mainstream" celebrates en masse. These feelings are actually good things. After all, Pride is about individuals expressing who they are in the face of adversity, not about celebrating conformity. To reject Pride is, if you think about it, more in keeping with the spirit of our Pride forefathers/mothers than anything those (to you) embarrassing revelers are doing.
Big Things, Small Steps
Like all holidays, Pride is an opportunity for self-reflection, feeling a connection with our family (biological or chosen), sharing our experiences, and sometimes just making a spectacle of ourselves. But even if you're not the type to say it loud, you should still say it proud. Spend some time finding simple ways to acknowledge your pride in your own way, in gestures that affirm a positive sense of self and that connect you to the broader idea of what the day is all about. Sometimes the smallest gestures carry the greatest significance. Exclamations of self-pride can be as simple as a small rainbow ribbon on your chest or waving from the sidelines. Tell someone--anyone--that you're gay. And if you are absolutely are determined to stay home at least watch Beaches.
The truth is, there are many ways to celebrate Pride, and they're all valid. The important thing is to make a point of doing something. Pride is, first and foremost, about honoring yourself and your community, showing appreciation for the brave LGBT men and women who fought for the freedoms we too often take for granted, and despite the victories we experienced this week, reminding ourselves that there are many more battles to be won. Starting with getting a pair of hooker heels that actually fit you.