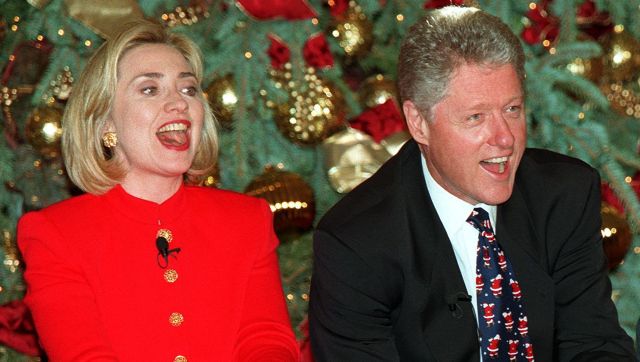 No matter how much we may imagine them now as marbleized icons of history, even presidents and first ladies enjoy searching out the ideal gifts to give loved ones at the holiday season, and sometime delight with an equal degree to receive them.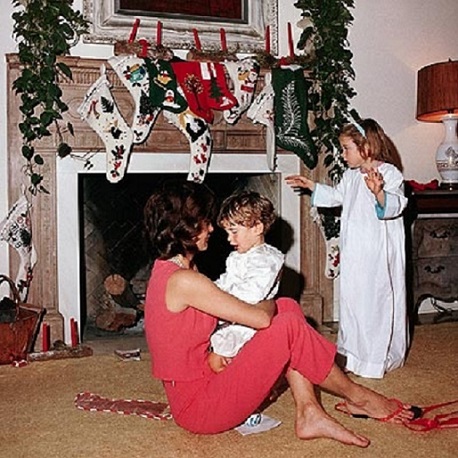 After staging a Christmas pageant during their 1962 holiday in Palm Beach, Jackie Kennedy speaks with her son John Kennedy, Jr. as daughter Caroline Kennedy looks on. (Kennedy Presidential Library, National Archives)
In 1789, during his very first holiday season as president, George Washington proved himself an indulgent husband. That year, he paid 16 pounds for a fashionable set of seed pearl earrings and, suggesting a consciousness of themselves as national symbols, a seed pearl pin in the shape of the American emblem of the eagle. Lady Washington, however, didn't seem to necessarily reciprocate at gift-giving. It was that for his Christmas as the first president that George Washington bought his own fur cloak.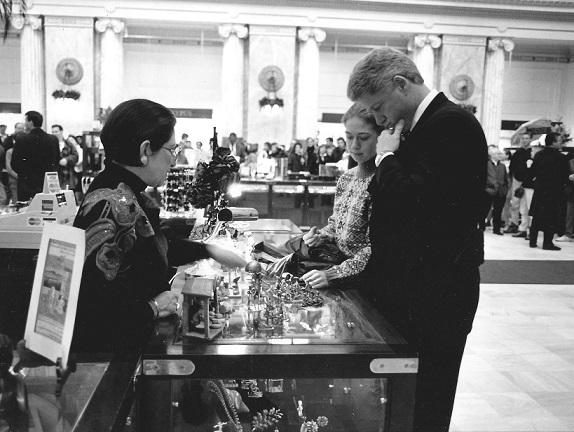 Bill Clinton goes Christmas shopping with First Daughter Chelsea. (Clinton Presidential Library, National Archives)
Some presidents have expended tremendous effort to select a rarefied Christmas gift to please their first ladies. Having poured through art gallery catalogs for several months before Christmas, Jack Kennedy finally winnowed down his choice of six drawings from the Wildenstein Gallery in New York as possible gifts for Jackie. He propped each one on his desk and stood back, but still could not make a final selection. He called in his visiting sister-in-law, Lee Radziwill, for guidance. "There is one in London I know Jackie would like," she piped up. "That one, no doubt is of animals. I am getting tired of seeing animals," he cracked to her. "Yes, it is," she admitted. He decided against that. In the end, he presented Jackie with a brightly-wrapped small canvas -- painted by Renoir.
While Ronald and Nancy Reagan had a reputation for their romantic doting on one another, their Christmas presents to one another were likely the most practical ever exchanged by a first couple. Among the items were chain saws, pickup trucks and manure spreaders, all to be used on their Rancho del Cielo property in the Santa Ynez Mountains.
To read the rest of Christmas at the White House: The President's Presents, Shopping, Giving and Getting Gifts, Part 1, and the other parts of the four-part series: Trees, Gingerbread Houses, Menorahs, Celebrity Santas and Other Innovations (Part 2), First Families and Holiday Charities (Part 3), First Families at Home for the Holiday (Part 4), and see over 170 photos of presidential families at the Holiday Season, go to the four-part series at: http://www.carlanthonyonline.com.