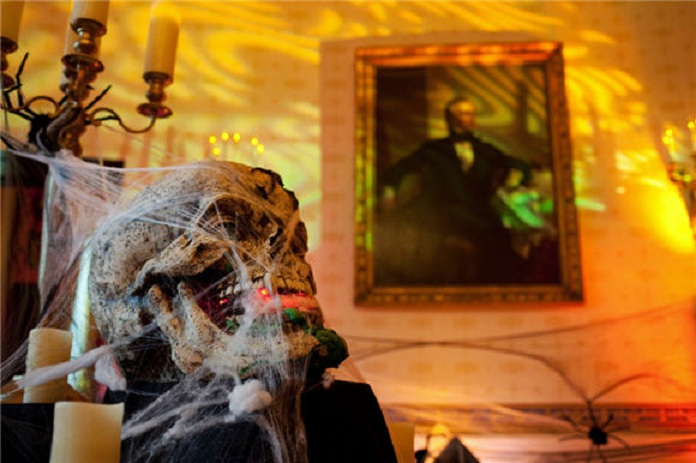 Halloween has been celebrated in the United States at parties for well over a century, but not until the 1950s did it go entirely mainstream with mass-produced costumes for children and packaged candy to give them as treats. So it was true among presidential first families, as well.
During the 1950s, First Lady Mamie Eisenhower became the first known to officially mark the holiday by having the state floor rooms decorated with ghosts, goblins, spider, skeletons and cobwebs. In fact, during her large luncheons held at that time of the year, she had the state dining room outfitted with Woolworth paper skeletons hanging from the chandeliers, paper black cats and witches placed around the tables and carved pumpkins as centerpieces. In some rooms, she had orange light-bulbs replace clear ones to cast a ghostly shadow and add color for atmosphere.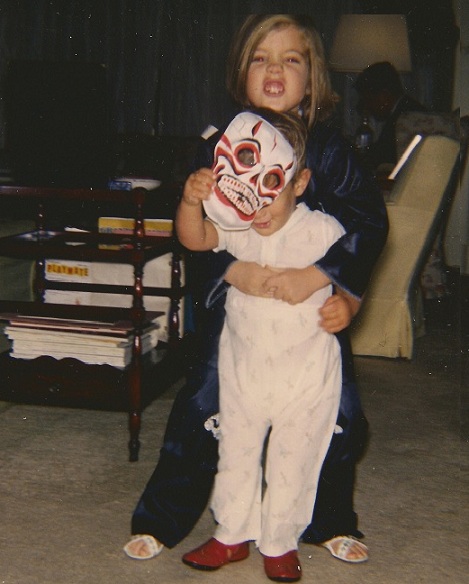 A few years later, in the early 1960s, the annual holiday celebration coincided with the residence there of the very young children of the president and Mrs. Kennedy, Caroline and John, who thus became the first first daughter and first son to mark Halloween.
But their mother, First Lady Jacqueline Kennedy, loved the holiday too -- and became the first First Lady known to have dressed up in an adult costume of her own for a White House Halloween. In 1962, she took a large black garment bag, cut out two holes for eyes and put it over her head. With black stockings, black boots and black gloves, Jackie managed a few moments of anonymity even in the White House, welcoming the president's sister Jean Kennedy Smith (who copied Jackie's costume and wore a red garment bag) and her son Steve in the allegedly haunted Lincoln Bedroom, along with her daughter Caroline Kennedy. Then the four went down the elevator from the family quarters and walked out along the West Colonnade to the Oval Office where the kids "scared" the president (see all the photos at link below).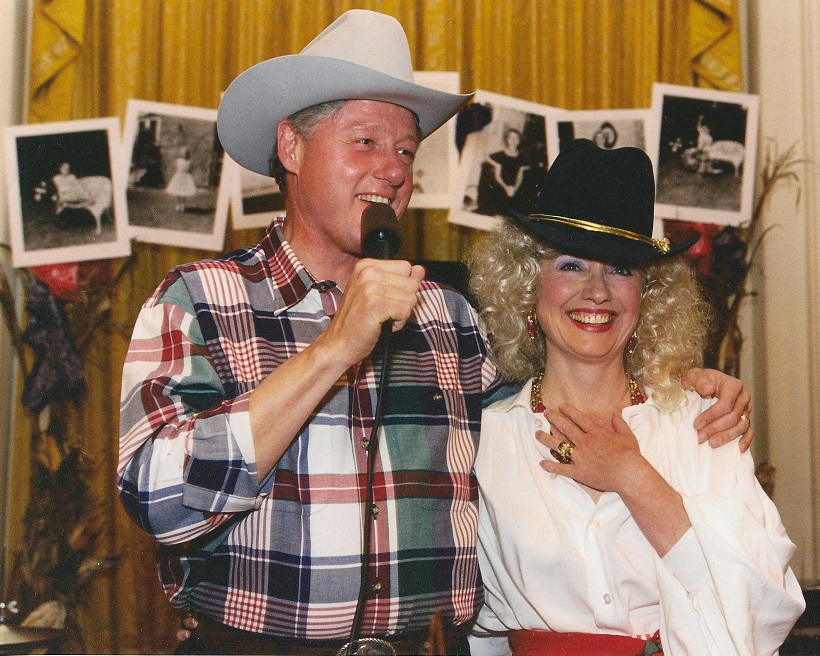 Every first family since the Kennedys has hosted a Halloween event, whether a private family gathering, a large public Halloween party for local children either on the south lawn or in the state rooms...
To read the rest of this article and to see photographs of Jacqueline Kennedy, Ronald Reagan, the Clintons, Obamas and other presidential first families in costumes, go to:
http://carlanthonyonline.com/2012/10/21/white-house-halloweens-jackie-kennedy-fdr-reagan-hillary-more-in-costume/.