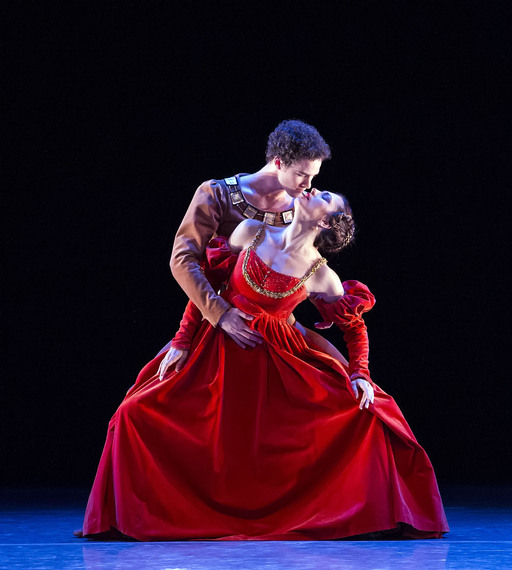 Cory Stearns and Veronika Part of American Ballet Theatre plotting evil in José Limón's The Moor's Pavane (Photo: Gene Schiavone, courtesy American Ballet Theatre)
Ballet to the People has been going to the ballet since she was a toddler, in cities from Manila to Miami and Milan, but to her, one of the great pleasures of going to see ballet in a dance capital like New York is that she is likely to be seated next to a true veteran who starts conversations with "I saw José Limón dance the Moor."
It was a good thing that American Ballet Theatre fielded Roman Zhurbin in the role on Wednesday evening ("Limón would have approved," the gentleman connoisseur conceded.)
A standout on ABT's deep bench of dancer-actor talent, Zhurbin tore up the stage as Othello, the jealous, then conscience-stricken, Moor with an anger management problem. Manipulated by a coolly frightening Cory Stearns in the role of Iago, with help from a conniving, seductive Veronika Part as Emilia, Zhurbin transfixed the house with his growing torment in this 20-minute distillation of the Shakespeare tragedy.
Framed within the skeleton of a courtly Renaissance dance, a metaphor for the social conventions that bind these characters, the marvel of The Moor's Pavane lies in the economic use of modern dance vocabulary, and the power of symmetry and repetition, to convey conflict and the bare essentials of narrative. The characters occasionally break free from their ritual quartet with its ceremonious bows and curtseys, pairing off briefly to concoct their next devious move, or to convey a dangerous secret in whispers.
Detonated by a stray white hanky, the cataclysm unfolds without a trace of cliché. The creepy Stearns wraps an elegant leg around Zhurbin. Part sweeps alluringly across the stage, trailing destruction along the hem of her heavy red velvet dress. The Zhurbin-Part-Stearns powerhouse overwhelmed the delicate Hee Seo, whose innocent Desdemona left too faint of an impression. Her death seemed preordained, yet we were still horrified at the sight of Zhurbin pummeling the defenseless Seo to the ground. The fact that Part's voluminous skirt concealed most of the murderous action from our view only made it more terrifying.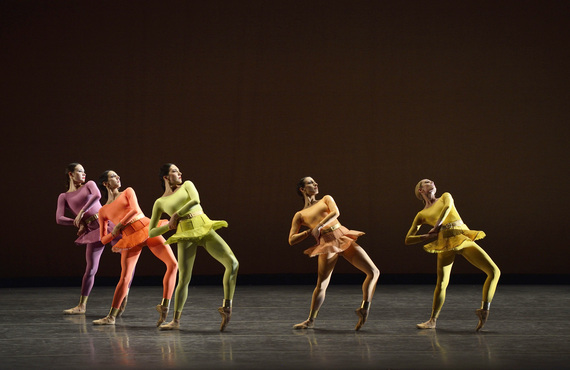 Christine Shevchenko, Adrienne Schulte, Nicola Curry, Nicole Graniero and Gemma Bond in Mark Morris' Gong (Photo: Gene Schiavone, courtesy American Ballet Theatre)
The Moor's Pavane was the dark, provocative heart of the evening, which opened with a pitch-perfect Les Sylphides and closed with Gong, a messy ice cream sundae by Mark Morris.
Few companies get Sylphides right these days: it's either horribly over-acted or stilted and drained of life, making it a prime target for parody by the inimitable drag artists of the Trockaderos -- who portray the Poet as a stoner who can't find his way through the woods, henpecked by a slightly mad ballerina who keeps shushing the nymphets of the corps because she thinks she hears voices talking to her.
ABT's revival of Michel Fokine's bow to a bygone Romantic era, sets the otherworldly mood with superb ghostly lighting by Nananne Porcher and a recently unearthed arrangement of the Chopin suite by Benjamin Britten, stripped down for a smaller orchestra, crisper and less corny than most previous orchestrations. Conductor David LaMarche's sensitive tempi avoid the lugubrious, and the well-schooled corps of 16 woodland nymphs, triumphantly led by Adrienne Schulte and Sarah Smith, flit as if carried by invisible breezes, ripple their arms like silky ribbons, and gaze mysteriously downward as if in communion with the earth.
The spunky but soulful Sarah Lane sailed through her Waltz with lovely, melting upper body finishes.
Hee Seo's ethereal presence in the Prelude drew pleasurable sighs from the audience, as did the lovely, soft fluttering of her ankles in bourrée, and her lyrical, musical extensions into balances.
Isabella Boylston soared thrillingly through her jumps in the Mazurka, but she pulls her back up in an un-Romantic flourish at the top of her grands jetés -- more Kitri from Don Quixote than Romantic pioneer Taglioni. Lane and Seo's delicate, polished execution exposes a vein of sensuality in the Romantic impulse; Boylston's display of athleticism is less nuanced. Her carriage of the head and shoulders appeared more tentative than that of the rest of the cast, notably in her pas de deux with the attentive Joseph Gorak, in which she seemed not to know where to focus her gaze.
The appealing Gorak gave a compelling performance as the Poet -- more than just an attractive prop for the ballerinas, but dancing alongside them, matching their lines -- his gorgeous physique and innate elegance slightly marred by a lack of plasticity in his landings from jumps.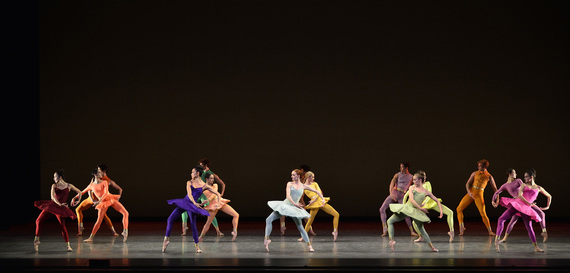 American Ballet Theatre dancers in Mark Morris' Gong (Photo: Gene Schiavone, courtesy American Ballet Theatre)
In the intermission before Gong, Ballet to the People's venerable seatmate announced cheerfully "I like Mark Morris -- he's crazy, but I like him." Ballet to the People saw little evidence of craziness in the confection that is Gong. She found much to love in Morris' response to the entrancing meditation on gamelan music by Colin McPhee (conducted with verve by Charles Barker), in the playful sophistication of the movement. The two pas de deux danced movingly by Misty Copeland with Grant DeLong, and Gillian Murphy with Sascha Radetsky, in silence and low, mysterious lighting, were almost heartbreaking in their intensity.
After the tight structure of Sylphides and Moor's Pavane, however, the looseness of Gong was slightly maddening. Dancers just come and go, willy-nilly, and there is an unwelcome air of improvisation or experimentation that goes against the grain of what is presented as a formal bow to ancient traditions of Indonesian dance. As in Morris' Mosaic and United, seen earlier this year at the Ojai North! Festival in Berkeley, references to other dance forms are haphazardly thrown in; in Gong, these include gestures with bent elbows, "prayer hands," flexed feet, wide squats, and giant shadow projections of the dancers in the style of Indonesian wayang theatre.
Lighting designer Michael Chybowski did his heroic best to soften the impact of the shiny, sherbet colored onesies (for the men) and shrunken tutus (for the women) which, paired with golden belts and golden ankle cuffs, gave the cast the appearance of a junior Star Trek crew on a psychedelic trip. Another costuming howler from longtime Morris collaborator Isaac Mizrahi, after the disfiguring pink-and-peach camouflage unitards for the all-male cast of Beaux at San Francisco Ballet.
ABT did what ABT does best and dispatched a S.W.A.T. team to try and make sense of all this. Stella Abrera, Marian Butler, Misty Copeland, Gillian Murphy and Xiomara Reyes faced off against Herman Cornejo, Sascha Radetsky, Arron Scott, James Whiteside and an admirable Grant DeLong filling in for an injured Marcelo Gomes. The supporting team of five corps women were no slouches, either, among them, the elegant and high-spirited Nicola Curry.