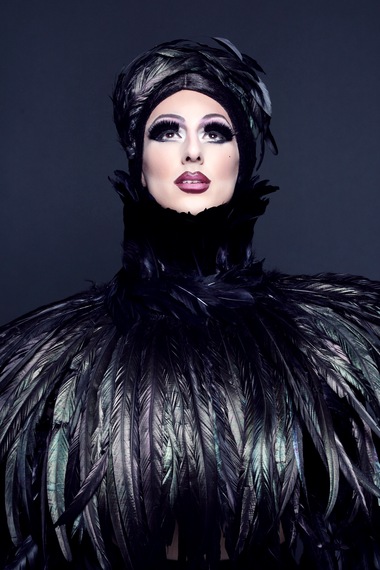 Matthew Poppe. (Photo: Matthew Brown)
We are born naked, the rest is drag.
- RuPaul Charles
"People who haven't lived their whole lives as women... shouldn't get to define us," asserts Elinor Burkett in The New York Times, in an exasperated reaction to Caitlyn Jenner's heavily orchestrated arrival on the planet: one of the greatest male athletes of all time squeezed, Old Hollywood-style, into a corset, looking like a million dollars on the cover of Vanity Fair.
And yet, provocateurs of gendered transgression have often illuminated our blind spots.
For centuries, female impersonators -- variously straight, gay and transgender -- have employed their ephemeral art to remind us that we are all, at some level, performing gender.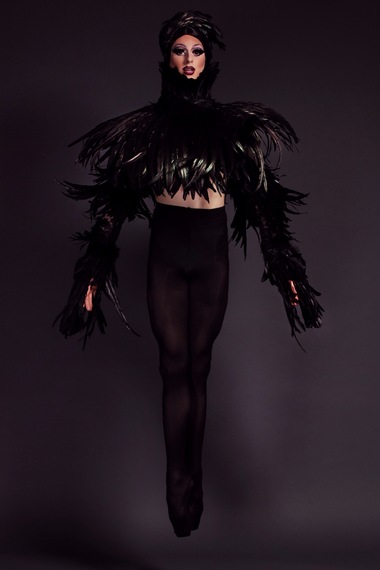 Matthew Poppe. (Photo: Matthew Brown)
The history of Western society's obsession with women's looks can be traced through the often peculiar, but revealing, history of gender representation on the ballet stage.
Ballet's twin aesthetic of ethereal beauty and youthful sexual allure -- with an idealized view of women at the focal point -- has been achieved over centuries of restrictive body ideals and a monastic discipline.
Yet, in the early days of Renaissance court ballet, only men were allowed to portray women onstage.
They were eventually edged out by the 19th century ballerinas who developed a virtuosity to rival the men's, and the ability to dance on pointe -- which outclassed the men altogether, relegating them to the role of lifters and the occasional comedic character.
The politics and economics of the era, however, ensured that men remained firmly in control of the ballet world, with ballerinas treated offstage as little more than kept women, even as their feminine mystique was celebrated onstage.
The phenomenon of Diaghilev's Ballets Russes at the turn of the 20th century -- with its emphasis on powerful male dancing, and the daring new androgynous look exemplified by Nijinsky -- reconfigured the gender battlefield in ballet once again.
Since then, the ballet world has seen little shake-up in gender roles, with choreographers (still predominantly male) riffing on predominantly heterosexual couplings. Performing en travesti has been limited mainly to roles like the Ugly Stepsisters in Cinderella.

A conspicuous exception has been the formidable Ballets Trockadero de Monte Carlo, who, over the past 40 years, have won a devoted global following.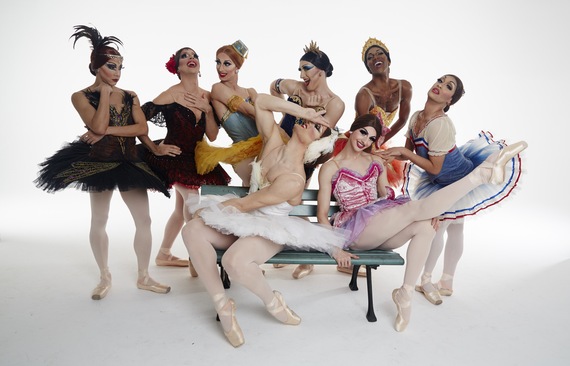 Artists of Les Ballets Trockadero de Monte Carlo: (seated) Paolo Cervellera, Matthew Poppe, (standing l to r) Carlos Hopuy, Carlos Renedo, Alberto Pretto, Giovanni Goffredo, Duane Gosa, Christopher Ouellette. (Photo: Zoran Jelenic)
This all-male troupe performs the classics with astonishing fidelity, gleefully subverting the ideals of the art form, while paying homage to it. Their mind-blowing mastery of pointework and of the fine points of ballerina style from different eras often make audiences forget that these are all men onstage. At other times, their artful exaggerations and their demented, self-sabotaging humor remind us of the fine line between high art and trash, between the sublime and the ridiculous. A glimpse of a ballerina's hairy underarms, feathers moulting from a swan tutu, a grand battement that goes rogue and knocks a partner on his fanny, attention-seeking curtseys, little acts of passive aggression between feuding ballerinas - all momentarily peel back the curtain on the elaborate, centuries-old illusion that is ballet.
It takes a man in drag... to illuminate the fact that a ballerina is nothing but a woman in drag - impersonating a swan, or a princess of a non-existent kingdom, a temple dancer in an India that never was, one of Apollo's muses, or a superhero like the Bomb Squad 'In the Upper Room'.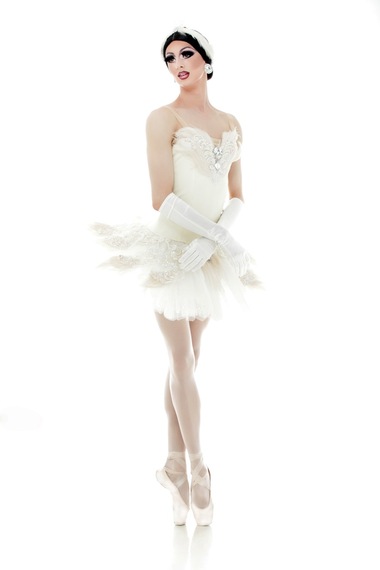 Matthew Poppe. (Photo: Matthew Brown)
Ballet to the People recently stalked one of her favorite new Trocks, 23-year-old Matthew Poppe, who, in the time-honored tradition of the company, adopts a vaguely Russian, punning stage name, complete with manufactured bio larded with pretentious academic dancespeak. Poppe calls himself Doris Vidanya when he dances ballerina roles, and Ilya Bobovnikov when he dances male roles. So far, his performances have been split about evenly between the two.
Catching his breath between the company's tours to Spain and Italy, the engaging Poppe graciously made time for an intimate chat.
This Arizona native spent three years at New York City Ballet's renowned School of American Ballet, between the ages of 15 and 17, and danced with Ballet Arizona for one season, before heading to Boston Ballet. After three years with Boston, unsure of his future, he enrolled at Fordham University.
Then, the Trockaderos beckoned.
"When I was eight years old, I read a book about ballet. It made me want so badly to do pointe, even though I had never seen it done live," he noted wryly. "Taking ballet classes as a kid, I kept asking 'when do I get to go on pointe?'"
Up to the time of his audition for the Trockaderos, however, he hadn't seriously studied pointe. It is simply not part of male ballet training. After a season of dancing with the Trocks, he has the battle scars: "I've now lost both my big toenails, several times!"
But, like a true hardcore ballerina, he is proud to point out, "I don't have to pad my toes anymore. I just tape them."
Pointework has improved his alignment, he notes. And the practice of rolling up and down in pointe shoes, in repetitive fouetté turns, for example, has strengthened his feet. The demands of female technique do force him to stretch more - male dancers often hate stretching - which has also upped his game.
It's not just the pointework that challenges a Trock: "The tutu and the bun - that definitely took some getting used to!" Poppe acknowledged the unfamiliar paraphernalia that, on first encounter, threatened to throw him off his balance.
The competitive athlete in him constantly pushes him to the edge. Each time he tackles his solo variation in Paquita, for example, he tries something more daring than the last. There are at least 8 fouetté turns, he noted, "so I'll try double, single, double, with a triple at the end!" He relishes the petit allegro in pieces like the Napoli Pas de Six, hungering for "that fiendishly fast beaten footwork, like we learned to do at SAB."
Poppe does not come from a ballet family, though athletic prowess is in his DNA - "my dad played football, and always hoped to play professionally." His younger brother ended up following in his footsteps to the School of American Ballet.
His favorite roles so far are both male parts: the carefree Basilio in Don Quixote, and the lead male in the bravura-filled Russian classic Esmeralda. The dancers who have most inspired him are fellow Trock Chase Johnsey (a.k.a. Yakatarina Verbosovich), who dances Basilio's frisky love interest, Kitri, in Don Q, and James Whiteside, with whom he danced at Boston Ballet, and with whom he also used to perform in drag.
Johnsey is "gracious, beautiful, and tiny... believe it or not, the easiest person I've ever had to partner." More importantly, says Poppe, he is a true artist. "He has taught me to get inside the head of the character I'm dancing, to think like him or her."
Whiteside has gone on to conquer many of the lead roles at American Ballet Theatre, proving to be one of most versatile dancers in the company. "You want to be the best you can be, and still have fun doing it," Poppe learned from Whiteside.
Margot Fonteyn's autobiography also taught him "not to take yourself so seriously." He marvels at Fonteyn's combination of naiveté and bravery - particularly during her harrowing escape from Holland with the Sadler's Wells Company, who had been on tour when the Nazis invaded in 1940.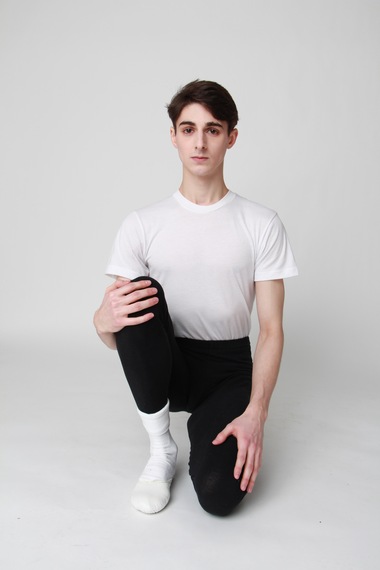 Matthew Poppe (Photo: Ihaia Miller)
The Trockaderos' whirlwind tours (23 cities in Italy, Japan and the U.K. over the next six months - and they were just back from Serbia and Spain) are a unique gift to a young dancer like Poppe. But the jet-setting life of a Trock is equal parts glamour and tough grind.
And not without conflict. Poppe says there is unease within the company over a proposed tour to Russia, given the heightened controversy over the oppression of gays under the current regime. "I get why some dancers would not want to go. The situation in Russia is troubling. But I really think we should." The Trocks' repertoire is steeped in the Russian tradition. "I think the Russians would see us for the artists we are," he maintains.
It's hard to look in Poppe's wide, trusting eyes and not be concerned that he is in for a shock.
"I'm gay, and I grew up never being stereotyped, never stereotyping others. I know I'm probably naïve. But I'm going to be who I am," he insists. "I have this opportunity to learn my art from the greats, and I've got to demonstrate it, pass it on."
A crucial part of his art is his face: he takes great care and pleasure in his make-up. What may be a painstaking chore for some drag performers is a rich creative outlet for him. The transformation from character to character is breathtaking. And infinitely more entertaining and revealing, more outrageous and more nuanced, than the heart-to-heart girlfriend chats about hair and make-up that Caitlyn Jenner has promised to give us in her upcoming reality television series.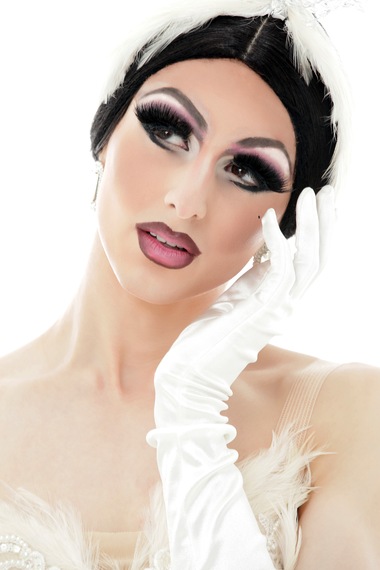 Matthew Poppe. (Photo: Matthew Brown)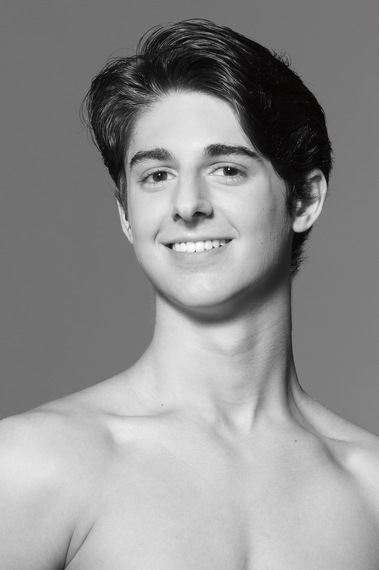 Skip reality television and opt for the unreality of Matthew Poppe and the Trockaderos, whose wicked caricatures keep us on the edge of our seats, unsettling us with Doris Vidanya at the matinee and Ilya Bobovnikov in the evening, and skewering our pretensions along with the ballet world's. Amid the moments of great beauty and dazzling virtuosity, we are aware of the frenzied desperation with which the performers strive to keep the illusion alive, to keep the fake eyelashes from coming unglued, the ruffled lower basque of the tutu from riding up the backside. There is a moving truth in the artistically engineered travesty, which has riveted audiences for 40 years, and will continue to do so long after we have tired of Caitlyn Jenner's beauty regimen.