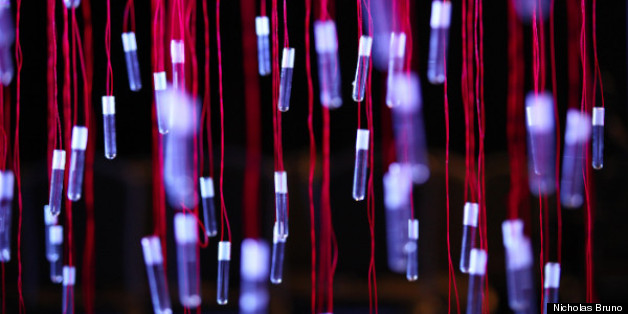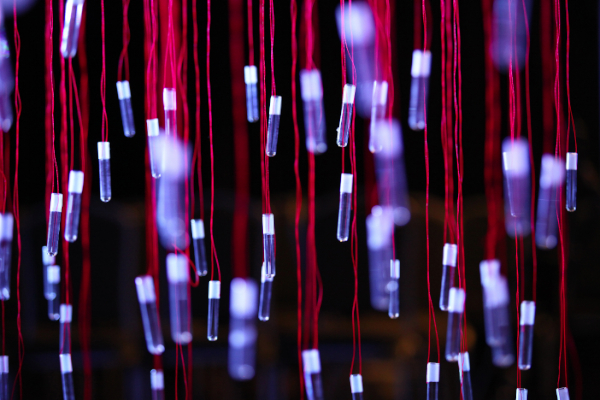 Test tubes in Marilee Talkington's art installation, "THE CREATIVE PROCESS: An IVF Living Art Piece," at SOMArts in San Francisco (Photo: Nicholas Bruno)
On the first day of her fertility treatment, Marilee Talkington prepared an injection of the hormone designed to stimulate her ovaries, but, as her hand was poised to stab herself in the stomach, she could not go through with it. So her husband Andrew took the needle from her and plunged it in.
Moments later, as she disposed of the syringe and needle in the sharps container, she accidentally jabbed the needle through her thumb.
These fraught moments were captured on video and replayed that evening to a small crowd who had gathered at SOMArts in downtown San Francisco to witness her second injection live. "Lots of men and women inject themselves all the time, and they don't need 50 people to help them," Marilee commented wryly as she was about to try again, this time on stage and in a flaming red costume, "But I do."
We don't actually believe Marilee.
A performance artist and experienced actor, she is one of only two legally blind people in the entire country to have completed a demanding MFA program. She has bared her soul in a play about her disability. She can probably get through this IVF treatment and series of twice-daily injections without audience support. And yet, at home, in her pajamas, she fell apart.
So, thirty minutes into this semi-improvised staging of her second injection, the audience was holding its collective breath in the dark, palms sweating, as we watched her sterilize the equipment and struggle to mix powders and saline solution in the prescribed proportions - handing the syringe back and forth to the faithful Andrew who was standing in the wings, so that he could check her handiwork. This is what foreplay looks like, when you're trying to make a baby through IVF, and one of you is blind.
There was an eeriness to the proceedings: Marilee bathed in a ghostly light, standing in a set she furnished with period equipment to resemble a 1920s hospital maternity ward. Marilee held up a 100-year-old metal speculum and noted that it looked no different from the ones used today, modern industrial designers being presumably too busy inventing bluetooth devices and computers that you can wear on your forehead to find time to make more comfortable tools for vaginal exploration. The metal hospital bed frame held no mattress, its interior punctuated by hundreds of glass test tubes dangling from red strings. The aluminum floor panels were spray-painted with repeated images of the baseline ultrasound of Marilee's uterus.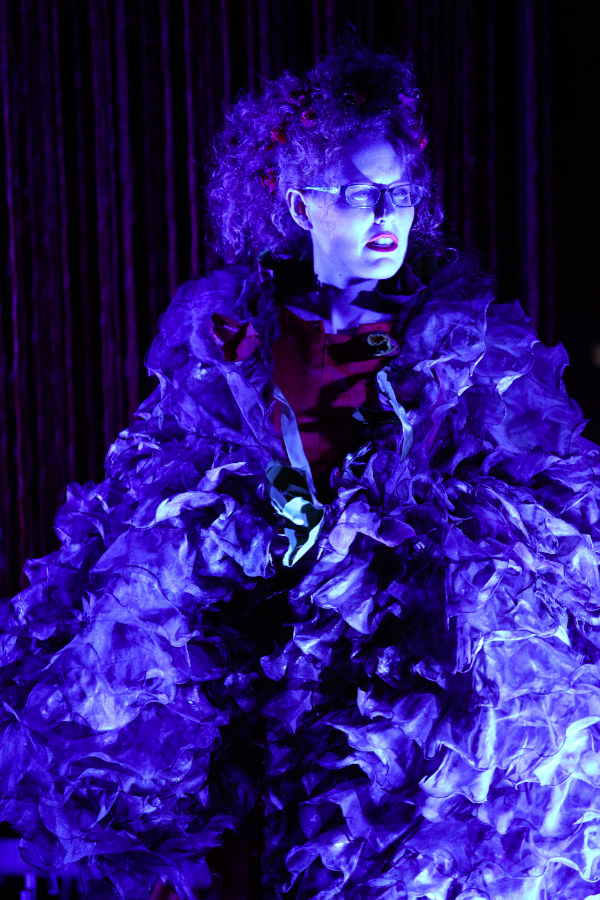 Marilee Talkington in a costume of her own design in "THE CREATIVE PROCESS: An IVF Living Art Piece," at SOMArts in San Francisco (Photo: Nicholas Bruno)
Against this chilling, spartan backdrop, to the mournful, mesmerizing accompaniment of El Beh on cello, Marilee had swooped onstage in her blood red gown, laced tightly at the back, enfolded in a glorious cloak made of swirling slivers of chiffon stitched together and hand-painted in autumn hues to resemble a pile of fallen leaves. Bright red and purple silk flowers were sewn into the cape and pinned into her upswept mass of curly red hair, her lips and nails painted bright red. "I am Artemis, the goddess of fertility," she proclaimed, perhaps unnecessarily. This modern Artemis with her essential but chic eyeglasses radiated practicality as much as divinity, and yet the vision of her morning attack of nerves haunted us.
Ballet To The People had been unable to snag a date for the evening. "Sounds like a bad case of exhibitionism. Why can't she stay home and do it in the privacy of her bathroom like normal people?" groused one of her usual accomplices.
The bathroom doesn't seem to hold much appeal for Marilee. She's next scheduled to shoot herself up at SF MOMA (in front of a Mark Rothko), then at the Exploratorium, the DeYoung Museum, and the Golden Gate Bridge, and will be livestreaming every injection including the ones she does at home. But, first, she was going to have to prove that she could do it at SOMArts.
Listening to Marilee catalog her medications, sharing her mood swings (which are likely to get more dramatic as the hormones kick in), squinting at the mystifying blur of her pelvic ultrasound on a screen while listening to the voice of her doctor as she expounded on the intricacies of follicle diameter and uterine lining thickness, keeping up with the dozens of steps involved in preparing a hormone injection, was both wearying and fascinating.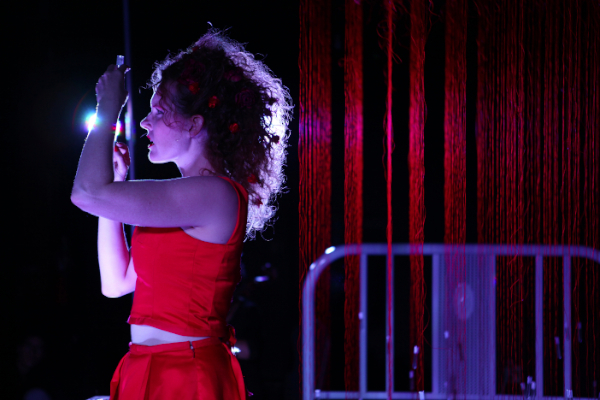 Blind performance artist Marilee Talkington prepares an IVF injection at SOMArts (Photo: Nicholas Bruno)
Who can resist an actor who assigns familiar, comforting Shakespearean names to her arsenal of meds, so that she doesn't have to remember those foreign medical terms? Follistim becomes Falstaff; Menopur, Lady Macbeth; baby aspirin, baby Ariel; doxycycline, Duncan; progesterone, Prospero; Ganirelix, Goneril.
Marilee can be terribly funny on the subject of her infertility. But there is more to this staging than finding comedy in the human condition. Documenting this metaphor for the creative process, Marilee bows to several artistic traditions including the 18th century Romantic notion of the artist as a force of nature, as well as Gustave Courbet's manifesto on Realism. The public sharing of all the minute details around her journey through IVF might well be a 21st century nod to Mary Kelly's Post-Partum Document, first exhibited in 1976; a painstaking record and analysis of everyday aspects of the artist's newborn son's existence, complete with soiled diapers and printed deconstructions of his first "utterances and related speech events". While there is already a large online community of women supporting each other through IVF, Marilee's transgressive livestreaming of twice-daily injections in the prosaic setting of her home, and in museums and public spaces, further challenges our notion of what is private, and our prejudices around procreation - natural and technology-assisted.
Above all, Marilee's performance reminds us of the power of ritual -- both positive and destructive. One of many inheritors of the mantle of the controversial Pina Bausch who, in works like Der Fensterputzer (The Window Washer), celebrated the many, often pointless, rituals that get people through their day.
And yes, Marilee did get through her first public injection at SOMArts without screwing up the mixology and without any accidental stabbings. To the great relief of her audience, who went on to enjoy cocktails and cake pops (chocolate, in the shape of eggs, with cherry red frosting) in the lobby.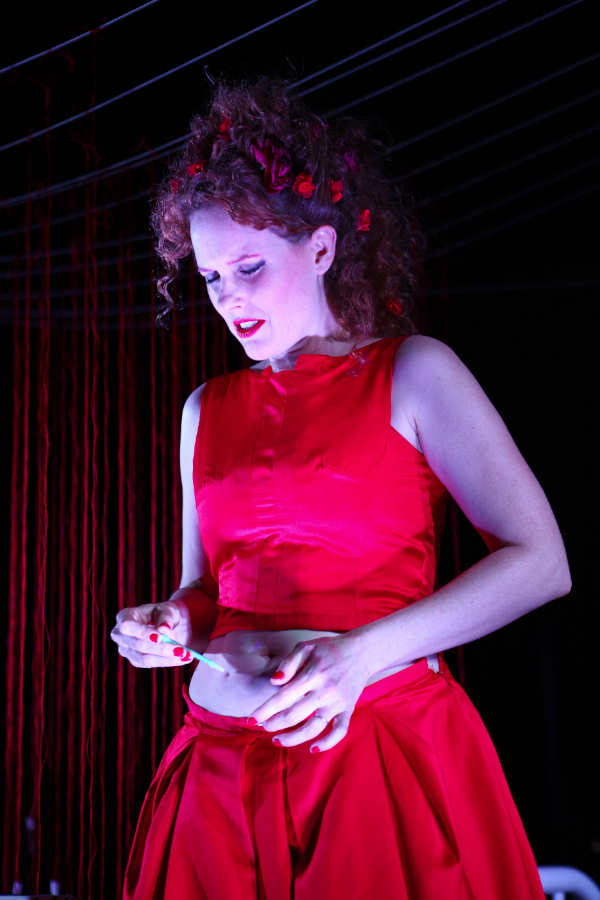 Marilee Talkington performing an IVF injection at SOMArts in San Francisco (Photo: Nicholas Bruno)
If you're trying to fill the void between Season 3 and 4 of Downton Abbey, you can always catch Marilee's livestreams on her website. And if you're going through IVF yourself and want some company and a reason to dress up, Marilee has extended an open invitation for women to inject themselves with her on one of her public "guerilla shoots" (check the calendar on her website).