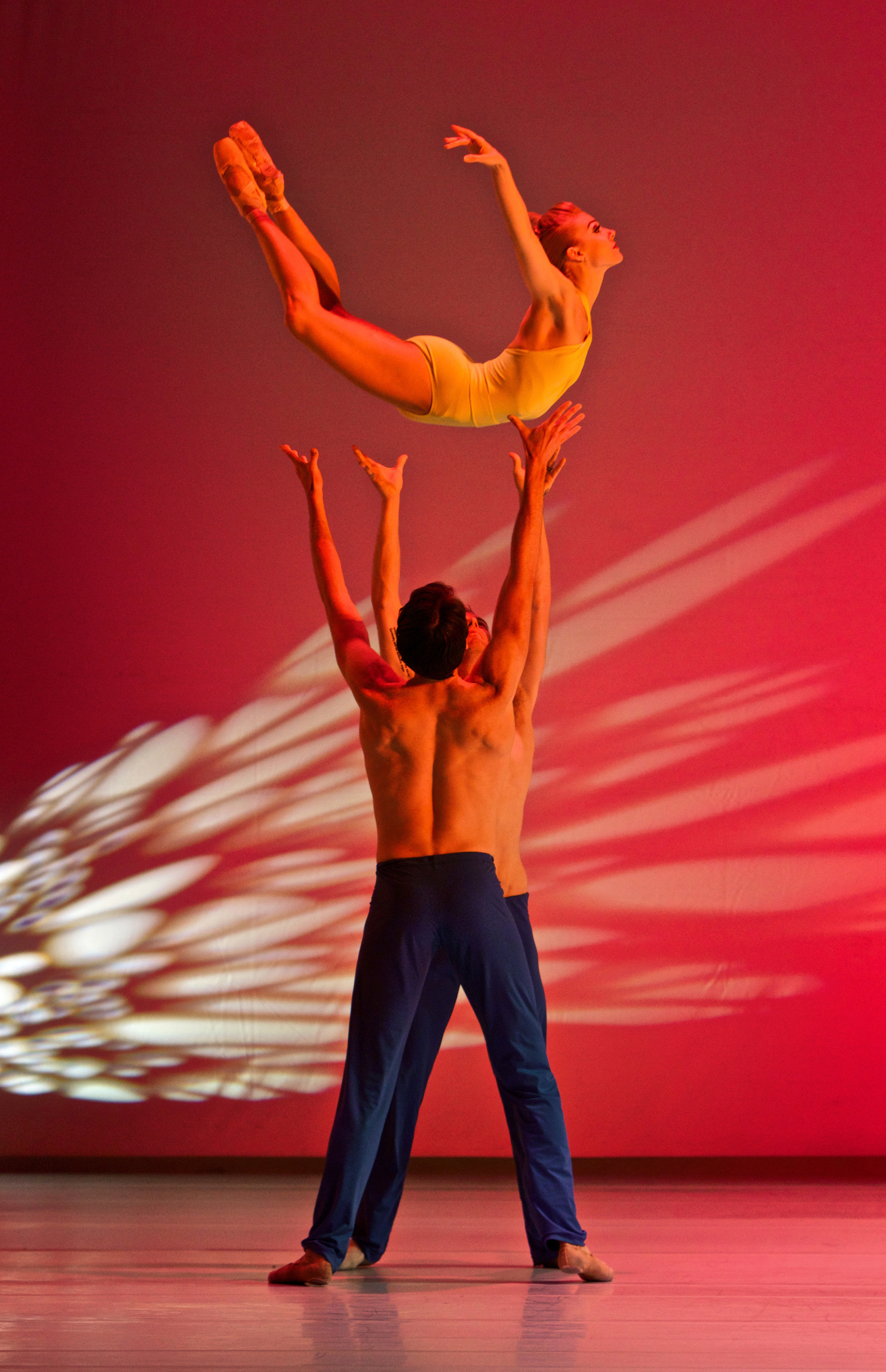 Smuin Ballet dancer Erica Felsch flies above (l-r) Jonathan Dummar and Joshua Reynolds in the West Coast premiere of Petal by Helen Pickett. (Photo: Keith Sutter)
San Francisco veered from winter straight into summer with barely a glance at spring, but Smuin Ballet is handing us a Spring "Bouquet" of a mixed bill and we're not going to point out that it's 90 degrees outside. Not when the program comes gift-wrapped in the delectable costumes of Michael Smuin's Chants d'Auvergne, those wondrous silk dresses with iridescent skirts that float and swirl whenever the women spin or jump or are tossed into the air, which they frequently are.
Set to orchestrations by Joseph Canteloube of songs in an ancient Provençal dialect, Chants d'Auvergne is meant to evoke village life in an idealized pastoral setting where - to paraphrase Garrison Keillor on the topic of the mythic Lake Wobegon - all the young women are strong, all the young men good-looking, and everyone is above average. The movement is neoclassical and sweepingly lyrical, and in the absence of storyline, interest is generated through shifting changes in light and shifting moods, alternately joyful, flirtatious, introspective, amorous, and daring.
Chants d'Auvergne demonstrates that virtuosity comes in many guises. There is not a lot of look-at-me bravura dancing, no one is leaping over tall buildings in the fields of Auvergne, but there is much technical difficulty - in balances, in quick changes of direction in jumps and on pointe, and especially in the split-second partnering. There were a few shaky moments where a couple of the men struggled with tricky partnering holds, but the women remained radiant and strong, and firmly committed to the classical use of the head, arms and shoulders. This is often neglected in neoclassical dancing - which makes dancers look like they are just dancing from the waist down - but Smuin's dancers are well-schooled in the classical telegraphing of moods from head to toe.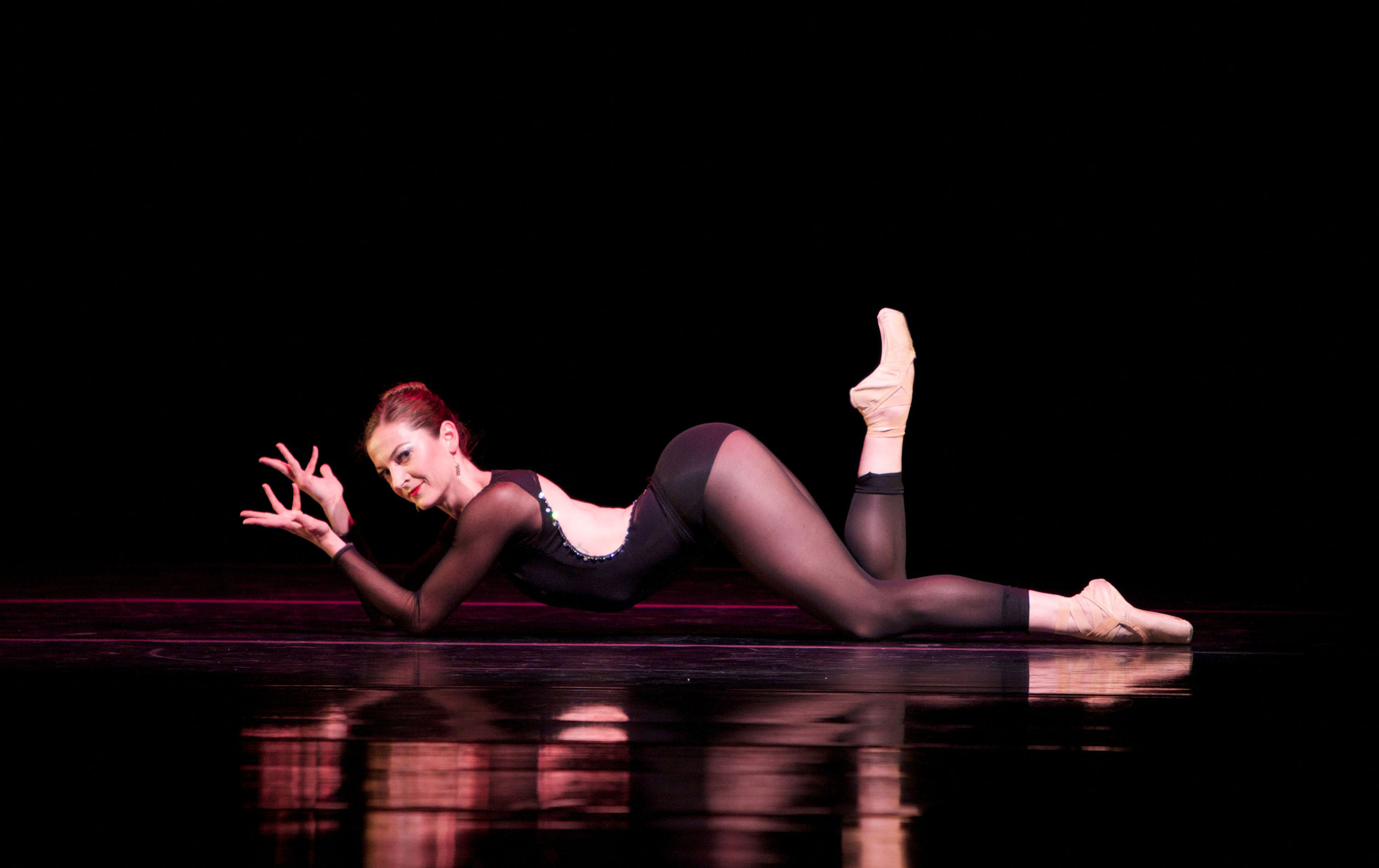 Jane Rehm in the regional premiere of Jazzin' by Darrell Grand Moultrie. (Photo: Keith Sutter)
A delightful contrast is provided by Darrell Grand Moultrie's Jazzin', a sly and stylish program closer. Moultrie bows to classics by Duke Ellington and others in a polished ballet-jazz hybrid vernacular. This genre is popping up more frequently on Broadway and tends toward tiresome cliché, but Moultrie displays a rare discipline, shifting with lightning speed between pure jazz and pure classical ballet movements rather than blurring the techniques together. Think of growing up in a bilingual household in which kids end up speaking a form of pidgin, unable to craft a full sentence in one language. Or eating in one of those Tex-Mex chain restaurants where you never actually encounter real Texas barbeque or an authentic Mexican mole. But we digress.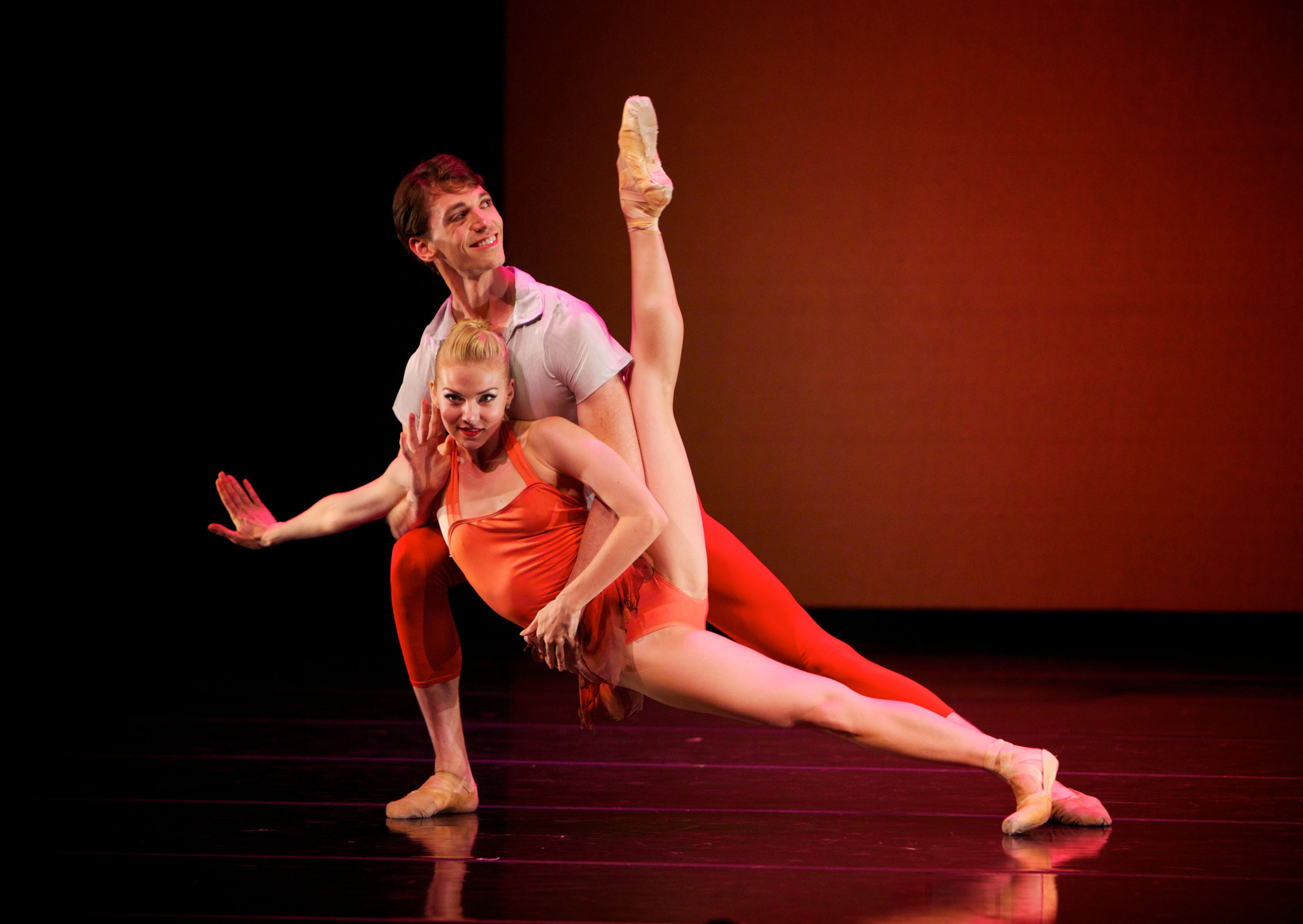 Jonathan Dummar and Erica Felsch in Darrell Grand Moultrie's Jazzin'(Photo: Keith Sutter)
The dancers in Jazzin' toss off perfect fouettés, piqué turns on pointe, and brisés volés in between turned-in, off-kilter balances, broken doll walks, jazz slides and struts. Plenty of wit on display, notably in "If I Can't Sell It, I'll Keep Sittin' On It" - the entire number a hilarious double entendre pulled off by a belligerent Terez Dean who informs us that, as the owner of a second-hand furniture store, she fully intends not to give anything away. Erica Chipp, Robin Semmelhack, Jonathan Mangosing and John Speed Orr zip gaily through "It Don't Mean a Thing If It Ain't Got That Swing" in their tennis whites, making all that hard stuff look easy. The numbers don't all hang together thematically or musically but no one in the audience was complaining.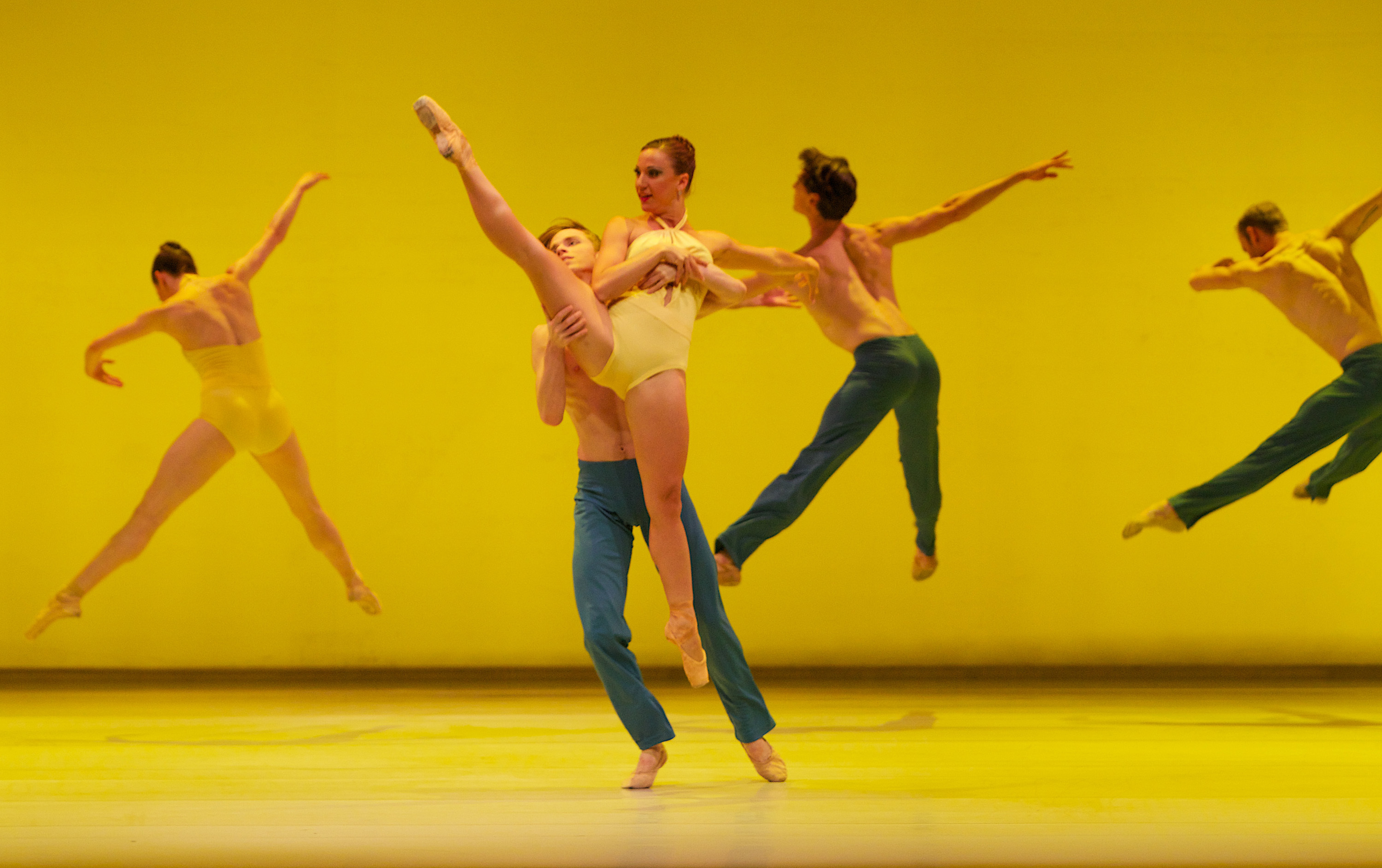 Christian Squires and Erica Chipp (center) with (l-r background) Jane Rehm, Jonathan Dummar, and Joshua Reynolds in Helen Pickett's Petal (Photo: Keith Sutter)
The heart-stopping piece in this program is Petal, by former William Forsythe dancer Helen Pickett. Set in a striking fluorescent box, with three walls that glow in intense, changing pastel hues, stage wings obscured, leaving four almost invisible passages at the corners through which the dancers appear and disappear as if by magic - this changes the way we look at dance.
Pickett's movement idiom is rooted in Forsythe, sharp and angular, but more disciplined and pared down. Forsythe's dancers often appear isolated and aloof even when enfolded in pas de deux; flashes of aggression, hostility and frustration frequently erupt from the movement. By contrast, Petal conveys a heady, tender intimacy between the dancers; even across the full expanse of stage they seem to be constantly taking cues from each other, constantly acknowledging one another, deeply invested in their emotional relationship. The women call the shots in this piece, dictating movement pathways along the floor, gently and solicitously kicking the men in the shins and behind the knees to keep them in line.
The dancers threw themselves into the work with religious intensity, the one jarring element being the music. The vapid, colorless score by Philip Glass and film composer Thomas Montgomery Newman is at odds with the intense emotion conveyed in the dance. Exactly 30 years ago, New York City Ballet premiered Jerome Robbins' mind-blowing modernist experiment, Glass Pieces; ever since then, post-modern choreographers have felt obligated to genuflect at the altar of Glass and his minimalist disciples. Jorma Elo wisely chose one of Glass' most moving compositions from the Tirol Concerto for his frenetic Glow-Stop, nailed most recently by Ballet San Jose, but the concoction behind Petal lacks fizz. Ballet To The People does not require a melody she can hum or consonance or an unwavering time signature - she can listen to Stravinsky and Shostakovich all day, and even John Cage after her morning shot of caffeine - but she thinks music should contribute to the drama onstage, not just provide a downbeat.
Smuin Ballet's season wraps up on May 19th in San Francisco and continues in Mountain View, Walnut Creek, and Carmel through June 8th. Check out their schedule and purchase tickets here.