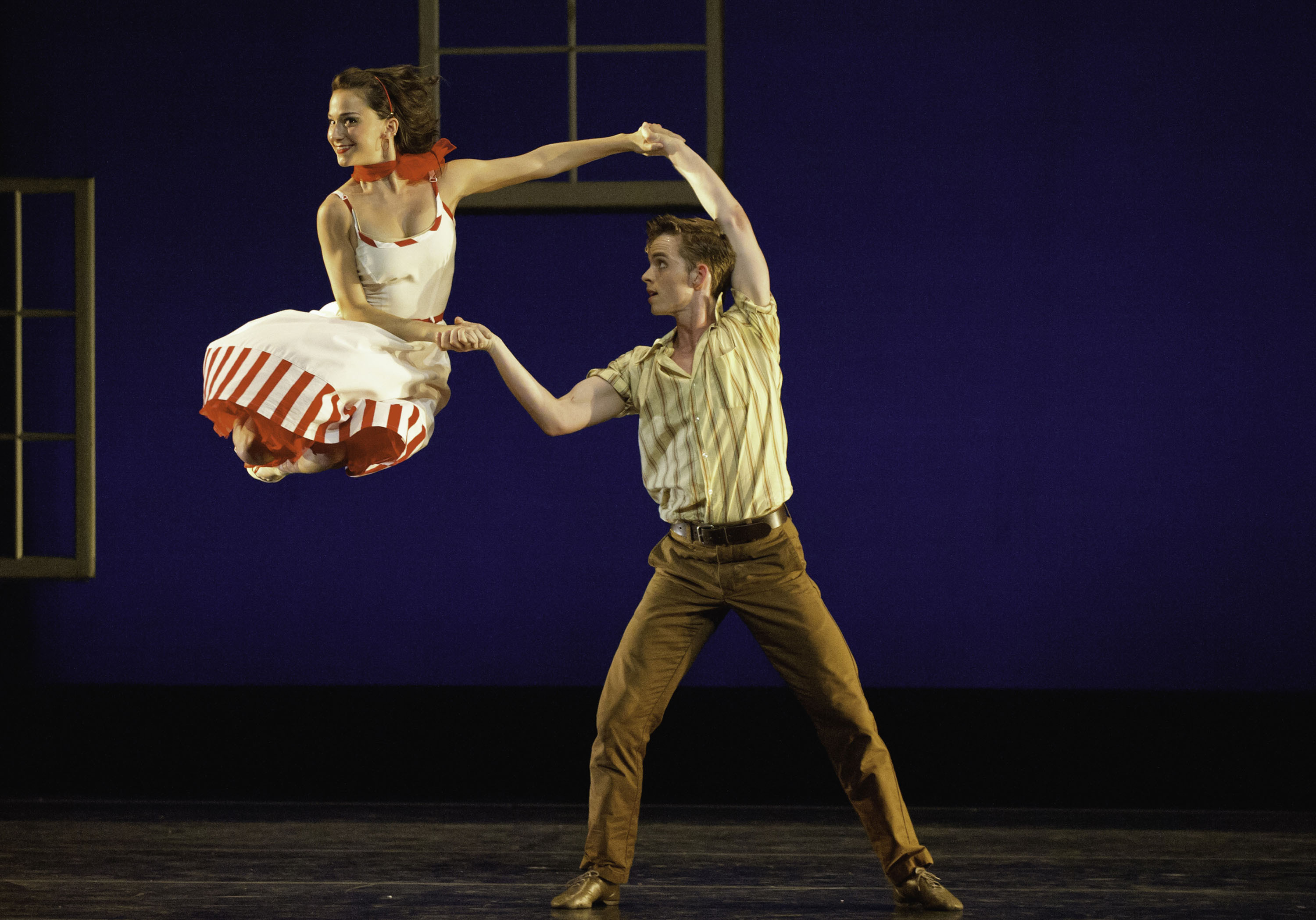 (L-R) Smuin Ballet dancers Terez Dean and Christian Squires in Amy Seiwert's Dear Miss Cline (Photo: David DeSilva)
Ballet to the People brought an honest-to-God Texas cowboy to meet Dear Miss Cline at Smuin Ballet, and he was smitten. Not just with the sassy country girls and their affable boyfriends in Amy Seiwert's lighthearted but sophisticated romp, but also with the angst-filled work by Jiří Kylián and Michael Smuin that rounded out the triple bill.
Set to recordings of 10 Patsy Cline songs, Dear Miss Cline is a riot, and more technically virtuosic than its breezy mood might suggest. Hints of swing waft through the piece; turns and jumps preserve their balletic impetus though their shapes are occasionally tweaked -- like the oft-flexed feet, which pointe shoes exaggerate to adorable effect. Many of the partnering holds are charmingly new-fangled, and ballet's lexicon of traveling steps are given a Country Western makeover: instead of beating the pointed feet neatly and tightly at the ankles during a jump, for example, flexed feet are shuffled frenziedly in the air.
Execution at Saturday's matinee was crisp, clean and delightfully musical, and the partnering acrobatics were made to look easy. Jonathan Dummar, with his lanky, elegant frame, showed exceptional pizzazz throughout, as did Erica Felsch, who pretended that her life was "such a tangle" while expertly manipulating her two suitors in "Tra le la le la Triangle." Seiwert's country girls are no pushovers; they may act sweet, but they know what they want, and how to get it. Their physical and mental toughness is evident in the technique bestowed on them by the choreographer; they take pleasure in scrapping on even terms with the boys. Just like the tough, tenacious Cline, who broke new ground for female singers up until her tragic death in a plane crash at age 30, and who once claimed "Oh, I just sing like I hurt inside."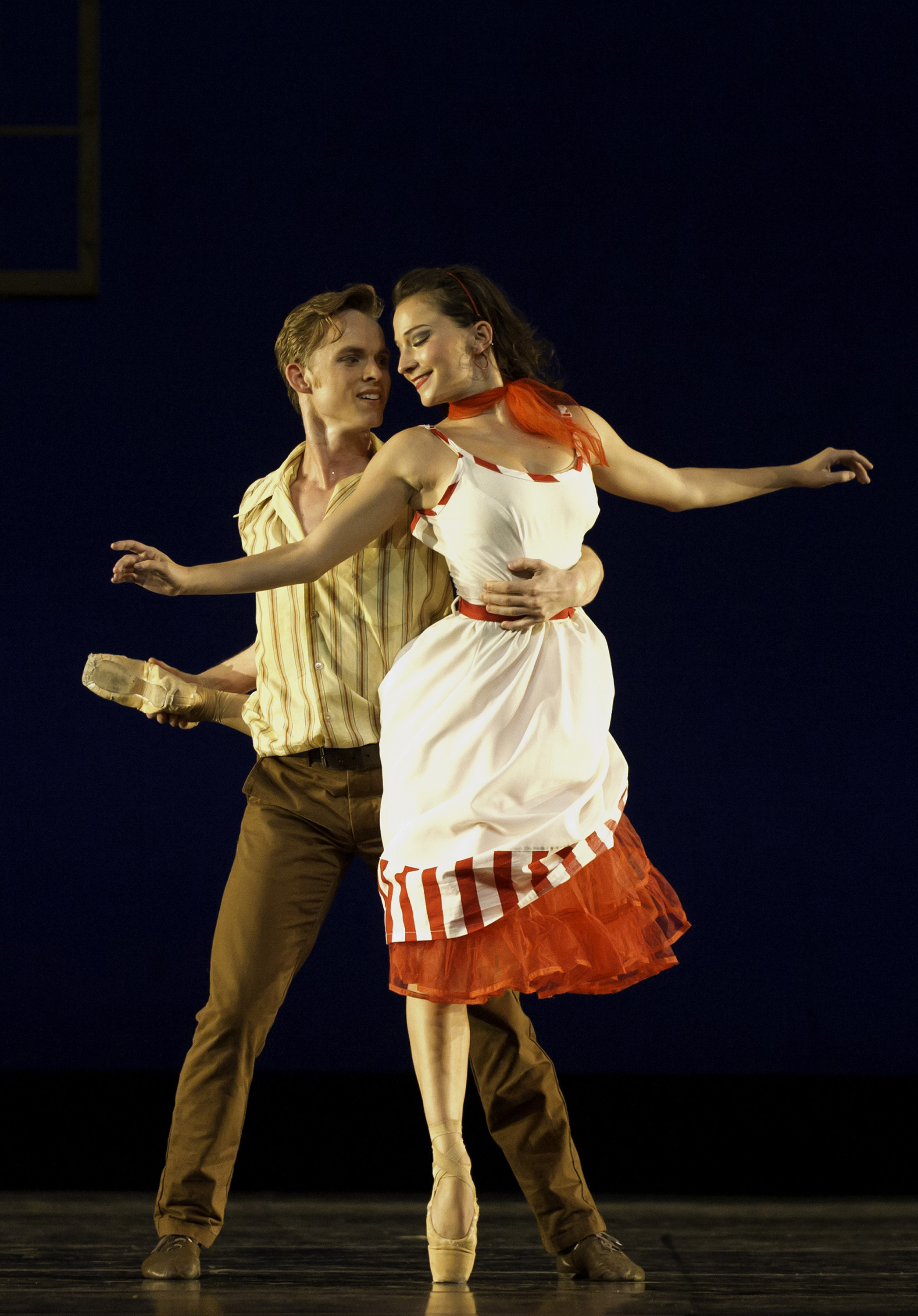 (l-r) Smuin Ballet dancers Christian Squires and Terez Dean in Amy Seiwert's Dear Miss Cline (Photo: David DeSilva)
High points include Felsch's witty duet with Weston Krukow ("Pick me up on your way down"), which closes with a poignant nod to a famous lift in the balcony pas de deux from Kenneth MacMillan's Romeo and Juliet, and "There He Goes," Jo-Ann Sundermeier's clear-eyed confessional ("if I hadn't cheated and lied"), which conveys a cocktail of emotions. Jonathan Dummar has had it with Sundermeier's cheatin' and lyin'; he's walking out the door. Sundermeier tries to make up with him, but is distracted by a trio of young bucks who keep upending her and tossing her into the air. Dismayed, Sundermeier nevertheless seems to take Dummar's desertion philosophically -- the blow no doubt softened by the attentions of her entourage. A refreshingly pragmatic, hard-nosed view of romance.

The mood turns sombre in Cline's elegiac rendition of "Bill Bailey, Won't You Please Come Home." Without literally interpreting the song, Seiwert matches the poetry in Cline's delivery with lifts that float and soar. In Dummar's arms, Sundermeier carves the air with her expansive extensions and beautifully arched insteps, her troubled face registering apprehension at an uncertain future.
Unfortunately, the marvelous acting by all the dancers was partly obscured by moody lighting that cast the dancers' faces in half-shadow -- so wrong for this piece. Instead of straining our eyes, we wanted to be sitting in a brightly lit, formica-appointed kitchen, our hair in curlers, listening to the radio while we paint our nails.
The dim lighting scheme suited Kylián's Return to a Strange Land and Smuin's Carmina Burana just fine; the somewhat tinny acoustics -- perfect for Miss Cline -- did not.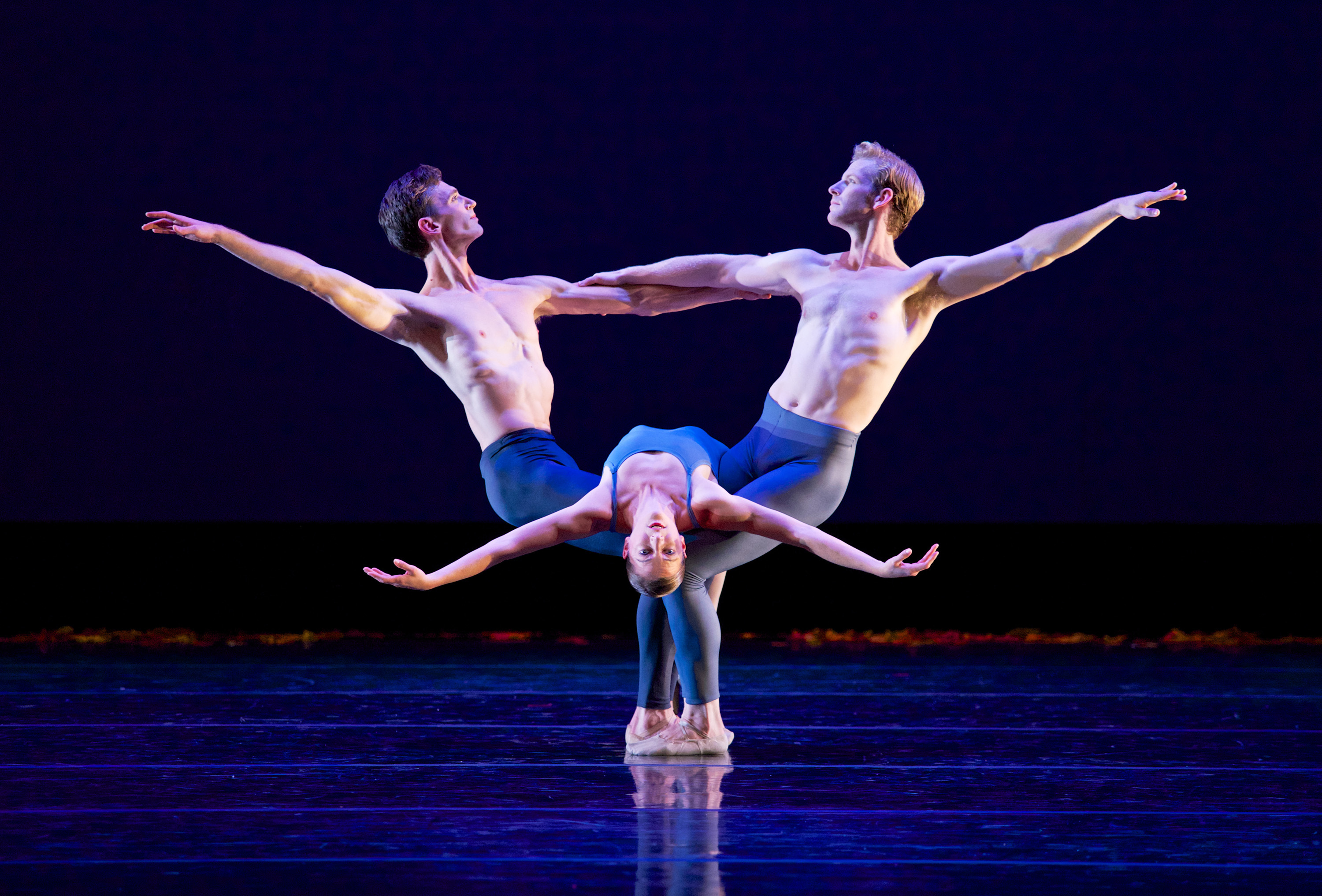 (L-R) Smuin Ballet dancers Jonathan Dummar, Jane Rehm, and Joshua Reynolds in Jirí Kylián's Return to a Strange Land (Photo: Keith Sutter)
Originally performed by Stuttgart Ballet, Strange Land was intended as a tribute to Stuttgart's beloved John Cranko after his untimely death at age 45 in 1973. The score, by Kylián's Czech compatriot Leoš Janáček, takes a while to build interest, and the fervent, yearning choreography for the opening trio, with its crucifixion imagery, seemed somewhat at odds with the restrained music. However, by the third duet, the score heats up, and we share the dancers' unease at being trapped in a hostile, dreamlike world.
Smuin dancers have no trouble adapting to the demands of Kylián's lyrical and athletic style: the hyperextended arms lifted skyward, the perpetual rushing around the stage with quick changes of direction, women diving through the air, silky transitions between the sculptural shapes of intertwined bodies. Jane Rehm, Joshua Reynolds and Jonathan Dummar made a poetic final trio, the men winding and unwinding to create a cocoon in which Rehm sought shelter.
Michael Smuin's Carmina Burana heralds a return to the classical use of the arms, wittily refusing to engage the pounding score (its racy lyrics about the pleasures of sex and drinking safely expressed in Latin) with modern dance vocabulary to match. Instead, Smuin confined himself to the classical ballet vocabulary with a few jazz inflections, and draped his dancers in daring formations that look timeless today (though Ballet to the People reckons it may be time to retire those velvet burgundy unitards from the 70's.)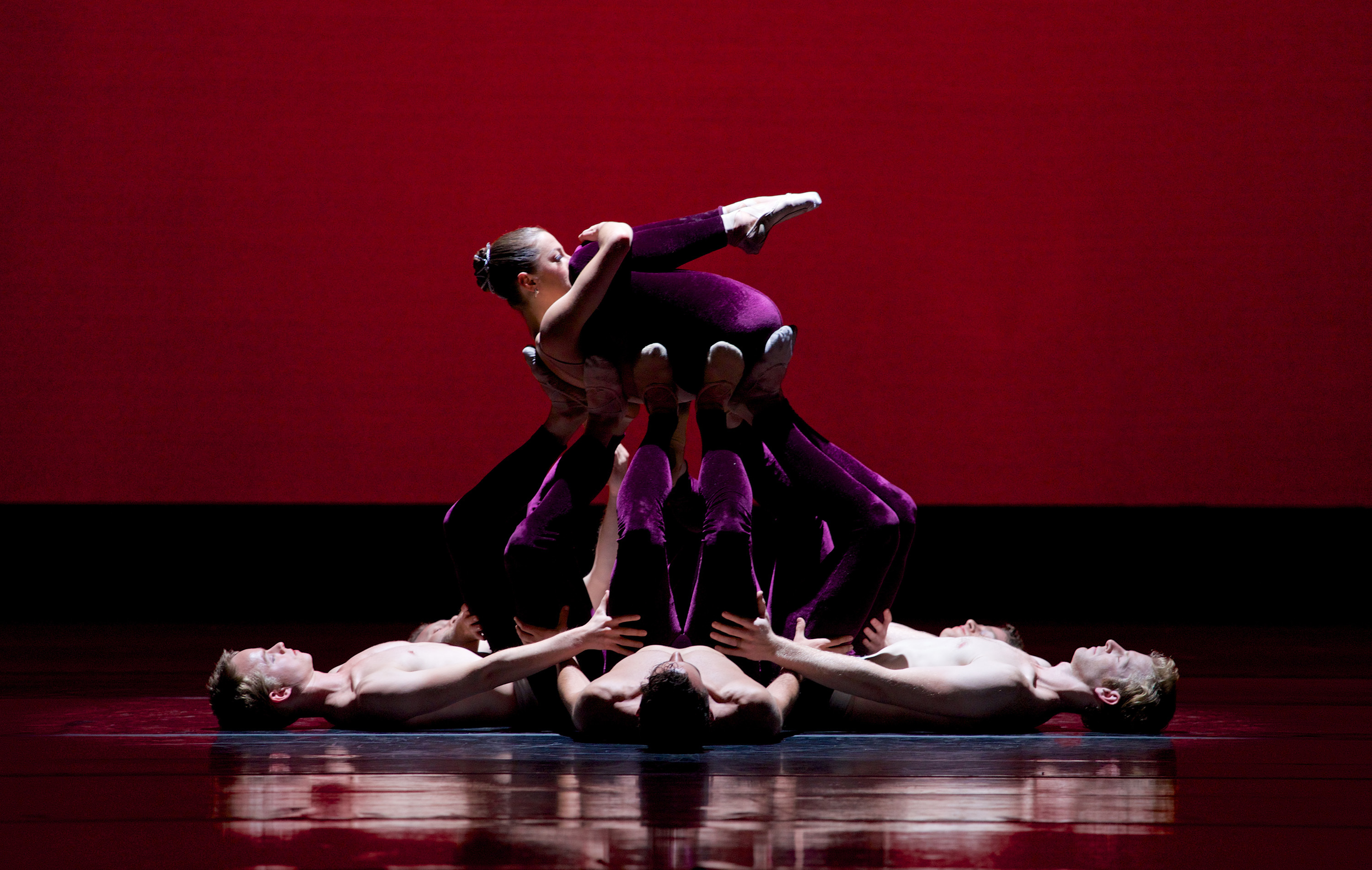 Smuin Ballet dancer Jane Rehm supported by the male cast in Michael Smuin's Carmina Burana (Photo: Keith Sutter)
Few scenes in ballet history are as riveting as the mysterious ritual in "O Fortuna," which opens and closes the piece. The apocalyptic lighting design first reveals a quartet of young women at the four corners of the stage, moving in silence, then a central female figure (Jane Rehm at Saturday's matinee), tucked into a fetal position, cradled on the outstretched feet of five men lying on the floor. She becomes the object of a group orgy, but is immediately resurrected as a queen figure. Equally harrowing is the bludgeoning of a young man by a gang of Mafioso-types. Not all is bleak and violent in this sci-fi ballet world, however: some of the sequences are light and witty, like Christian Squires' machine-gun rapid fire of petit allegro jumps in "Tanz," reminiscent of the challenges George Balanchine loved to throw at his men.
XXTREMES, the punning title of this fall program that kicks off Smuin's 20th anniversary season, reminds us of one reason that Smuin dancers are so exciting to watch: they seem to constantly take risks onstage. They look like they're always on the edge, on the verge of losing control. All American ballet troupes nowadays require tremendous versatility from their dancers, but few achieve the level of daring of Smuin Ballet.