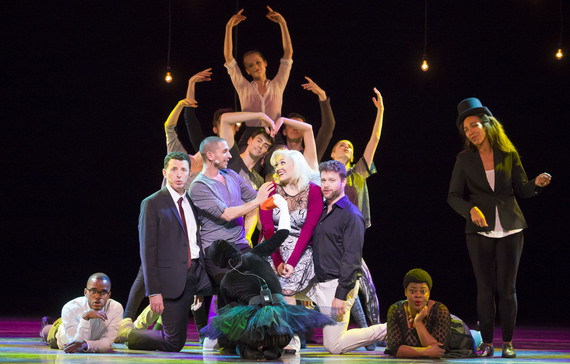 "If music be the food of love/ then laughter is its queen" - Procol Harum, A Whiter Shade of Pale
Early on in the ingenious collaboration between Second City and Hubbard Street Dance, Procol Harum's counterculture hymn permeates Chicago's Harris Theater as actors and dancers assemble in rows of folding chairs facing the audience. Suddenly actor Tim Mason pulls his Beats out of his ears, the music stops, and we realize that we're watching a sketch unfold in the passenger cabin of a Southwest Airlines flight (that will end in tragicomedy in Act II). Beats-less, Mason must fend off his oversharing seatmate, the formidable Rashawn Scott, who confides that she is Cleveland-bound with a plan to jumpstart her flagging marriage by shagging LeBron James' uncle. Meanwhile, the dancers around them enact a wondrous dance of air travel tedium, a marvel of minimalism, interrupted periodically by a jolt of turbulence - all of this to atmospheric jazz accompaniment by Second City's nimble Julie B. Nichols and Emma Dayhuff in the pit.
The entire evening proceeds in essentially this vein - a variation on the staging of a classic story ballet, with Second City actors as the soloists, supported by a corps de ballet who amplify the emotion of the moment, or provide a provocative counterpoint. With the added frisson of dancers not merely qua dancers, but as props, furniture and decorative objects.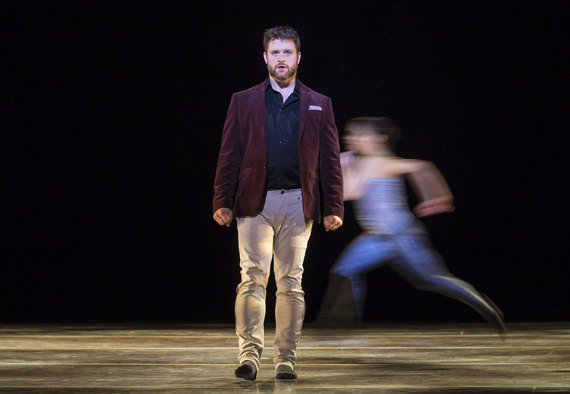 Second City may have pioneered sketch comedy since its formation in 1959, but this latest collaborative project takes the art form to visually spectacular and emotionally satisfying new heights. The crispest scenes, in a surreal and slightly kinky departure from Frank Loesser's hit musical, How to Succeed in Business Without Really Trying, conjure up a 1950's office in which the ingénue temp - writer/actor Carisa Barreca, "going from office to office, living on the edge" - gets lost in a seething whirlwind of activity, with dancers embodying and animating the office furniture, typewriters, a vending machine, stationary bike, a messenger bag, drinking fountain, and a "Hitler staple gun." The office boss orders the receptionist to get rid of an offensive crucifix he dubs "Black Jesus" - a black dancer who stands with arms extended, supporting the legs of another dancer who hangs behind him upside down in a side split - but is gently rebuked by a black employee who calls the crucifix "Regular Jesus."
In a parody of erotic music videos - exemplified by Chris Isaak and model Helena Christensen rolling around topless in the surf in Wicked Game - Jason Hortin tries to get into a romantic mood with a blow-up doll, to the sounds of Isaak's heavy breathing. But the doll, portrayed by Alicia Delgadillo in an admirable display of controlled technique, appears to have a slow leak.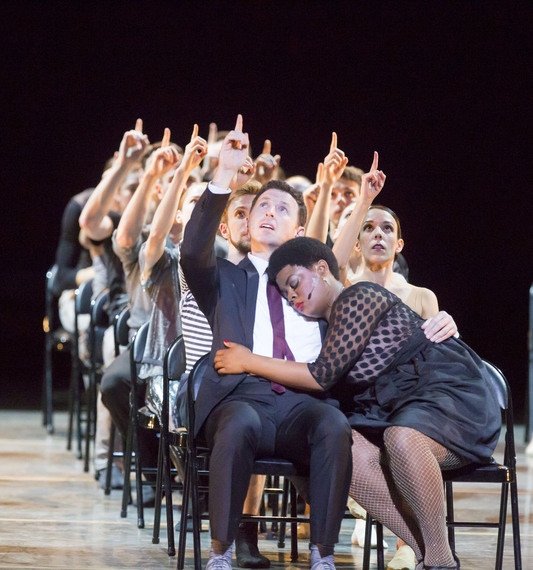 The format is punctuated by a terrific improv routine by Second City's Tawny Newsome, playing a cynical Croatian crone in a caftan, leaning on a walker, with an accordion player in terrorist garb (full body unitard and black stocking mask) lounging behind her. ("My weird sex troll," she remarked offhand.) She discourses on insecurity and asks intimate questions of a couple in the audience, upon which dancers on stage improvise movement to match their answers. To the question "what is a gift one of you gave the other recently?" Friday night's couple answered "tickets to this show." Which sent Newsome reeling for a moment - "This is gonna get really fucking meta" - and the dancers improvised a slinky little soft shoe number, with clapping. Overall, however, the dancers seemed less inspired in the improv than the actor; they really shone in the choreographed segments, into which the actors blended seamlessly - no mean feat given the differences in training and experience.
The other detour in format was provided by a series of pas de deux excerpted from choreographer Alejandro Cerrudo's Second to Last. Cerrudo's trademark gliding, swooping and spiraling movements, and deft bravura-free partnering create beautiful curves in space, the women in attractive lingerie generally hovering just inches above the ground. Nichols and Dayhuff do their best to breathe new life into Arvo Pärt's Spiegel im Spiegel (much loved, inexplicably, by contemporary dance-makers), but the piece felt misplaced at the top of Act II. It would have served a better purpose as the penultimate number, seguing into the moment when our hero, non-dancer Joey Bland, finally conquers his anxiety, his "fear of falling," and attempts to dance, with the encouragement of his lover, Travis Turner. The two in their awkward pas de deux strike a moving contrast to the icily handsome Cerrudo choreography.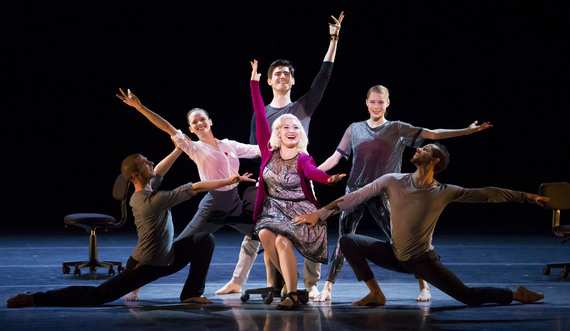 The most thrilling and virtuosic dancing of the evening occurs to the strains of Tchaikovsky's Swan Lake in a scene titled "White Office Swan." Barreca and dancers fly around in wheeled office chairs - sitting, lying, contorting themselves in various aerodynamic postures - in formations that sometimes appear random but must have been perfectly choreographed to avoid collision. The effect is stunning, and likely to rival the swan corps of the Joffrey Ballet (which, coincidentally, is presenting Swan Lake half a mile away at the Auditorium Theatre.)
Sculpted by director Billy Bungeroth with a stable of writers and choreographers from the two companies, the least compelling aspect of the evening was the conventional storyline involving the two gay lovers, around a theme that equates the risk in making a romantic commitment to the risk of falling, a risk that dancers embrace everyday. The notion of falling is further incorporated into a parallel storyline about a plane crash, which in these days, as we continue to wait for news of Malaysian Airlines flight 370, simply doesn't resonate as prime material for comedy. (Would it have been so hard to write the sketch around parachutists or hot-air balloonists? Or even paratroopers, providing ample opportunity to take swipes at the military-industrial complex?)
While the overarching message is slight, The Art of Falling has many moments that recall the power of Pina Bausch's surreal physical comedy, while mining a rich pop-cultural vein that had the packed house in stitches. A whimsical riff on our modern-day obsession with selfies was filmed directly downward from the ceiling in a dreamlike segment about a bike ride gone awry; projected onto a screen, it involved some manic crawling by the dancers. More emphatically skewered were passive-aggressive dance teachers, legendary choreographer Jiří Kylián's iconic Petite Mort (a dance whose title translates to "orgasm" and which involves near-naked men prancing about with fencing foils, "also known as a dick dance," explained Travis Turner helpfully) and Portland ("the place where dead atheists go.")
May The Art of Falling live on in versions 2.0 and beyond, hopefully bringing dance audiences into comedy clubs, and comedy audiences into the opera houses.
Photos:
1. Hubbard Street + The Second City in The Art of Falling. Center, from left: Tim Mason, Jesse Bechard, Carisa Barreca and Joey Bland. Below, from left: Travis Turner, Jessica Tong and Rashawn Scott. Far right: Tawny Newsome. Hubbard Street Dancers, clockwise from top: Alice Klock, Jason Hortin, Emilie Leriche, Andrew Murdock, Jane Rehm and Michael Gross. Photo by Todd Rosenberg.
2. Joey Bland and Hubbard Street Dancer Alicia Delgadillo in Hubbard Street + The Second City's The Art of Falling. Photo by Todd Rosenberg.

3. Hubbard Street + The Second City in The Art of Falling. Foreground from left: Carisa Barreca, Tim Mason and Rashawn Scott. Photo by Todd Rosenberg.

4. Tim Mason, left, Rashawn Scott and Ensemble in Hubbard Street + The Second City's The Art of Falling. Photo by Todd Rosenberg.
5. Hubbard Street + The Second City in The Art of Falling. Carisa Barreca, center, with, from left: Jesse Bechard, Alice Klock, Michael Gross, Emilie Leriche and Jonathan Fredrickson. Photo by Todd Rosenberg.