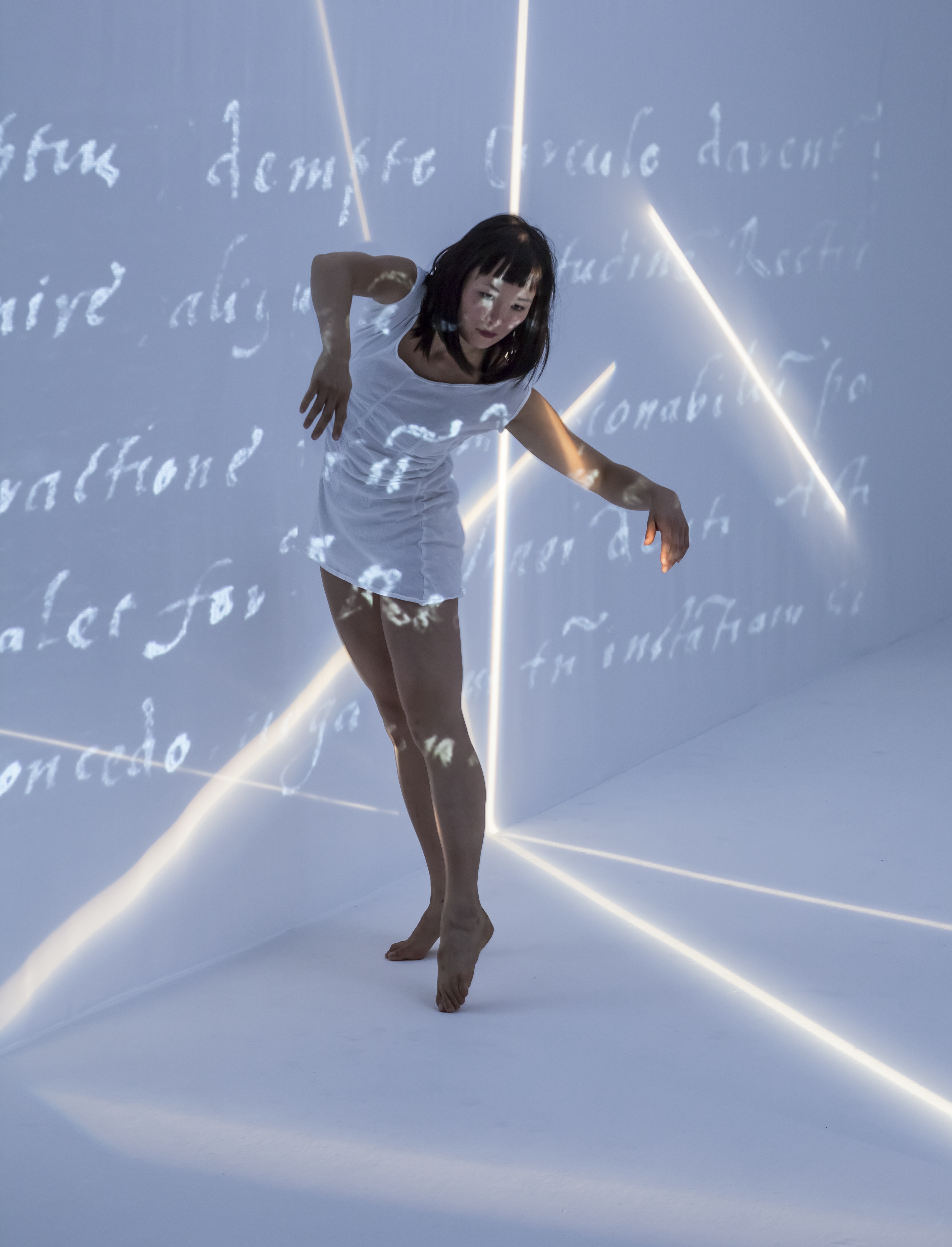 The luminous Yayoi Kambara in Triangulating Euclid, a new work by Brenda Way, KT Nelson, Kate Weare. (Photo by RJ Muna, courtesy ODC/Dance.)
Ballet To The People hates reading program notes. She thinks a piece of theatre or music should speak to you without requiring homework beforehand. (She will reluctantly open a program during intermission only in an emergency - if she couldn't tell if the orchestra was having a bad day or if that's how the music was supposed to sound, or if it looked like Romeo and Juliet were not that into each other by Act II.)
So it was a great relief that ODC/Dance's new Triangulating Euclid conveniently opened with the voice of book conservator Karen Zukor explaining the genesis of this fascinating collaboration between herself and three choreographers - the making of a dance out of the discovery and restoration of an important historical text. Zukor's voice provided agreeable and soothing accompaniment to a solo dance by Yayoi Kambara, and once the essential background information had been imparted, the voice faded out in mid-sentence as the first strains of music faded in.
If only all modern dance choreographers would adopt this sensible method of introducing us to their work!
The fact that the text in question happened to be the first and enormously influential treatise on geometry by the Greek mathematician Euclid, and that choreographers Brenda Way, KT Nelson and Kate Weare claim to have been inspired by the concepts within the text, is - as far as we can tell - a red herring. Triangulating Euclid has no more to do with geometry than any other dance. That said, pretty much all dance is deeply rooted in geometry. (If you don't believe this, go find a 9-year-old who happens to be studying ballet or hip-hop and ask him or her to tell you about the positions of the feet, the body facings, body lines, extensions, turn mechanics, pathways along the floor and so on.)
Perhaps the beautiful and enigmatic Triangulating Euclid is really about Karen Zukor and her painstaking detective work and artistry, about the challenge of restoring an old book, and the importance of preserving history. In this digital age, when everything a person might ever need to know can be stored on a thumb drive, cross-referenced to eternity and accessed anywhere, why is it important to treat a crumbling mass of ink on paper with reverence, why lavish time and money on restoring it, displaying it and bringing in specialists to decipher and explain it?
A paean to the age of the printing press, this dance is designed entirely in black and white, with a large square backdrop resembling a crumpled piece of paper. The single most arresting dance segment has a couple wrapped around each other in a romantic encounter while Maggie Stack solemnly traces a path along the floor, walking backward while she taps a paper cone out of which steadily trickles a fine white chalky powder.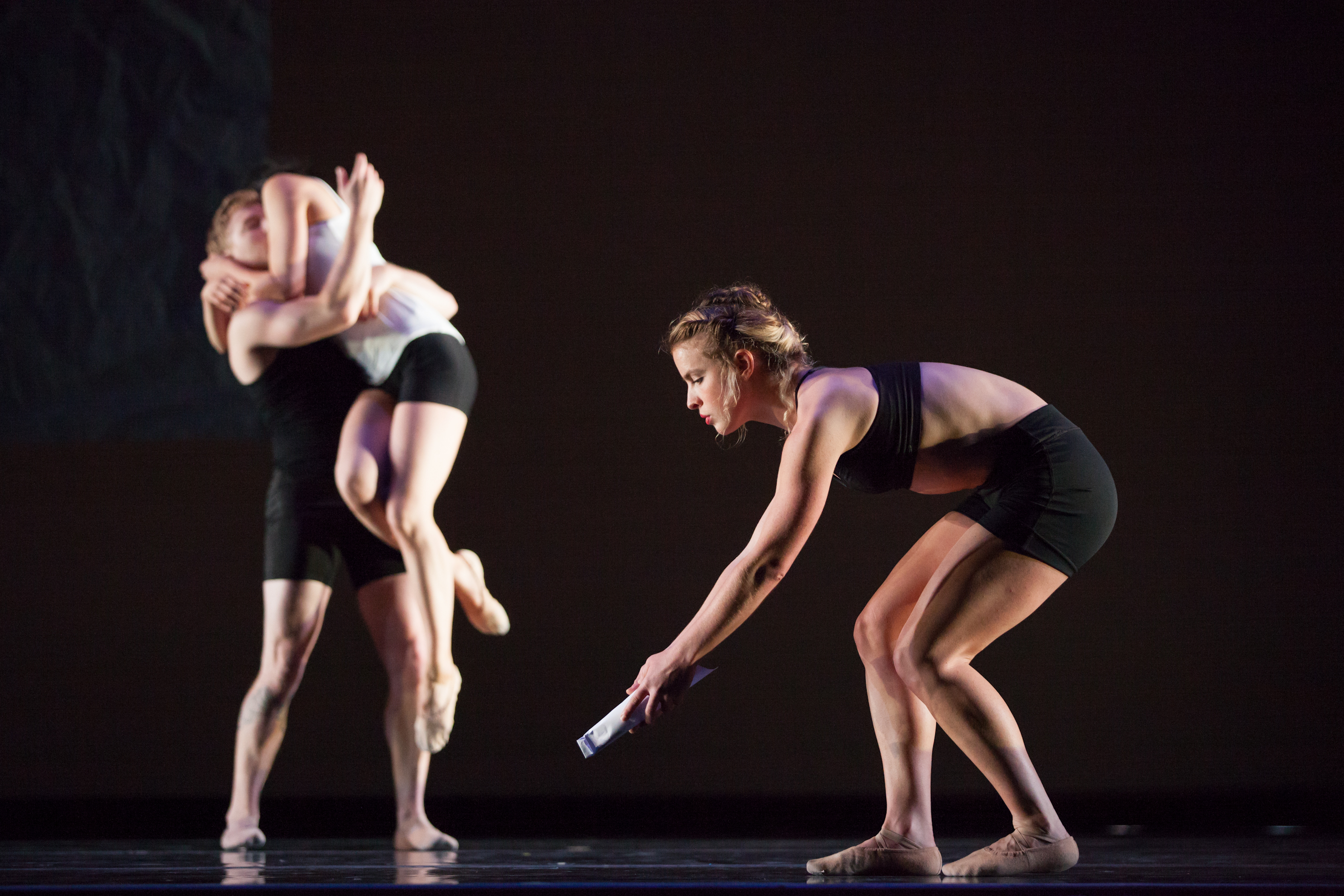 Dennis Adams and Yayoi Kambara (background) with Maggie Stack (foreground) perform in the world premiere of Triangulating Euclid. (Photo by Margo Moritz, courtesy ODC/Dance.)
Possibly inspired by French chalk, which is used to absorb grease spots from paper in book restoration, the line on the floor which Stack is tracing resembles - in reverse - the path of the 32 Shades in the most famous scene from the 19th century Russian classic ballet, La Bayadére, those ghostly ballerinas in white shuttling down a ramp and zigzagging back and forth as they gradually proceed downstage. Stack begins downstage and eventually disappears upstage, leaving behind a thin zigzagging line of powder on the stage floor. The entire time she is onstage she executes a rapid series of petits battements, fluttering movements in perfect time to the music - made not with her feet, as is customary in ballet, but with her fingers tapping rhythmically against the paper cone. A virtuoso performance.
Stack exits, but the duo who remain onstage sweep their slippered feet through the chalk line, creating sensuous chalky curves on the floor, and within minutes other dancers arrive and mess with the chalk lines, too. The rest of the dance takes place amid light billows of chalk dust, to the alternating strains of a minimalist score by Max Richter and Ólafur Arnalds and the heavenly Schubert lied "Nacht Und Träume," sung in succession by Ian Bostridge and Renée Fleming.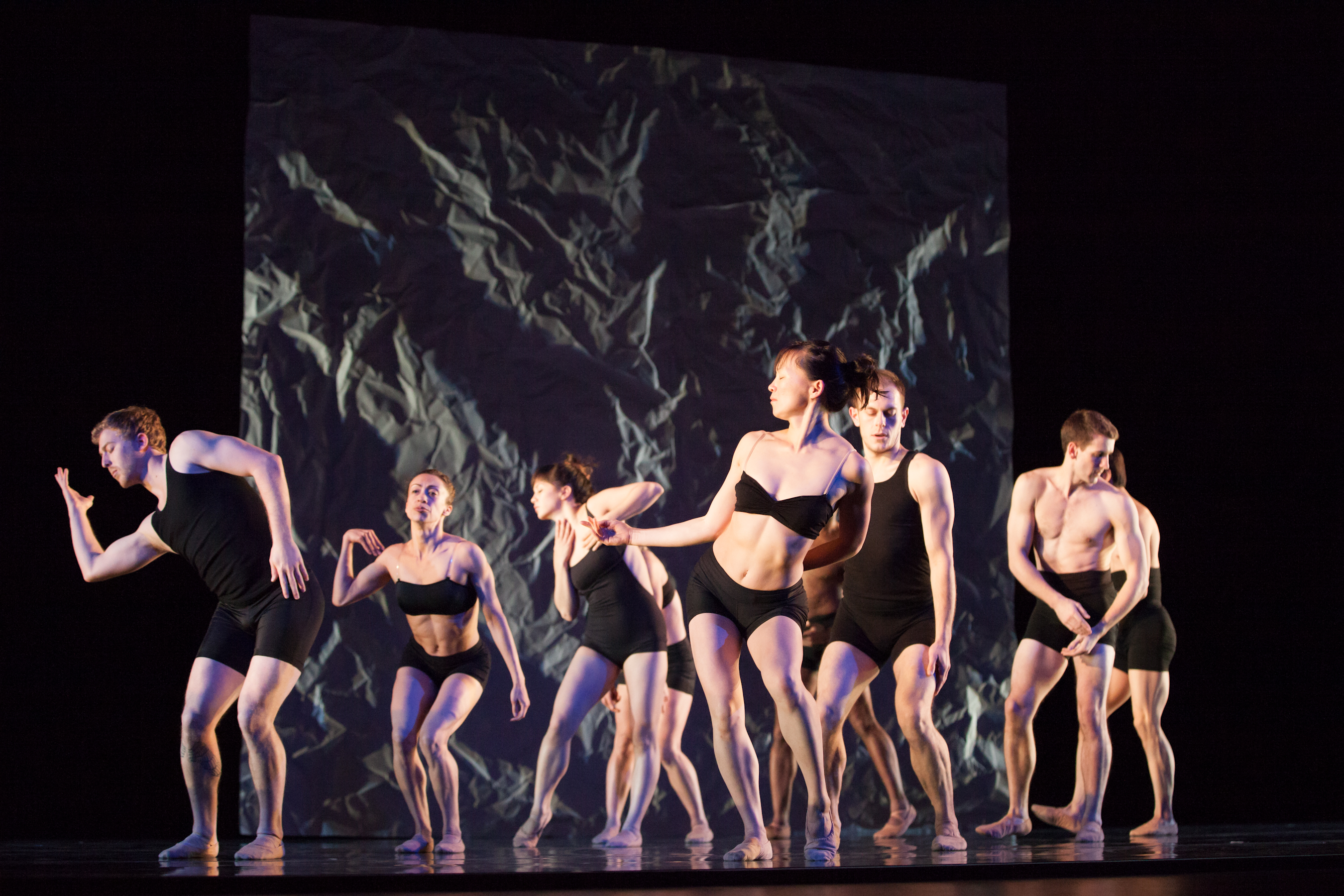 ODC/Dance performs in the world premiere of Triangulating Euclid (Photo by Margo Moritz, courtesy ODC/Dance.)
A more significant figure than Euclid in this context might be Erhard Ratdolt, the printer of this 1482 first edition, considered an innovator in the field of typography. One of his claims to fame was the first known printers' type specimen book, displaying all the available typefaces. The dancers in this piece are costumed in variations on skintight, black bathing suits whose borders against the dancers' skin resemble the lines and curves of fonts. Later they emerge wearing translucent white shifts with ragged edges that resemble fragile, partially ripped pages of paper.
The choreography throughout - in solos, duets and ensemble work - is fraught with simmering tension and drama. Despite having been choreographed by committee, it is remarkably unified in style, sleek and powerful, but restrained.
The same cannot be said of the other piece on the program, Transit: Next Stop by KT Nelson, which debuted last season and which stars an ensemble of whimsical multi-purpose bicycles (e.g., bike-with-park-bench and bike-with-kitchen-counter) designed by the clever Max Chen.
The theme of metropolitan malaise and rush-rush-rushing-with-never-enough-time-to-stop-and-smell-the-roses-or-make-a-meaningful-human-connection is a tired one, not enhanced by the pedestrian costumes nor the clumsily animated backdrops of cityscapes. The ambient sound score by Nico Muhly is not his best, and the long drone of what sounded like a recording of a busy night at taxi dispatcher headquarters in area code 703 made us reach for the Advil. The MTV-style cutting back and forth between vignettes of various couples and families struggling to get through their busy urban day was so choppy and confusing that it was hard to care about these people.
As the sun started to set, however, and Chen's daffy, ingenious bikes, illuminated by little strings of Christmas lights, drifted on and off stage, and as a couple finally found time to steal a kiss on a stoop, the audience collectively smiled and sighed.