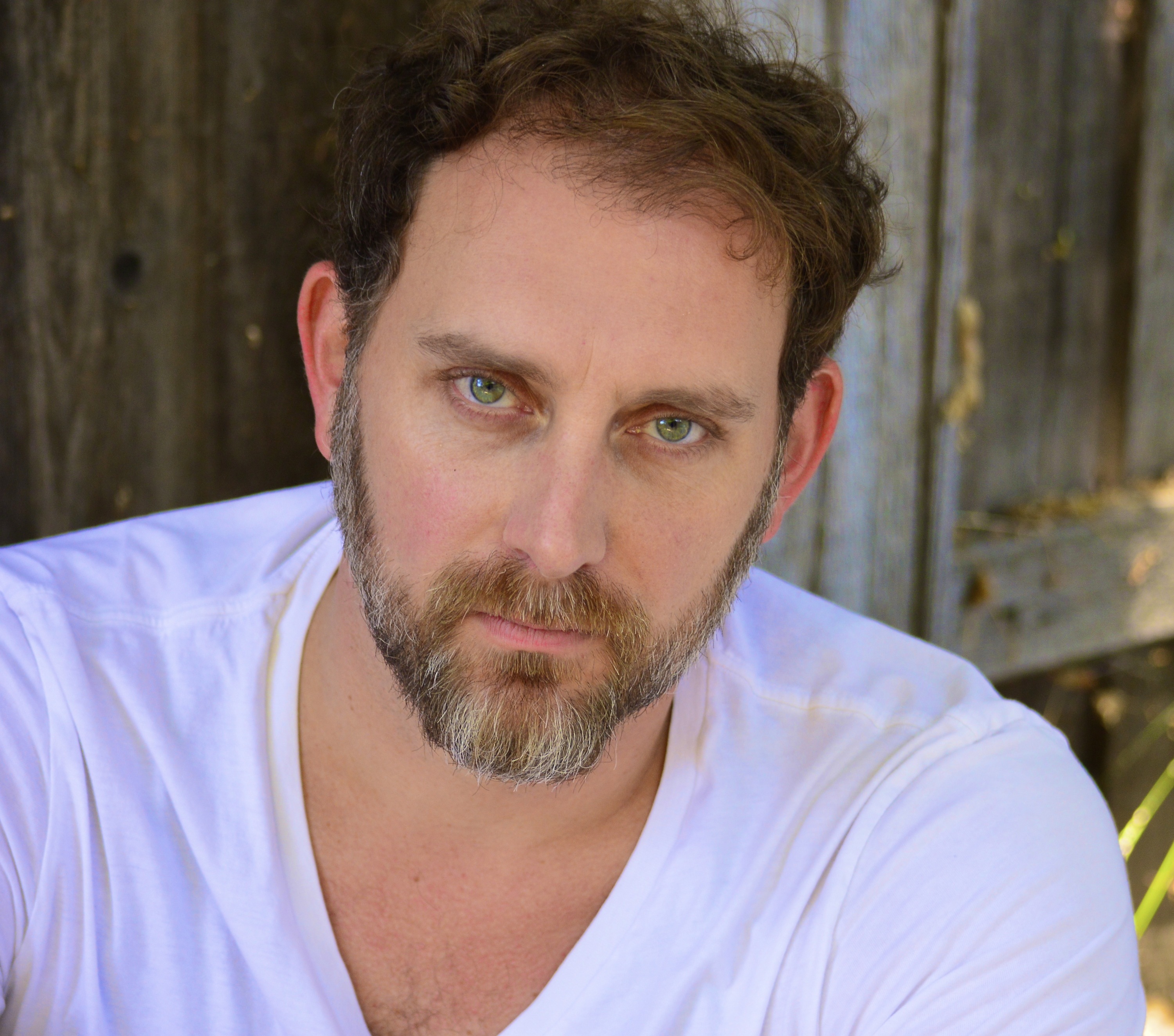 Those who detect a thaw in the cold war between the New York and Los Angeles theatre worlds must be smoking something: just because Larry Kramer's Normal Heart has returned to Los Angeles after 16 years does not mean that the Coasts are viewing each other with any less suspicion. The tiny but much-lauded Fountain Theatre in L.A. is hosting, and New York-born and -bred Tim Cummings tackles the explosive lead character, Ned Weeks -- a thinly disguised fictional incarnation of the activist playwright, whose outrage fueled the emergence of the gay rights movement. I caught up with Cummings in between rehearsals at the Fountain and, although he belongs to that rare breed of actor who convincingly plays heroes and villains, sad-sacks and kings, romantic leads and slow-witted fishmongers, he exuded apprehension and awe at the immensity of this role.
Earlier this year, Cummings stormed the stage at Disney Hall in the role of larger-than-life Ballets Russes genius Serge Diaghilev, backed by a full orchestra, in an imaginative production of The Firebird. Diaghilev had a notorious affair with dancer Vaslav Nijinsky that did not end well; Nijinsky wrote bitterly of Diaghilev in a diary that he kept just before he was admitted to a psychiatric asylum. Auden conjured Nijinsky's anguish in a poem, from which Larry Kramer took the title for his iconic play about the terror of the early days of the AIDS crisis in New York:
What mad Nijinsky wrote /
About Diaghilev /
Is true of the normal heart; /
For the error bred in the bone /
Of each woman and each man /
Craves what it cannot have, /
Not universal love /
But to be loved alone.

- W.H. Auden, September 1, 1939
Handsome and imposing, with piercing green eyes under a dashing fedora, Cummings mused on his journey from New York to Los Angeles, the journey that led to Diaghilev and Ned Weeks. Most New York theatre actors who make the transcontinental pilgrimage do so in the hope of striking it big in film or television. Lightning has not yet struck Tim Cummings, but rich stage roles continue to rain down, from theatres big and small. And the critics have embraced him.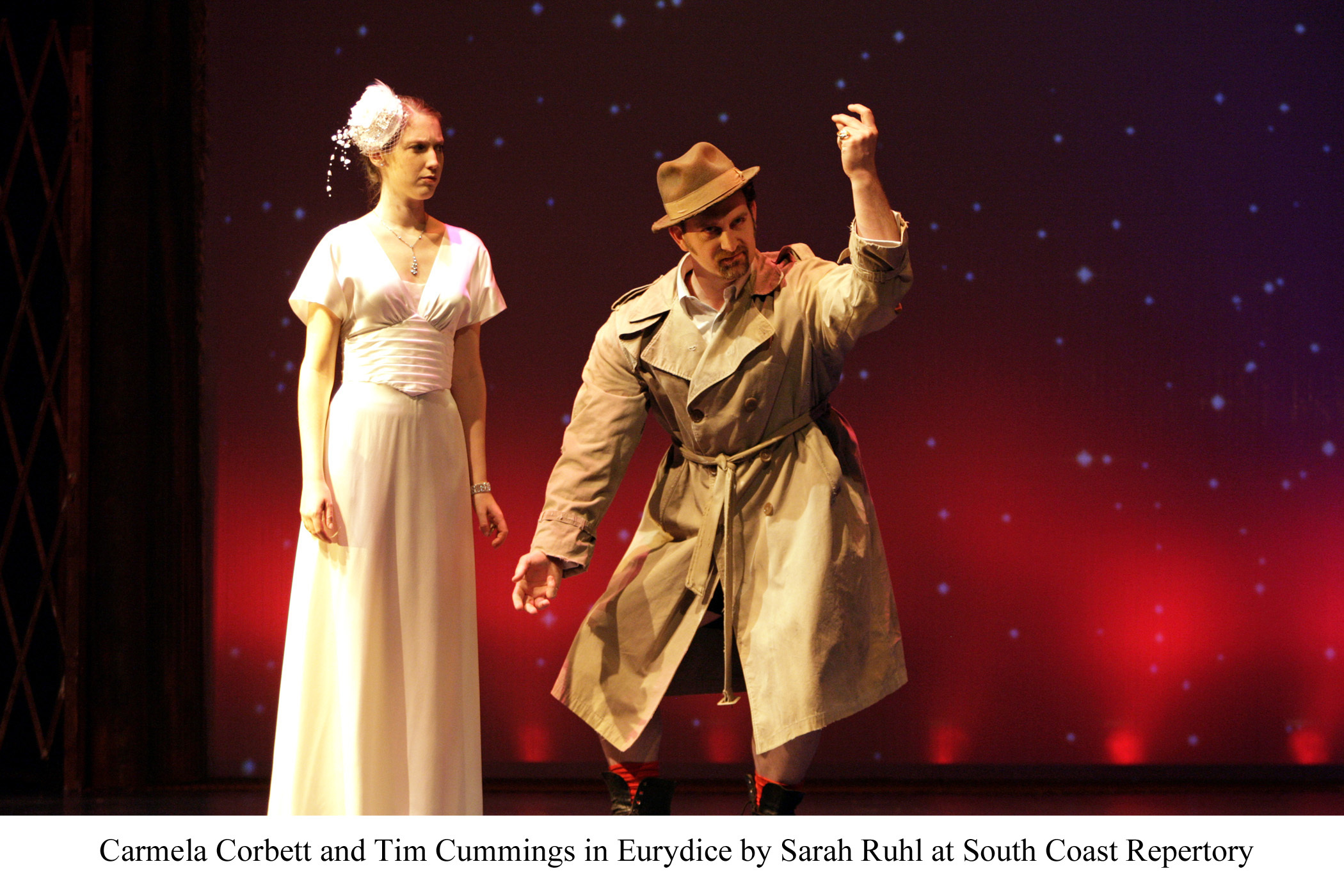 Don Shirley of the LA Stage Times proclaims "Cummings is enjoyable in anything he does," singling out his wicked Lord of the Underworld in Sarah Ruhl's Eurydice at South Coast Rep last year as a "performance that's surely heaven."
Jessica Drake of the Santa Barbara Independent raved: "Tim Cummings plays King Polixenes with the perfect amounts of masculinity, flair and good-humoured sexuality."
In a staging of the 1903 Billy the Kid that boldly flipped race and gender stereotypes on their heads, Cummings, in the role of the evil Boyd Denver, was hailed by Dan Bacalzo in Theater Mania as "the highlight of the show... Most impressively, he manages to endow his character with an emotional complexity that is only hinted at in the script. This is particularly striking in Denver's final scene where, for a moment, the villain seems all too painfully human."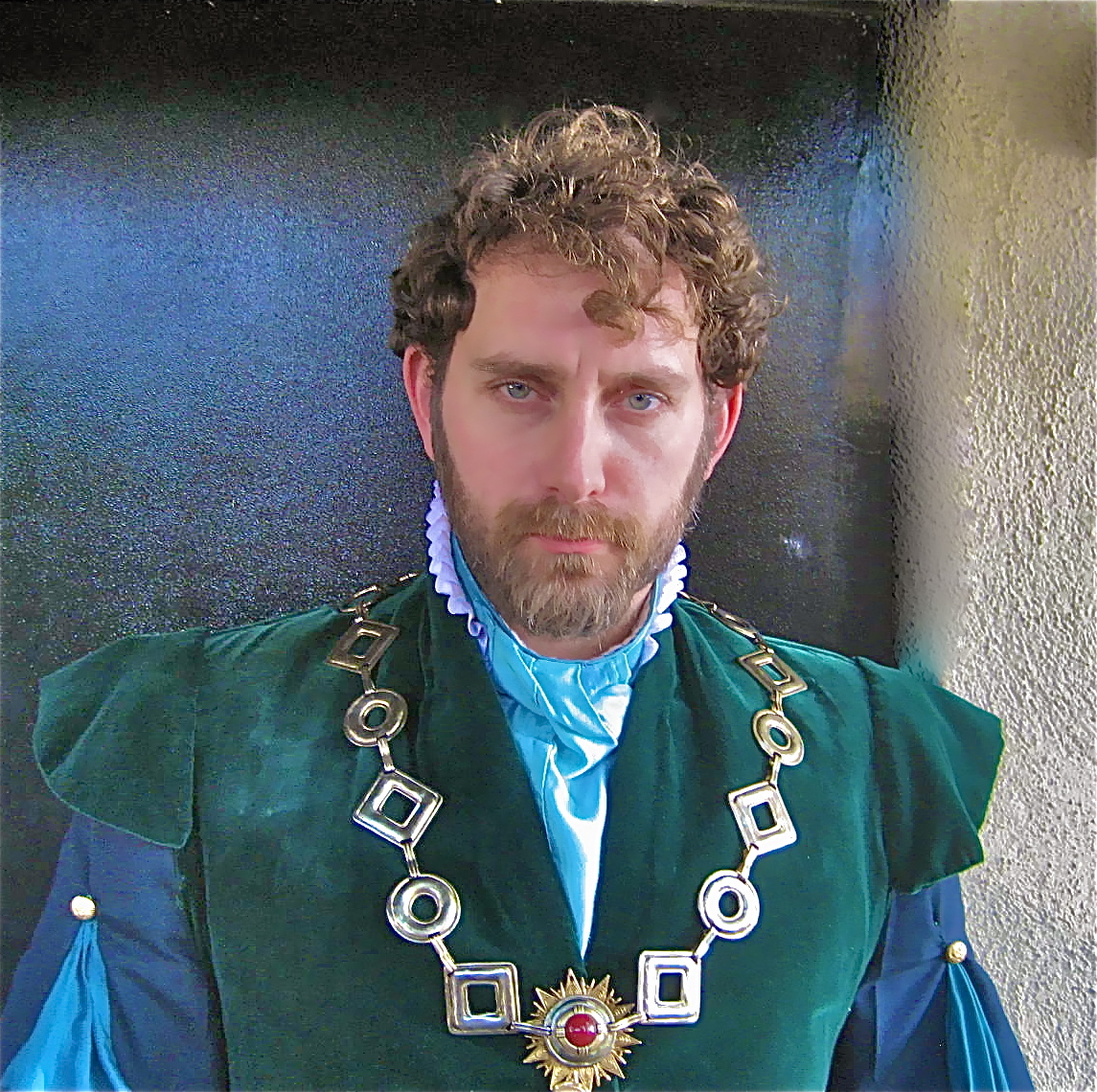 Tim Cummings in Hamlet (Photo: )
Of his award-winning turn in Irish playwright Enda Walsh's The New Electric Ballroom at Rogue Machine Theatre, Terry Morgan of the Los Angeles Drama Critics Circle noted: "Cummings is astoundingly good. The delicacy of his acting is just lovely, thrilling stuff; one of the best performances this year." Hollywood Today called it "a commanding, gifted performance."
Cummings' introduction to Enda Walsh came by way of The Walworth Farce at Theatre Banshee. "A brilliant storyteller," he exclaimed. "That play was utterly daunting, emotionally and physically. The slapstick Three Stooges-type high comedy mixed with rage, devastation and heartbreak was a rare titan. I changed my look for that role, for Dinny: put on weight, shaved my head, grew a mustache."
Morgan marveled:
Cummings, an actor I've previously admired, so completely inhabited his role that I didn't realize it was him until I'd looked at the program later on. His performance as Dinny is a great roaring thing, a dynamo of blazing anger, but Cummings also shows the defeated humanity within the monster, quiet moments of exhaustion where he regroups and refastens Dinny's bad toupee.
Another Theatre Banshee hit, novelist Roddy Doyle's War, a tale of a raucous quiz night in a Dublin pub in which a cast of 17 battle to win an electric kettle, was "a riot; brilliant fun," recalls Cummings. Cynthia Citron of the LA Examiner noted: "Cummings does a great job with a loathsome character." Morgan wrote:
As George, Cummings' powerful performance dominates the proceedings with a combination of mate-y charisma and the ever-present threat of verbal or physical violence. He's always compelling, and even though George can be a bully and is abusive to his wife, the audience wants him to prevail.
Since 2000, when he played General Sam Houston in a Ruth Margraff play about the Battle of San Jacinto, Cummings has researched his roles obsessively:
I spent afternoons in the New York Public Library, and eventually I knew absolutely everything there was to know about Sam Houston, the Texas Revolution and all of those quirky, violent historical people involved. At one point I was positive that I was either possessed by, or being guided by, the ghost of Sam Houston. He showed up in my dreams, I even thought I saw him on the city streets... It was profound, and admittedly a little nutty, but more importantly, it was one of the first times I realized something about myself as an actor: I am deeply committed to the work; I am very particular about the conveyance of the playwright's truths, be they fact or fiction; I'm in it for the long haul, and I don't suffer laziness, narcissism and insouciance well.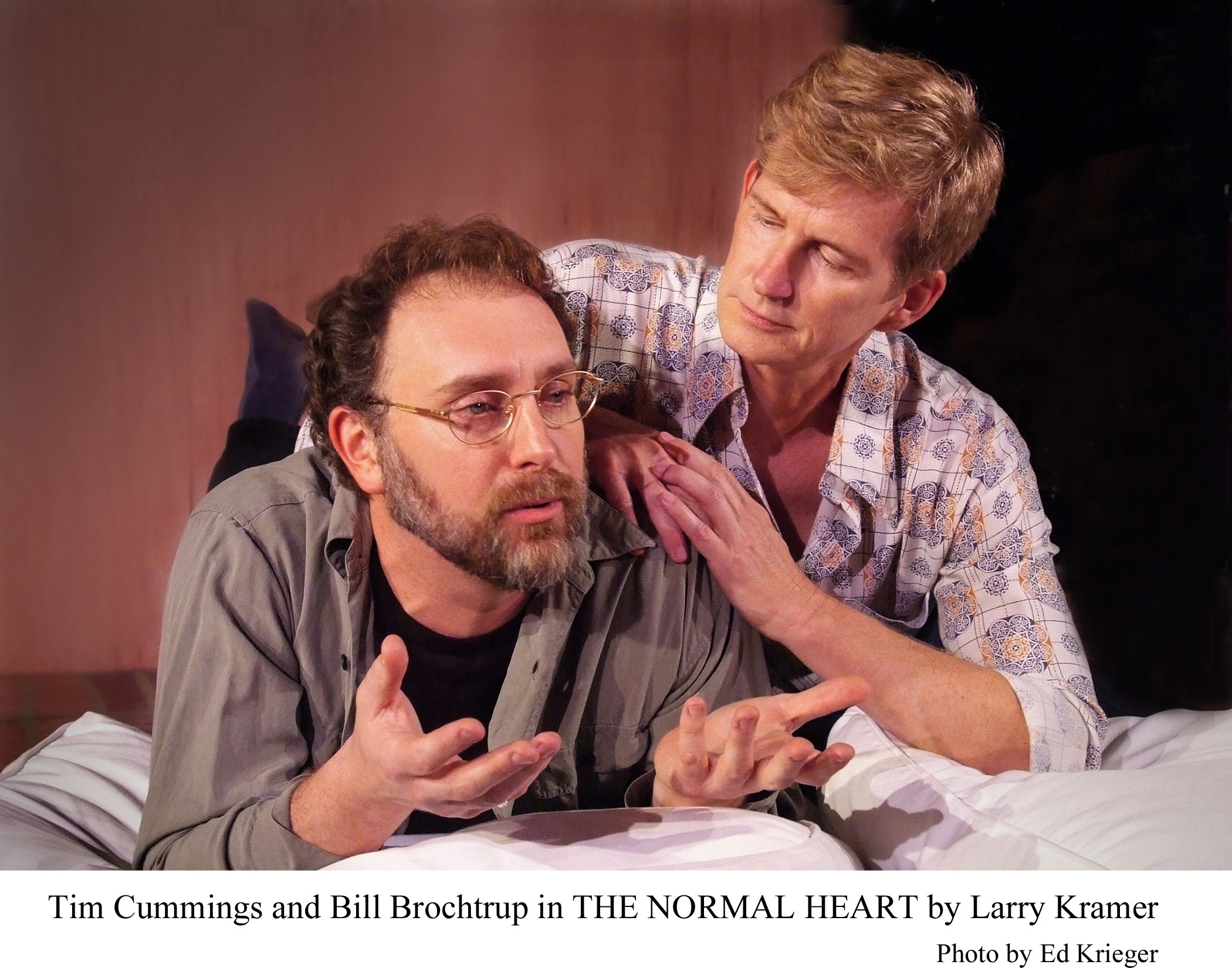 Now he immerses himself in the history of the AIDS crisis, and in the politics of 1980's New York -- the nerve center of Larry Kramer's activist movement. A native New Yorker and NYU/Tisch graduate, he was too young to have experienced the turmoil, the acrimony and fear that marked the world of The Normal Heart, but today he's recreating it.
Does he regret having left New York?
He does have some very poignant memories:

In late 2001, after 9/11, the theatre company I was with -- The Flea, whose home was close to Ground Zero -- presented a play called The Guys. Journalist Anne Nelson dramatized her true encounter with a fire captain, who had lost most of his guys, and who had sought her help in writing the eulogies for their funerals. Sigourney Weaver and Bill Murray played the journalist and the fire captain. I was plucked from the company to understudy the male lead and performed numerous times opposite Sigourney, who was later replaced by Susan Sarandon, then Swoosie Kurtz, Amy Irving, Carol Kane, Polly Draper, Peggy Lipton, and others. I understudied Bill Irwin, Anthony LaPaglia, Tim Robbins, Tom Wopat, and Stephen Lang, all of whom replaced Bill Murray.

That was the first time in my life that a play crossed over into real life and touched me in ways I never would have anticipated possible. Primarily because I had grown up with a father who had been a Fire Lieutenant with the NYFD for thirty-plus years. With this play, my two otherwise separate worlds -- theatre and the NYFD -- converged. The once-strained relationship between myself and my dad began to heal. Meanwhile, thousands of people from all over the metropolitan area were coming to the theater on a nightly basis, drawn to the power of the play.
One night, he went on for an indisposed Tim Robbins, and Joe Mantello happened to be in the audience. The Tony award-winning actor-director subsequently invited Cummings to audition to be Stanley Tucci's understudy in the Broadway revival of Terrence McNally's Frankie & Johnny in the Clair de Lune, also starring Edie Falco. Cummings: "I knew I had no chance in hell. I was only 28 years old -- even though in The Guys I was playing a 48-year old -- and I did not look like Stanley: he was shorter than I, very buff, very bald and very Italian-looking. Yet, I booked it."
That experience landed him in the big leagues, a comparative rookie in auditions, now up against many well-known theatre and film actors. It was a frustrating time for Cummings.
But he's too busy to dwell on what-if's. He's building his stamina for the Olympian role of Ned Weeks. He reminds me that this is no period piece -- The Normal Heart may be a 20th century classic in revival, but Larry Kramer's work is not finished. The fall-out from the AIDS crisis has seeped into the 21st century: in the DOMA trials, the rise in gay-bashing, the failures in U.S. healthcare, Russia's belligerent homophobia... And with a courtly tip of his fedora, Tim Cummings slips off to tackle his next harangue against Mayor Ed Koch.
Tim Cummings opens in The Normal Heart at the Fountain Theatre on Sept 21st.