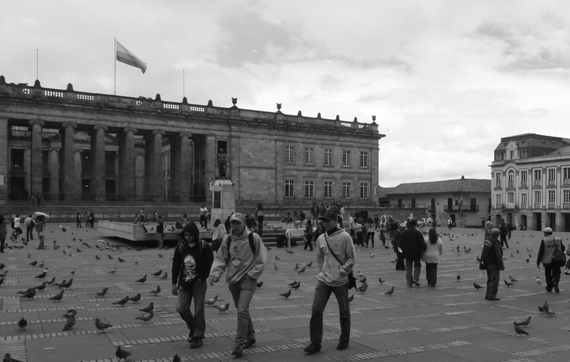 The upcoming parliamentary "debate" between two leading political figures in polarized Colombia promises to be as riveting, intense and nasty as riveting, intense and nasty can get.
Firebrand leftist Senador Ivan Cepeda, after tortuous procedural maneuvering, has managed to force former president and now Senator Alvaro Uribe to respond to a series of charges related to his role in the support of paramilitary groups that, backed by the armed forces, wealthy landowners and drug traffickers, terrorized the nation's countryside killing tens of thousands of people during the 1990s and 2009, when they finally demovilized.
A handfull of paramilitary leaders -- "paracos," as they are called in Colombia -- joined an armistice and, after going through the Colombian legal system, some were extradited to the US to face drug-related charges.
The "debate" between Mr. Cepeda and Mr. Alvaro Uribe will be televised live by the Colombian equivalent of C-Span on September 18.
This "debate," according to Colombian columnist Juan Manuel Urrutia, is a local adaptation of Question Time from the UK and other nations.
He explained in an email:
[At the time the 1991 Constitution was approved] members of Congress decided to adopt democratic procedures deemed exemplary such as Question Time. The difference being that Colombia's is a presidential system where questioning a member of Government might lead to a vote of no confidence against such member but never to the fall of Government and new elections.
While readers may find a sense of deja-vu -- and more so when comparing to the US paralyzed and dysfunctional Congress -- it's worth noting that this discussion about killings on a massive scale will take place within the halls of of Congress. And not out in the fields of that South American nation of 47 million people.
It will take place in broad daylight by elected officials. And not by armed groups in the middle of the night.
And it will take place as the nation meanders toward a peace plan between the Colombian government and FARC, considered the oldest guerrilla organization in Latin America.
Negotiations started in October 2102 by President Juan Manuel Santos were rejected by the country's political right wing, of which Mr. Uribe is a key spokesman, have dragged on with ups and downs, and were finally embraced by a majority of the electorate that handed president Santos another four years last June.
Mr. Uribe had thrown his support and political prestige behind Oscar Iván Zuluaga, who charged that the peace discussions and eventual agreement amounted to surrendering to the communist guerrillas.
The peace negotiations consist of six points dealing with: 1) agrarian development; 2) political participation; 3) ending the conflict; 4) the illegal drug problem; 5) victims and 6) implementation.
It is based on the negotiating principle that "nothing is agreed upon until everything is agreed upon."
Two years of political rhetoric aside, the undeniable truth is that four points have already been nailed, with only two to go: victims of the conflict. And the final cessation of hostilities.
Discussions are now underway as to who can and who cannot be considered a victim of this conflict. A delegation of victims will then go to Havana, where the discussions have been held since November 2012.
Ironically, both Mr. Cepeda and Mr. Uribe could fall into the category of victims, as both of their fathers were killed during this period.
Mr. Cepeda's father, Manuel Cepeda Vargas, a leading member of the Colombian Communist Party, columnist of the weekly Voz Proletaria and candidate representing the Patriotic Union coalition, was one of hundreds of left candidates felled by right-wing squads in 1990s.
The circumstances of the death of Mr. Uribe's father, Alberto Uribe Vélez, a wealthy landowner from the northeastern region of Antioquia, have been attributed to FARC, although no documentation exists to prove that FARC actually carried out what is considered to have been a botched kidnapping attempt.
Many argue, however, that the circumstances of Mr. Uribe's father's death led him to support the paramilitary death squads as a means to protecting life and property.
The confrontation between Mr. Uribe and Mr. Cepeda promises to be a nail-biter. But not everyone see it as positive.
While some welcome it, others see in it an attempt to "get even" by Mr. Cepeda, who has been calling for such questioning.
Juan Manuel Urrutia says that many could consider it "a public trial of Mr. Uribe on accusations brought by Mr. Cepeda."
Therefore the "debate" will not focus on a discussion on the Colombian Peace Process nor will it address issues such as the victim's rights and others at the forefront of the country's political agenda. Senator Cepeda has announced the he will focus on proving Senator Uribe's links to drug-lords and paramilitary leaders. Mr. Uribe, if he attends, will center his defense on accusations against Cepeda.
That being noted, the debate will take place according to a Constitution, the rules of law and those of Congressional proceedings.
And looking at it from the vantage point of thousands of miles away, there's a glass half-full feel to it.
Photo: Carlos F. Torres