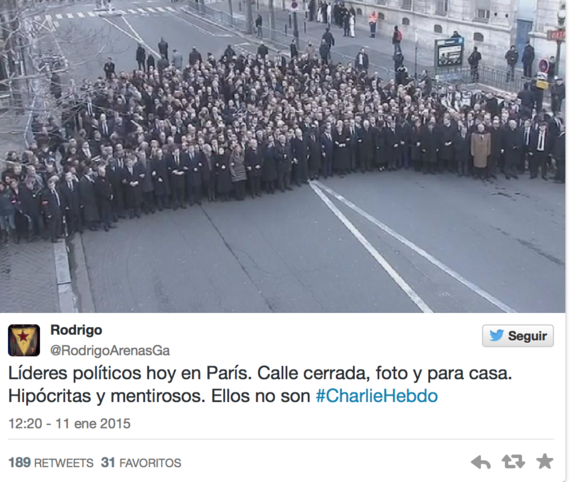 If a picture tells one thousand words, the photo opportunity at Sunday's massive march in Paris could very tell 1.5 million lies.
Lies and deceit to every one of the participants. And to the world who followed the event.
Heads of state appearing in what's little more than a well-staged photo have, in effect, hijacked the spontaneous act of repulsion against the senseless violence that shook France and horrified the civilized world in days past.
Days after the killings at Charlie Hebdo, all over France, Europe and elsewhere, people poured to the streets, brandishing pens, pencils and signs with three powerful words "Je Suis Charlie." Very soon after, however, opportunistic politicians decided to use the movement for their own self-serving needs, taking credit for Sunday's march at Place de la République.
As one can tell from the photo, they didn't even bother to be anywhere near the people of Paris -- although that's something which the average TV watcher would never know.
Simply take a look at the records of some of those who marched to see total contempt for the press is widespread. In fact, many of them should be facing criminal charges.
Daniel wickham (@DanielWickham93) gathered the list below.Here they are: 1)
1) King Abdullah of Jordan, which last year sentenced a Palestinian journalist to 15 years in prison with hard labour http://t.co/giZg7JounI

— Daniel Wickham (@DanielWickham93) January 11, 2015
2)
2) Prime Minister of Davutoglu of Turkey, which imprisons more journalists than any other country in the world http://t.co/sLCJaZprex

— Daniel Wickham (@DanielWickham93) January 11, 2015
3)
3) Prime Minister Netanyahu of Israel, whose forced killed 7 journalists in Gaza last yr (second highest after Syria) http://t.co/w74zqVHZf9

— Daniel Wickham (@DanielWickham93) January 11, 2015
4)
4) Foreign Minister Shoukry of Egypt, which as well as AJ staff has detained journalist Shawkan for around 500 days http://t.co/xzVRgmkM1g

— Daniel Wickham (@DanielWickham93) January 11, 2015
Here's the full list and records of the politicians who hijacked "Je Suis Charlie".