This trip was going to be so many things: a girlfriend getaway, a solo eco-retreat, a solo luxury-retreat, a romantic adventure. I wasn't sure what to expect, and although I did some research, I couldn't quite get a grasp of the island.
On a map it looked daunting. Do I drive the 65-mile Road to Hana? Get up at 3 a.m. to watch the starry night transform into a glowing sunrise at Mount Haleakala? I only had 4 nights and wanted to maximize the time, so waking at an ungodly hour and then driving two hours to the middle of the island was out.
***
The air is muggy and slightly humid and that feeling washes over me-- the butterflies from anticipation and excitement as a new exploration commences.
It's early evening on Wednesday when I arrive after a smooth non-stop flight on Hawaiian Airlines. I upgraded to their roomier Extra Comfort section and stretched out. The orchestra erupts when it's announced complimentary wine will be served with the meal. My flight just got that much better.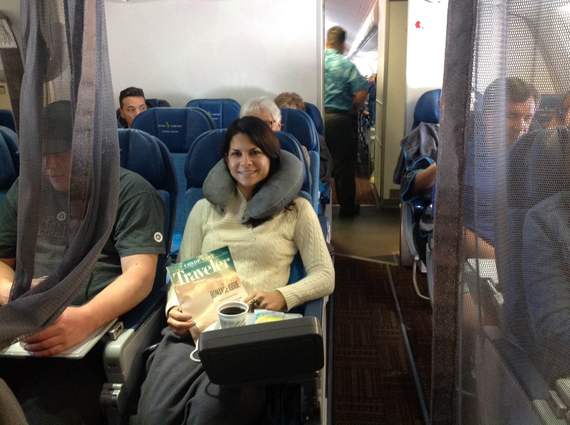 ***
WAILEA
After picking up my rental car (a must), I drive the half hour to the Fairmont, curving along the one main road. Looking out the window, I say to myself, this is so beautiful. This is so beautiful. Billowy clouds kiss the peaks, plentiful and intertwined throughout the lush green landscape. It's just as I imagined.
I pass three or four mammoth resorts, all lined up along the beaches of Wailea. The lobby is stunning, airy and opulent, with curved arches overlooking a lily pad pond and interconnected pools.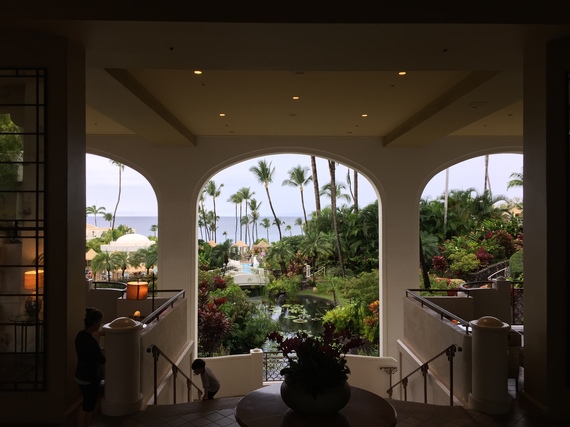 At first I feel like I don't belong, but that moment quickly passes, and I settle into my suite just fine. I find myself in front of my laptop overlooking the balcony doing work into the late evening until I wander downstairs to the lobby bar. There are families, and retired folks, an acoustic singer, and quietness. I get a flashback of being on my family college graduation cruise in Mexico. It's hard for me to relax to say the least.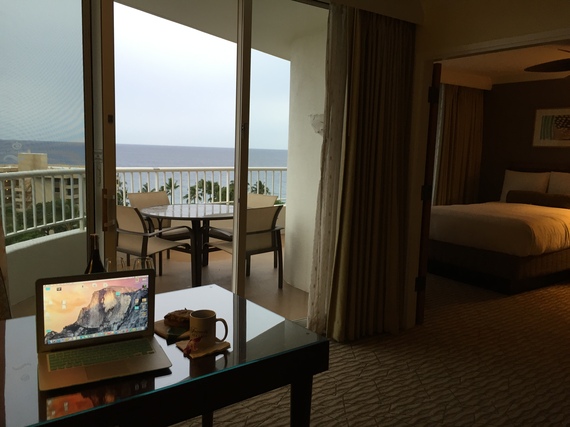 ***
I try doing nothing. I really try. I take one day to see what it's like to do nothing at a resort. I lay by the adult pool, pristine and barely touched. A pool boy serves me a piece of pineapple and then cleans my sunglasses. I walk along the narrow "white beaches" which are a true tan color and follow the path to peak at the hotels to the right and condos to the left. I dip my foot into the coldish ocean. I skim read. I take a bath with lavender salts. The concierge tells me to go the Marriott for local Hawaiian food. To which I go back to the friendly gal in her twenties working the towel cabana and ask her where I should get food. For big plates go to Da Kitchen, she tells me.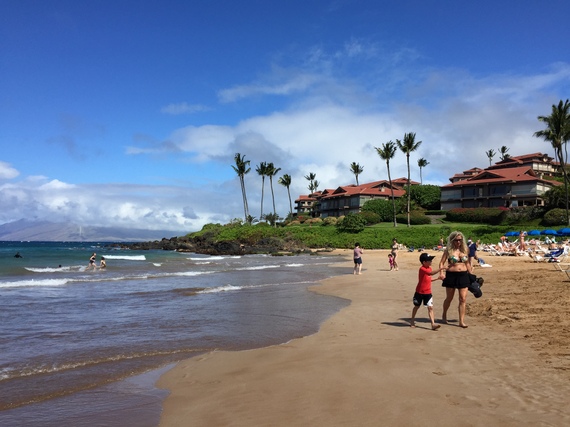 Before picking up my guy at the airport, I stop at the Kahului location and for about $15 get a mixed plate large enough to feed two. A mound of savory pulled pork, slices of crispy grilled spam, large chunks of baked teriyaki chicken, with rice and traditional cold macaroni salad. Yeah, this is what I'm talking about.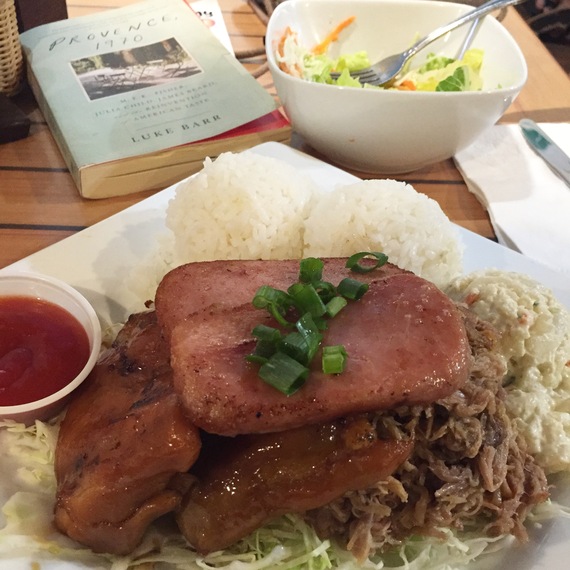 ***
We want to surf at The Cove in Kihei, about ten minutes north of the Fairmont Kea Lani, and the valet tells us that Kihei Caffe has an awesome breakfast. The line is wrapped around the cash-only joint, but moves quickly. Known for their giant cinnamon buns, that have their own warning sign "very, very, very, hot, hot, hot", and local grub, boy does it live up to the hype. Sitting on the front patio, with our coffee in mismatched mugs, we dive into the pork-fried rice with eggs over easy and banana macadamia French toast, light without being overtly sweet. I can still taste each bite.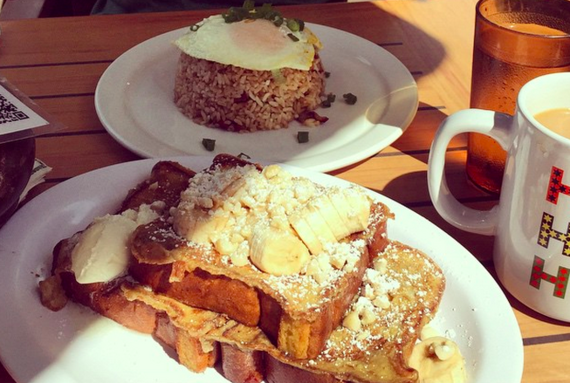 ***
We head south to Makena Beach, which at one-mile long is the largest untouched beach on the island, about five minutes past the resorts. We park in the crowded lot while locals lock their bikes by the fish taco trucks before heading down the dirt path to the beach entrance.
I forget about the text I received from my friend asking if I was going to Little Beach. That is until while hiking up lava rocks barefoot, exploring the lower paths at the base of the mountain, we say, I hope there's a good view at the top. A woman passing by replies with a smirk, Oh there's a view.
Down we go to the other side of the mountain, and there they are. Local Hawaiian men chatting away... fully exposed! We laugh, oh how we laugh! Little Beach! We stumbled across it; the small nudist beach that hosts a drum circle each Sunday and was on my to-see list.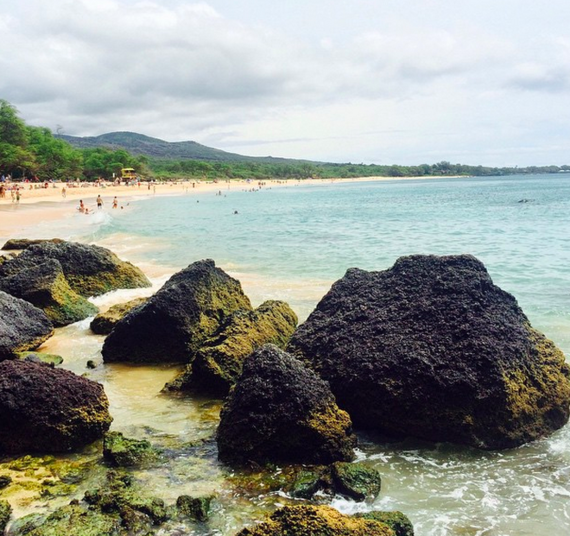 ***
KIHEI
It's supposed to rain every day, but we get hit with showers only every now and then.
It's the best kind of cliché-- driving in the beating sun without a care in the world, with our kukui nut leis in sight, the local radio plays classic Hawaiian tunes as we eat coconut that Carlos the Brazilian guy on the side of the road cut up for us.
We are going to surf we say, coming back up to Kihei en route to Kapalua where the Ritz Carlton is located, about an hour up the west cost of the island.
But first, we should get a drink. It's happy hour at South Shore Tiki Lounge, and one margarita turns into three. It's raining now, so we couldn't surf anyway, we justify to each other.
Can I ask you a question, a man reminiscent of Karl Pilkington asks when we poke into a souvenir market next to the strand of bars. Sure, we reply. Can I tell you two things, he asks. Yes, we reply. And this goes on. And on. And on. The merchant tells us about growing plants in lava rocks, and the U.S. Customs and so on. And so on. And so on. My guy obliges while I stare at the dude with daggers in my eyes. He's really good at what he does I think to myself, when for a moment I consider buying one of his lava rock plants.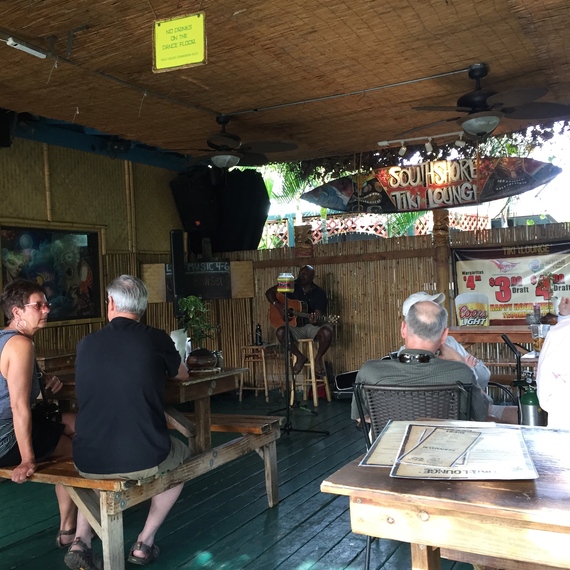 ***
The sun is setting as we make our way to Kapalua, about twenty minutes north of Lahaina. We never make it to Lahaina, the most populous city on the island, but after hearing it's a tourist port town, I don't really care. I would've liked to have spent a couple hours at the Maui Brewing Company because the Mana Wheat beer infused with pineapple that we bring back to LA is one of the best I've ever tasted.
***
KAPALUA
At the northwest corner of the island, Kapalua is dense and green and makes you feel like you're somewhere special. The Ritz Carlton isn't so much glitzy in the typical resort sense, but rather feels even more luxurious by not flaunting its ostentation.
My hair is matted to my head, and I'm covered in sand as we're taken to our one-bedroom suite. It's huge. It has two bathrooms and the balcony, the width of our suite, overlooks the three pools. To the right, the mountains rise and jetty out into the ocean.
Images of wealthy individuals appear on the TV in our bedroom with outlandish statements such as "let us take you to the moon and back." I never want to leave.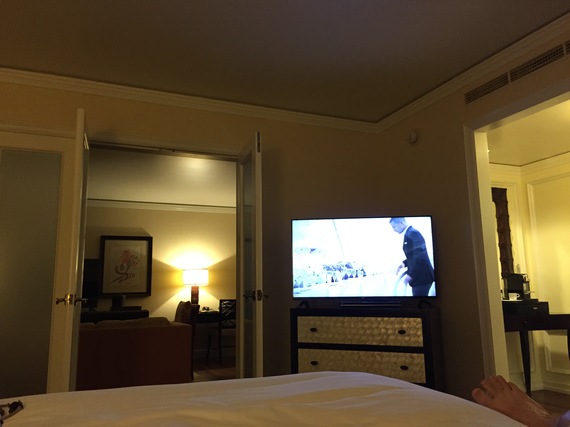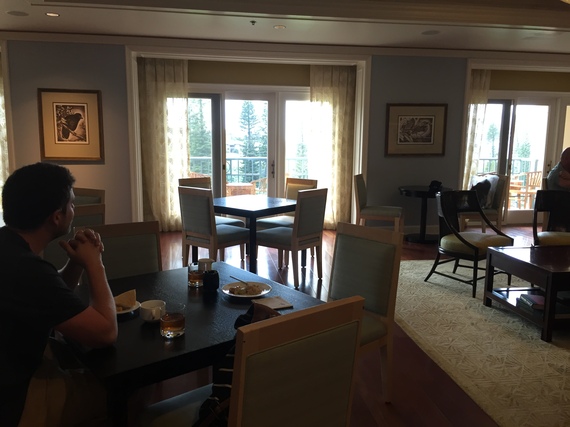 Our "Club Level" suite includes access to the exclusive Club Lounge located discreetly on the eighth floor that has an open bar and food any time of day. It's one of those things that you wish you didn't know existed because after experiencing it, it's hard to go back.
We're not quite sure who the people are, or how they ended up here, or more importantly how we ended up here. We're just glad we did. After a glass of wine at the Club Lounge, we take the hotel shuttle to Merriman's.
Merriman's hosts a wedding nearly every day. Every. Single. Day. Can you imagine? Besides Mama's Fish House, Merriman's is one of the best restaurants in Maui. I've always wished that restaurants would give a sampler entrée, and this one does! For about $50 a plate, we each choose two entrees served in half-portions. Both the service and food are impeccable.
Overlooking the water, sharing a bottle of Champalou Vouvray, it seems certain that Maui is a place for romance. There's no way around it.
***
We're scheduled for a 9:30 a.m. snorkeling trip with the Ambassadors of the Environment program at the Ritz. We lag. We are always lagging. We hurry down the hill through the sprawling manicured grounds, passing couples going for leisurely strolls. It reminds me of the resort in Dirty Dancing that I always wanted to go to as a child.
Our snorkel guide Ali greets us. She's a young blonde, cheerful woman who loves snorkeling. I mean she loves it. She goes on her days off. She studied marine biology. She is one with the fish.
We stop her frequently during the PowerPoint overview, asking her such minute details about the marine life, including their reproduction, that I know how weird she thinks we are. But she's very sweet and polite and answers the best that she can.
After a short ride in the van we get to Kapalua Bay. I squeeze into my wetsuit and the three of us walk right into the water with our waterproof cameras in tow. The water is a little too cold for me, but as soon as we get in, we can see the coral and fish. It's serene.
A large turtle appears, and later on his mate joins, a female who seems to be annoyed with her counterpart after forty years together. In total, we see four turtles and feel very satisfied with this, like we somehow made them come out. Ali agrees that we got lucky with our snorkel trip.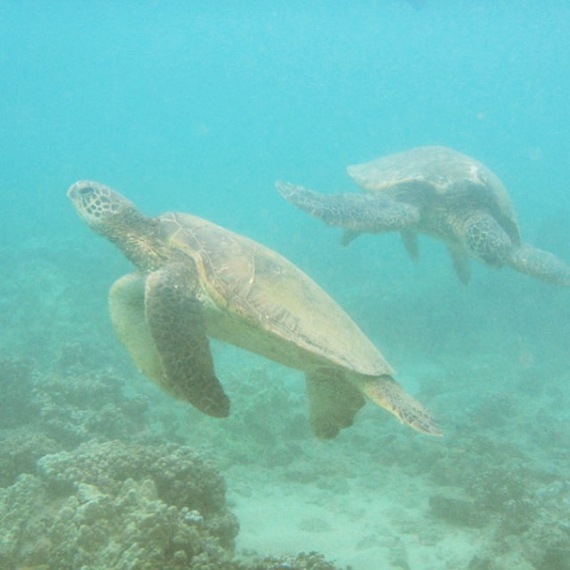 ***
In the afternoon we drive to Twin Falls, which is the first stop on the Road to Hana. The rainforest looks like a movie set, or perhaps that comes from living in Los Angeles for too long. Most of the trail is closed off, so we take a short path that leads us to a pleasant, yet mediocre waterfall. On cue the theme to Jurassic Park starts humming out of my mouth. That always happens.
Ali told us to watch the surfers at Ho'okipa on the north shore of Maui. Backtracking from Twin Falls, we easily find the spot, and stand with the others overlooking the ocean observing the surfers catch waves.
On a grassy patch sits an old food truck called "Bob's Dogs of Maui." It's great, and Bob is great. Bob's on the phone and doesn't seem to mind us standing there waiting. He serves us a huge mound of Hawaiian shaved ice, noting that his wife made the sugar cane syrup from scratch. Score!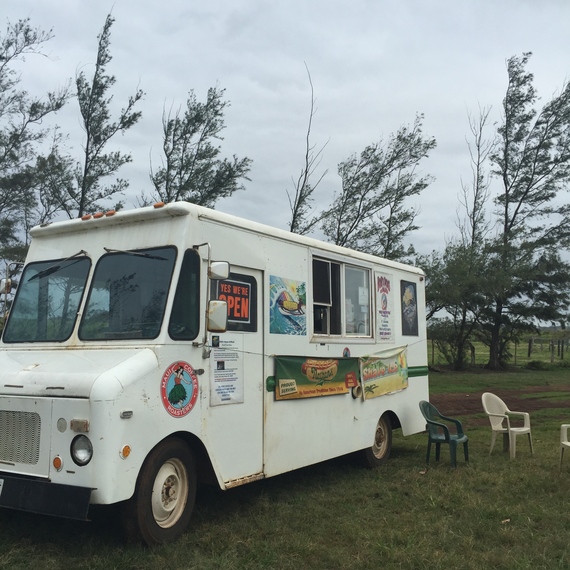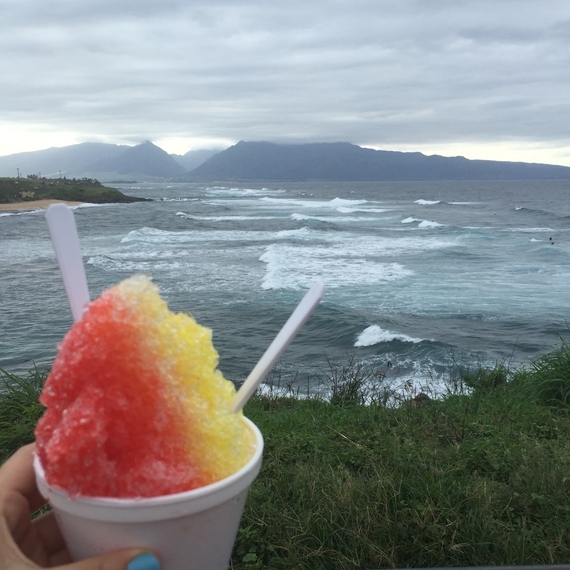 ***
PAIA
We head back west and slightly south to the hippie town of Paia, about ten minutes from Ho'okipa. This is my jam. It's where Willie Nelson and a lot of celebrities live. In fact, we eat at Charley's, a large sports bar, that some conspire is owned by Willie himself. I'm on-board that conspiracy wagon. His pictures and albums are plastered everywhere.
We're happily content to be with the locals as a band sets up for literally three hours. I get the fish and chips while the guy orders a giant burger. We could've done without the teriyaki poke-- the flavors don't jive, but the IPA on tap makes up for any misses. Our hot young waitress is so bad that she's good. We're amused at how nonchalant she is as she throws our food onto the table without a glance, and walks away with an air of confidence almost to be envied.
Across the street, the guy samples nearly every flavor at the gelato shop. We both pick the guava, with such a distinct, tropical mellow flavor, that can only be described as "tastes like guava". I pick up local Maui postcards, the only souvenir I allow myself on trips now. If I were Willie, I'd have a house here too.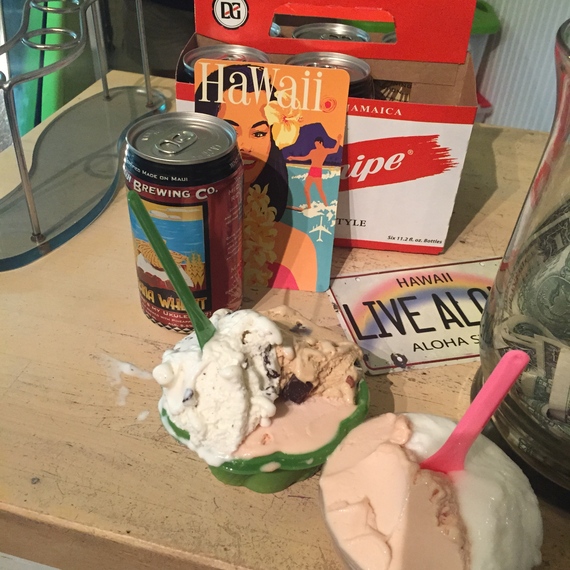 ***
It's Sunday morning, and we have to leave today. Just when you get used to island living, it's time to get back to the real world. I'll miss our room at the Ritz Carlton Kapalua that's bigger than my apartment, and our Nespresso machine cleaned and refilled twice a day.
We lounge at the adults-only hot tub and then pack up, driving the hour to the airport. After I check in, we see that the guy's flight on American Airlines is delayed for two hours. Pointing to Hawaiian Airlines one desk over, he asks half-jokingly if he can get on my flight. She confers with Hawaiian and after typing something magical into the computer, she gets him on my flight. Seriously that happened. That never happens.
In the air, we play Subway Surfers, and listen to the Serial podcast, and have the complimentary wine, even given in coach.
***
Three or four nights may not be enough, but you can see a lot in a little amount of time. It was a perfect long-weekend getaway that gave us just what we needed -- a taste of Maui.