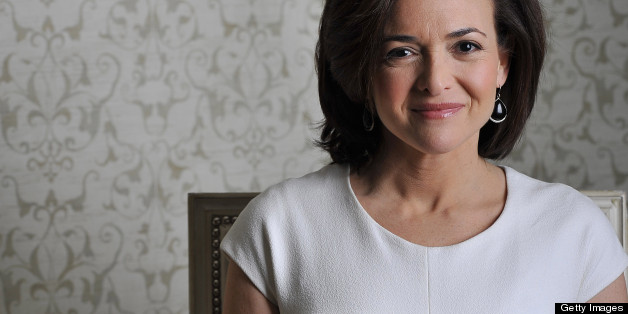 As a graduating senior, and the founder of Colgate Women in Business, I was absolutely floored to hear that Sheryl Sandberg would be coming to speak at Colgate. To be lucky enough to hear her speak, both to a small private audience and again in addressing 5,000 parents, professors, alumni, and students, was a dream come true. I'd preface this to say that I was a pretty big fan of Sheryl Sandberg even before the rumor mill churned about her writing a book. Setting aside my fandom, I have found Sandberg's message empowering, particularly as a 21-year-old woman about to graduate from college.
When Sandberg spoke at a small reception preceding her keynote address, it was to a room of mostly college women, my fellow members of Colgate Women in Business. And to that end, she said to us, "This book is for you, it is for college women, for women starting out in the workplace." These words reflected many of Sandberg's efforts outside of her role at Facebook: she is a supporter of the women's network, Levo League, and an advocate for women's rights with several philanthropies, among other movements. Sandberg made it clear that we, as college women, have the most to gain from her message. Yes, a stay-at-home mom or a 30-year-old bachelor can internalize the tenets of Lean In, but for most of the college audience we still have the rest of our careers to apply these tenets. And Sandberg expects us to apply them every step of the way.
One of the main critiques I have heard from the students around me is "She's not speaking to everyone." Well whether or not you feel that way, I think what is most important but also incredible about her message, is that it has sparked an ongoing conversation about gender equality, ambition, and not being afraid to face your fears. Sandberg's message has provided a forum for anyone of any age to talk about these issues. Her message is a platform for discussion, a discussion that many college students are afraid to have. Yes, in many college classrooms -- mostly in gender or women's studies courses -- these topics have been discussed at length, but it was never the norm to talk about our future ambitions, our opinions on gender equality and the like. In the weeks following Sandberg's visit to campus, more and more I have heard students talking about Lean In and their opinion. And these opinions enable each student to think about their own future in a meaningful and powerful way.
To my classmates who continue to make jokes about doing laundry or leaning in, please keep joking! I mean this quite seriously; it is crucial that we keep the conversation going, especially as we throw off our caps in a few short weeks and dive headfirst into the all-too-real 'real world.'
Connect with Carly on Linkedin to continue the conversation, or read more in the Women in Business blog.