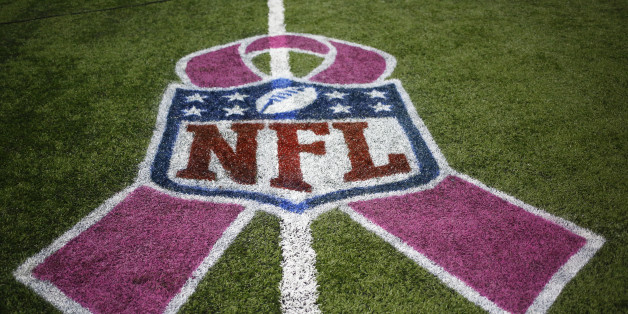 I have been a loyal football fan since I was a child. By 7th grade I knew the name of every player on my favorite team, which happens to be the New York Giants. When I was studying abroad and they were in the Super Bowl, I cheered for them from Italy. I love going to a game when I can, and the sound of a football game on the television on a Sunday afternoon brings with it a flood of good memories and good feelings. My children have team jerseys and helmets. Now, a single mother, I still put on the game, because I like it. But, frankly, you are pissing me off.
I turned on the Jets game on Sunday afternoon and was appalled by the amount of breast cancer pink. It was everywhere... on socks, shoes, gloves, towels, baseball hats, jackets, helmets. The ribbon was even on the darn football, which the camera made sure to zoom in on. And worse, the NFL logo was snuggled right into the middle of the pink ribbon. I thought, "Are they serious?"
I was not moved, or touched, or for a moment feeling forgiving of the recent disgraces and double standards brought to light. Every spot of pink seemed to be an empty apology, but I wasn't buying. I think it is unthinkable that an organization like the NFL, in its current state of disgrace, and with such clear indifference and disrespect for women, should have even been allowed by the American Cancer Society to exploit breast cancer awareness month as a means to fix it's much bigger problem. When other sponsors are pulling out, why on earth would a cause so literally close to the heart of women, and such a serious and real health issue for women be allowed to step in. If anyone had worn it for personal reasons, in specific honor of someone they loved who was touched by it, that would have been not only respectful, but quite powerful. But to slap it on everyone and everything? I don't think so. The marketing folks got that one wrong.

This survivor says no thanks, NFL. Go clean up your act somewhere else, not on my turf. Start from the inside out, end the double standards. Hold your players accountable for their behavior. They get nice big paychecks and many, many perks. If they want them, they should earn them on and off the field, like everyone else. Hold them to to a reasonable code of conduct. Stop believing it's all OK as long as they don't get caught. It's not OK, and you've been caught.
Take off the pink, you don't deserve to wear it.