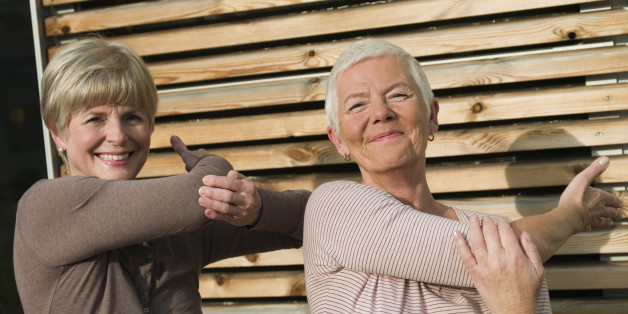 I was delighted to learn that "Menopause the Musical" is getting excellent audience attendance. Even on a snowy evening last week, more than a thousand people went to see the performance at Syracuse. It is heartening to think that women are no longer shying away from this subject.
Women today appear to be adopting a more positive approach to the menopause. This is half the battle. With longer life expectancy, women need to accept that they will probably spend almost half of their lives post-menopause and once the pesky symptoms pass, they can look forward to having greater energy and more confidence.
For many, the menopause is certainly not a laughing matter but, armed with strategies and information to help combat certain symptoms and discovering the huge support network that is available for them, those ladies can have hope.
Although there are approximately 34 symptoms associated with the menopause, you might only suffer one or two of them or indeed, like many women, sail through the menopause without any difficulty. (Some women are lucky.) For those of us who are less fortunate, here are 10 light-hearted suggestions to help you through the menopause. They should prove to be a distraction and a challenge but they all come with rewards, and will help alleviate some of the symptoms you might experience.
We don't need to fear the menopause. After all, laughter and having fun will help too. So, if you can't get to a performance of Menopause the Musical try some of these options instead:
Dive with sharks
Scuba diving is ideal for fitness, restoring mental balance and boosting confidence - and you don't need to go to the Caribbean or the Red Sea. You can get your qualifications with PADI or BSAC in a local swimming pool. Brave souls can dive with sharks at SeaWorld -- just give them 'that' look and they'll stay well away from you.
Try it! Experiences at Red Letter Days around £250. Training information from padi.com and bsac.com.
Stand-up comedy
Special comedy courses will help you prepare for and face an audience. You will gain more energy and confidence. On top of this, laughter is a terrific stress release and apparently self-assuredness and quick wit are sexy.
Try it! Courses and home programs from American Comedy Institute and intensive course throughout UK at Laughing Horse Comedy.
Graffiti
Join the growing number of women who are gaining ground in the graffiti and street art scenes and re-discover your inner rebel. Not on your neighbor's garage door though! Or on your other half's garden shed -- it takes ages to scrub off.
Try it! Buy spray paints from graff-city.com -- around £2.99 a can ($4.91).
Clay pigeon shooting
There are physical, psychological and social benefits from shooting clays. It will help you develop focus and surprisingly, despite the noise, will help calm you.
Try it! Contact the Clay Pigeon Shooting Association at cpsa.co.uk or cpsa.com
Pole dancing
An increasing number of women in their 40s and 50s are taking up pole dancing. Endorphins released in this activity reduce anxiety and depression. Indeed, many older pole dancers report feeling significantly healthier and happier. It greatly boosts confidence, self-esteem and nearly all women who take it up report feeling more attractive and sexy.
Try it! Poles and equipment available from Amazon. DVDs and classes throughout USA and UK.
Track day racing
Ideal for releasing pent up frustration. Jump into a performance car, gun the throttle and leave others in a cloud of exhaust fumes. Women make good racing drivers because they listen to instructions. At least, I think that's what my instructor said as I steamed around Donnington Park, overtaking everyone at high speed and yelling, "Power!"
The adrenaline kick it gives you is an added bonus. It boosts confidence levels and you can wave you certificate in front of your other half's face the next time they complain about your parking ability.
Try it! You can drive Ferraris or even muscle cars at the 360 Ferrari Experience with locations throughout the U.S. Cost approx. $299
Wine tasting
Wine promotes brain function in older women. Take up a course and savour your glass. Go the whole hog and become a sommelier just like one of my friends. She trained in Italy and has now started a new career.
Try it! Courses at Decanter.com
Paragliding
I have been assured by female friends that the sensation you experience while paragliding is unbeatable. Excellent for confidence building, calm and giving you a sense of achievement.
Try it! British Hang Gliding and Paragliding Association bhpa.co.uk or The U.S. Hang Gliding and Paragliding Association www.ushpa.aero
Tai Chi
Numerous studies attest to the benefits of Tai Chi for the menopause from reducing bone loss to reducing anxiety and depression. It also helps ease muscle tension and improves balance and strength. Sadly, I kept dropping my ball of energy.
Try it! The Tai Chi Union for Great Britain taichiunion.com. Or call 0141 810 3482
Taoist Tai Chi Society of USA for classes throughout the USA usa.taoist.org
Juggling
Juggling is not merely for entertainers. It's an aerobic exercise that improves core strength. The focus required to toss multiple objects from hand to hand can be a stress-relieving distraction. (Provided you aren't juggling machetes or torches.)
Juggling is gives your brain a workout, improves hand-eye coordination, reflexes, peripheral vision and a host of other motor skills.
Try it! Oddballs has everything you need to take up this hobby. Ships worldwide. www.oddball.co.uk... Or call 00 44 273 594748