When you think of David Letterman there are probably a few things that immediately come to mind: his top ten lists, his famous late night war with Jay Leno, his post-9/11 return, or even Rupert the deli guy.
What's sometimes forgotten is the host's long-time tradition of breaking new bands.
Back in 1983, Letterman introduced a young band from Athens, Georgia to network audiences, and things went pretty well for them after that. He was also responsible for the network television debuts of They Might Be Giants, Sonic Youth, and the American debut of Amy Winehouse, among many others.
More recently, Letterman shared his stage with Brooklyn-based We Are Augustines, an impassioned indie-rock powerhouse that rose from the ashes of a previous incarnation called Pela.
When a band is forced to quit before achieving mainstream success, the idea of giving it another shot can seem insurmountable. Indie band audiences are often as fickle as they are intrepid, and a few months out of sight can be tantamount to death.
In the case of Pela, however, there was a story that had not yet been told, as well as a small army of faithful who needed to hear it. The band folded after numerous professional and personal setbacks, including the tragic suicide of lead singer Billy McCarthy's brother James. But when McCarthy and Pela bassist Eric Sanderson reformed as We Are Augustines, their audience was ready and waiting.
The resulting album, Rise Ye Sunken Ships, is as much a love letter to survival as it is anything else. Emotional, self-aware and fearless, it's a collection of anthemic songs that could have only been created by people who struggled to see them become a reality.
According to McCarthy, "It's a big relief. In between the last band and this one there were all these questions. 'Whoa, I'm in my 30s and it didn't really happen... it kinda did.' That kinda is really haunting."
You wouldn't think a network television performance would give you any inkling of that kind of backstory. However, when David Letterman greeted the band after they finished tearing through "Chapel Song," the first track on "Rise Ye Sunken Ships," that's exactly what happened.
"You know, ladies and gentlemen, what they're trying to tell us is life is an ocean and we are all ships," explained Letterman, momentarily causing a few titters in the audience who was expecting a punchline. "If your ship has sunk don't despair, don't lose hope. Rise, ye sunken ships."
The host inviting you over to chat after your performance or walking over and shaking your hand is a well-known indication that things went well. But Letterman taking a moment to make a sincere statement about what a heretofore little-known band's album means is something you simply don't see everyday.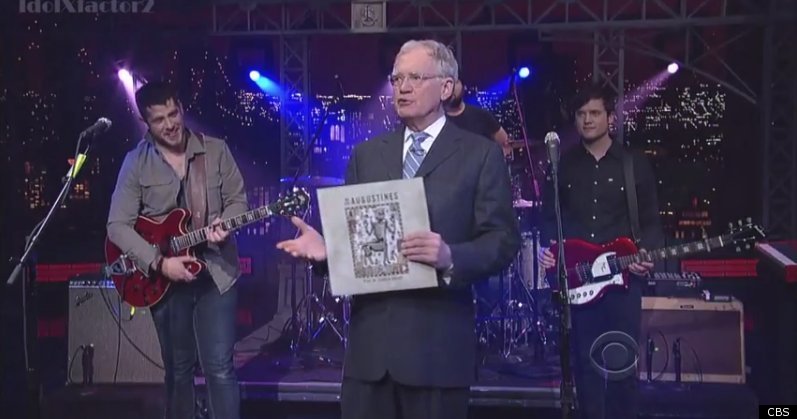 I asked the band about the experience and, as you might expect, it was fairly overwhelming. Sanderson explained the pressure and then release of that four minutes on stage:
There was a lot of pressure to do Letterman. Being a musician, you watch all these bands on television and a lot of the time, the first time you see the bigger bands is their Letterman performance. So it was a lot of pressure and it's live in front of millons of people. But I didn't feel it. I kind of was able to dodge the pressure the whole week leading up to it, and even when we stepped on the stage and started playing I felt confident. By the time we got to the first chorus I was like, 'We fuckin' got this.' And then it ended and I got hit by a ton of bricks, and you see it on the video. I almost started crying, and it wasn't in a romantic way. It was just all that pressure I had been fending off hitting me all at once. So when I heard him saying 'don't despair' it was so surreal.
McCarthy felt the same, but also explained the confusion of that unexpected moment:
Yeah, I was right there with Eric. When he said that stuff, I caught a little bit. The weird thing about that studio is it's all lapel mics, and the monitors are about 30 feet out in the audience, so we couldn't hear it. It sounded like he said 'don't give up hope' or something and I almost started crying. After everything we've been through, it's like the world was smiling on us now."
McCarthy also let us in on a little bit of TV magic that caught him by surprise. "On TV they will make a large vinyl-size album to hold up. But the cover was on both sides, so when he was standing there I thought he had it backwards because the cover was looking at us, and I was like, 'Fuck, just our luck.'"
Check out the clip of the performance and Letterman's send-off below. We Are Augustines are currently in the middle of a North American and European tour. You can catch them playing at Coachella this month, and check out their full list of dates at WeAreAugustines.com.