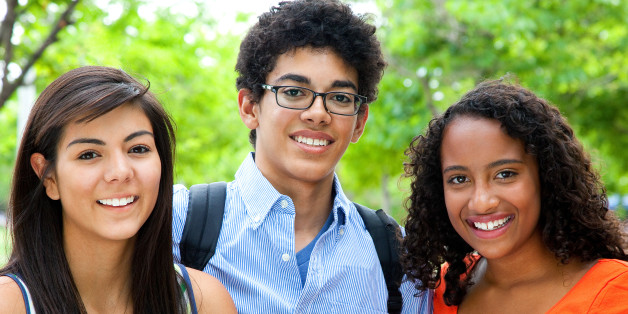 In light of the 50th Anniversary of the March on Washington, many people are reflecting on the advances in equality we've made in the last half-century. Decades ago, it would have been hard to believe we would be electing our first African-American president in 2008, and reelecting him four years later. Or that six African-American CEOs would head Fortune 500 companies this year, including Ursula Burns, the first African-American woman to lead a Fortune 500 company.
There have also been great gains in equality for members of other races. There are currently eight Hispanic CEOs of Fortune 500 companies, and Native American Entrepreneurship was recognized in the Inc 5000 feature "Top 10 American Indian Entrepreneurs."
Our country has made strides to close the racial divide, but we still have a long way to go before we reach equality based on race, gender, and economic standing. Though 45 percent of Americans believe the country has progressed "a lot" toward equality over 50 years, half of Americans believe "a lot" more still needs to be done, according to a recent study by Pew Research Center.
The American people are right that an incredible amount of inequality persists between races. The numbers are staggering:
Examples of racial inequality are especially evident in terms of education and educational success. The national average high school dropout rate is 7.4 percent. For Caucasians and Asians, this percentage decreases. On the other hand, for African Americans, Hispanics, and Native Americans, this percentage increases, and in the case of Hispanics more than doubles.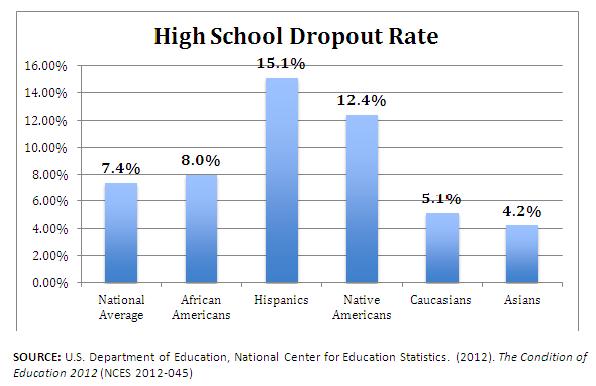 The educational inequalities in dropout rates persist when looking at college-level achievement. Nationally, 28 percent of adults over 25 have obtained at least a bachelor's degree. In the case of African-Americans, this number dips to 18 percent of adults. It plunges to a mere 13 percent for both Hispanics and Native American adults.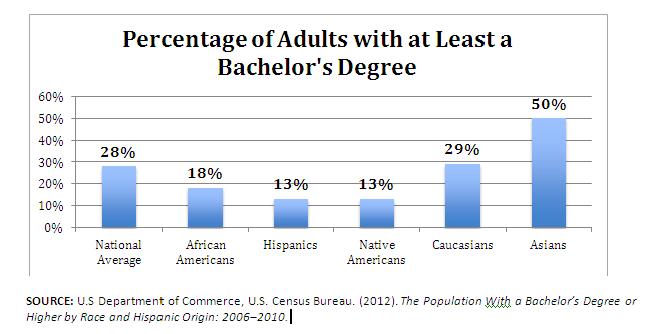 What should our vision be today? What would Martin Luther King, Jr. maintain for all Americans if he were here? I like to believe he would have these priorities, which would improve life for all Americans:
A nation without poverty. There are countries around the world who successfully eradicated poverty. In the most abundant country in the world, we can learn from them and maintain this basic human criterion.
A nation without rampant childhood disease. While we may not be able to wipe out all diseases, let's begin with the diseases of poverty: obesity, diabetes and a fast-food lifestyle which causes many ills. Let's hold a vision for all to learn about buying higher quality, nutrient-rich foods, eating and exercise habits, and physical and mental health.
A nation without high school dropouts. Not every 18-year-old is mature or self-aware enough to go to college straight out of high school, but every student should graduate from high school so they have more options for the future. My hope is that those who don't go to college out of high school will eventually see the value of the economic opportunities that a college degree affords--as well as personal connections, satisfaction, and accomplishment.
A nation that provides an equal education to all.In this knowledge economy, an education -- at least a high school diploma, but soon enough a college degree -- is critical to earn a comfortable living. Unequal access to early childhood education is the root cause of the achievement gap that starts before the first day of school and persists through college, leaving low-income students in the poverty cycle and higher-income students with more education and employment opportunities. While minorities are more likely to be affected by the achievement gap, people of any race or gender at the bottom of the socioeconomic ladder face inequality in their education, college choices, and career decisions.
A nation of people with a vision. MLK had a vision for all to be equal in the United States. If each person can look within themselves to understand what is valuable, sacred, honored within, they will be able to take those abilities into the world to accomplish and fulfill their own vision and highest purpose.
By working toward equalizing educational opportunities, our nation will move one step closer to achieving Dr. King's dream that "this nation will rise up, live out the true meaning of it's creed: 'We hold these truths to be self-evident, that all men are created equal.'"
As Americans, we are a proud and able people; we owe these outcomes to ourselves, our country and the world as a whole. The fight is far from over, but now is not the time to stand down. We are more interconnected than ever before. Now is the time to stand together and address the basic societal issues of our time by abolishing racism, equalizing learning opportunities, empowering minorities, and supporting one another to achieve our dreams.