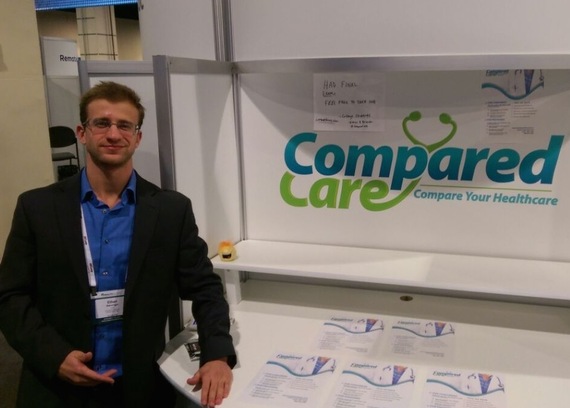 This holiday season, some people are facing health care decisions for themselves or a loved one. And for those not facing those decisions now, inevitably they will be in the future. Ethan Steininger created a free Web platform that connects consumers to high quality, affordable health care providers. Users may search a procedure or service and obtain a list of providers in their area along with each provider's typical expense and location; soon, each provider's quality will be added to the list.
While at the University of Maryland-sponsored business competition, The Cangialosi Business Innovation Competition (CBIC), Ethan Steininger entered his concept for Compared Care and won. Ethan's company is now working on a quality metric that takes into account every important factor patients consider when selecting a care provider. Below is an interview with Ethan about his business and its growth.
How did you start Compared Care?

A friend's father had undergone an expensive procedure in early March 2014 and had incurred $20,000 in debt. Upon receiving the bill, my friend and I did some research and made a lot of phone calls. We discovered that the man who wrote the book on this type of procedure was operating a couple states down and charged significantly less.
There was no simple, free tool to allow patients to compare health care services among the highest quality providers. I designed a landing page and started collecting emails. I started surveying potential users to determine the most important factors when selecting a health service, and to no surprise, cost was among the highest. In the user's mind, the providers' education and years of experience were also indicators of quality.
There are plenty of stories about people going into debt because of unpaid medical bills. Even common services such as MRIs can vary by thousands of dollars within the same regions, such as Baltimore vs D.C. Patients are typically unaware of this price disparity and don't have access to a convenient, easy-to-understand tools for comparing health services.
After winning in the UMBC-sponsored business competition, I was awarded incubation space (Betamore) as well as some cash for incorporation and setup fees.
Where can people use Compared Care?

Compared Care has over 4 million doctors across all 50 states as well as over 10 million procedures provided. Compared Care acts as a lead generation platform for providers looking to increase their revenue and decrease staffing. We have several marketing tools for providers and allow them to post their services in a simple, optimized format. It is in the providers' best interest to post their services because unpaid bills lead to costly collections services.
Where do you get your data?

We get our data from a variety of sources including insurance companies, hospitals, medical billing partnerships and provider uploads.
What are some challenges with your business?

Time is the biggest challenge. The team members are all full-time undergraduate students and have had zero funding. We have been applying to several health care accelerators in Baltimore and New York City, which are designed to help health care startups like us grow. My good friend Brandon Walsh and I have very complementary skill sets, which make us a killer team. Brandon and I have also presented at several local conferences and competitions to spread awareness.
For those who may have health care or recently signed up for health care through HealthCare.gov, how can Compared Care help them?
We are working on a proprietary quality algorithm to help patients select the highest quality providers. Our focus, as of now, is on out-of-network specialties. These are providers who do not typically accept insurance. Some examples are: dentists, plastic surgeons, eye doctors, holistic providers, home health care, etc. Patients are usually responsible for the majority of these bills, which make them an ideal candidate to "shop around" for their health care.
What is your undergraduate degree in and how are your studies helping you with your business?

My degree is in Health Administration and Information Systems. I worked at a medical billing company, which helped me gain insight into the reimbursement and payment process. I also worked at Johns Hopkins Hospital, which helped to gain insight into the clinical aspect of health care. Brandon is a computer science student who operated a successful Web design firm.
What advice do you have for aspiring student-entrepreneurs?

Don't be afraid to share your idea. Too many aspiring entrepreneurs are so afraid of sharing their idea for fear of somebody stealing it, but many myths surround this:
Anyone that hears your idea probably has more important things on their plate.
The idea is the least important component of a successful business. Execution is all that matters (look at the Snuggie and Pet Rock).
Getting your idea out there allows for more expansive critique, which is your most valuable asset at the startup stages.
Marketing is essentially sharing your business (which is imperative), so you have to start somewhere which brings me to the next and easiest starting point: Register a domain, get a landing page up, collect emails, start an email list, and survey your list, but do not spam.
How can others learn more?

You can visit the Compared Care website at https://comparedcare.com. As well as follow us on Twitter and Facebook. I love hearing what people think and they can email me at: ethan@comparedcare.com.
I hope you will be inspired by Ethan's ingenuity, passion, and spirit to think through your health care options. While you're proactively caring for others, we hope that you will take the time to value the gift of your health and the choices you make to manage it in the best way possible. Thank you for sharing your story, Ethan. Happy and Healthy Holidays.