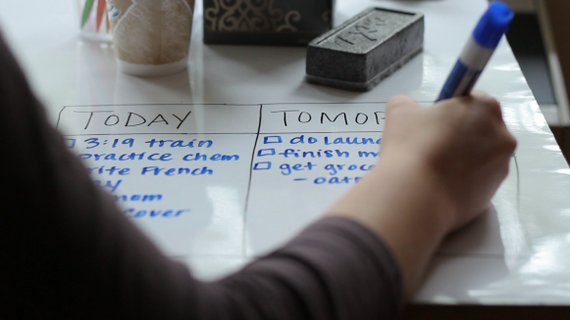 Think you don't have the time or experience to start your own business? University of Pennsylvania freshman Brandon Saw became an entrepreneur one week before starting college. Three months later, Brandon launched his Kickstarter campaign raising over $27,000 and now he's back home speaking to students at the University of Washington on being a successful young entrepreneur creating work for yourself and others.
What made you want to launch a product?

The number one thing I wanted was the experience. I was actually looking at going into business in the future, so I thought launching a small Kickstarter would be a good way to learn some basic marketing and manufacturing. And it has definitely paid off in this area, more so than I ever imagined it could. From finances, to people skills, to graphic design, running a Kickstarter campaign teaches you a little of everything.
How do you run a Kickstarter while being a full-time student?

It's definitely a challenge but it's manageable. It can feel easy to let the business overwhelm my time but I have to remind myself that my grades are a priority. And I find that even when I put my studies first, I still have time every day to manage Wrap. When I don't let my tasks fill my time, I find that I have plenty of time to get things done. And being a university student has lots of benefits as well. There's a lot of great faculty here that let me bounce ideas off of them, one professor has written several papers on Kickstarter dynamics, and another who has actually launched his own and raised $65,000.
Why did you choose Kickstarter as a platform to launch Wrap?

I knew I wanted to launch on Kickstarter from very early on. Crowdfunding is an incredible way to get eyes on what you're doing, essentially for free. It makes it very easy to see if there's a demand for what you're doing and get a proof-of-concept. There were only about three months between the first idea of Wrap, and when we launched our Kickstarter. Just enough time for me to make sure I had all the logistics covered. And I only had to spend a little over a hundred dollars to get it rolling, and almost all of it went towards prototyping. The rest was on domain names, boosting Facebook posts, and other small stuff. You can put together a good-looking Kickstarter page and project without investing a ton of capital, and get the same exposure as products that have been through years of design and refinement.
How did you get Wrap off the ground?

I just tried to get the ball rolling as fast as I could. I had the idea about a week before move-in day, and three days after I was moved in I had the first prototype in my hands. The next step was taking the time to set up a good-looking website. Having a link with a few pictures of your product, along with a couple selling points, helps tremendously in having people take you more seriously. From then on it was just getting feedback from as many people as humanly possible, and working out the logistics in order to launch my Kickstarter.
What is the biggest challenge of being a 'student entrepreneur'?

Sometimes it gets easy to doubt yourself. Doing a project like this isn't the norm in college, so you get a lot of peers and others that don't take your product seriously. And it's not the product, it's that they don't believe a college student could really have a great idea. Having critics like that is just part of the game when you start at this age. There are a lot of people who didn't take me seriously until I could concretely show some success.
What's the best advice you'd give another student entrepreneur?

Don't be afraid to reach out to people. I've emailed other local students with business ventures and asked them if they had time to get lunch with me. I've cold-pitched executives at major companies and a lot of them were actually very willing to help. I've gotten some invaluable legal advice from just calling a lawyer who's a friend of a friend. It never hurts to ask, so really tap your network, which is bigger than you think. It's pleasantly surprising how many people are willing to help out a student entrepreneur.
What's the best advice you've received?

A professor told me to make sure I'm aware of the opportunity cost of my time. As a student, there are a lot of new opportunities that we could be exploring besides trying to launch a business. So while it's great to be passionate and dedicated to what you're doing, don't be so consumed with it that you can't have a balanced lifestyle. I'm very driven and ambitious, but I have to remind myself that it may not be worth it to work all day and night for a week just to make a deal that's worth a few hundred dollars. Be aware of what's practical and worth your time.
Who is your business role model?

Definitely Elon Musk. And that's not just because he's a Penn alumni. It's obviously incredible how he has started and owned so many different influential companies, but I especially admire his vision. He really wants to use his businesses to change the world, and not in a clichéd way. PayPal changed how transactions occur, SolarCity revolutionized practical, sustainable energy, Tesla is breaking ground in environmentally conscious electric cars, and of course Space X is looking to make the greatest advancement in technology yet. It's amazing how all of his endeavors aim to make a huge impact on the world.
What's something you wish you had known before you started?

You're going to get 'nos'. You're going to get people who don't like your product. And you just have to know that that comes with being an entrepreneur. We've all heard this before. We've heard stories about how startups like Microsoft and Facebook got rejected, so we think it'll be really easy to brush off. But at one point someone whose professional opinion I valued very highly essentially told me I was wasting my time, and nothing can really prepare you for that. Have confidence in what you're doing.
What has been the most enjoyable memory of launching Wrap?

It was definitely when the first 'stranger' backed my project. I remember the Gmail notification popping up on my screen, and the thrill (as strange as it sounds) of not recognizing the name. There was something immensely gratifying in seeing someone who was willing to pledge their money solely on the merits of my idea and story.
What's a lesson you've learned so far that other student entrepreneurs can learn from?

Low hanging fruit usually isn't low hanging fruit. There have been a lot of opportunities that sound great and seem to solve a lot of problems, but they either don't live up to expectations or they don't pan out. Be practical and (at the risk of using two idioms) don't count your chickens before they hatch. A lot of entrepreneurs think there's just one thing holding them back. If only they had this much capital, or if only that media source featured my project. I think that a lot of times this wishful thinking leads me to making excuses, and it's a better use of my time to do the best with what I have.
Brandon inspires me as I balance a full-time job, while organizing the GlobalMindED Conference with a team of dedicated volunteers and board members. I'm also reminded of my transition from corporate America to my company LifeBound, when I held a day job while laying the groundwork for my own business. Much of our new economy will be fueled by the risks, commitments, and efforts of entrepreneurs like Brandon who learn how to do at least two big things at one time.