When Toby Emmer's father was diagnosed with Parkinson's with dementia, she knew she'd need to travel from New York to Cleveland frequently to care for her dad who had sacrificed so much for her. "The day I told my boss that I needed to take some time off to be with my dad," Toby said, "I knew I would get full support." She used the nation's unpaid leave system, FMLA, to secure her job. Paying her bills was another matter. Being there for her dad took a toll on her finances that she's not recovered from since. What Toby desperately needed was paid family leave that can be used to care for self, welcome a new baby or comfort a very sick family member.
Toby shared her story with a packed audience who came together in late April to #MakeNYNext for paid family leave. "The Empire State wants to join California, New Jersey and Rhode Island in making certain that workers don't have to choose between the job they need and the family they love," Toby said. She worries about the financial security of families that don't have paid family leave.
Toby is right to worry.
As we look toward this Mother's Day, with women nearing 50 percent of the paid workforce, families depend on mothers earning a living wage. That's why most women and men call for policies that help workers keep their income while they're caring for themselves or a loved one.
The U.S. stands alone with Papua New Guinea in having no paid leave program for new mothers. By comparison, all of the countries we trade with and a total of 178 nations across the globe have a form of paid family leave, usually for women after childbirth but in many countries, for men as well.
Today we are seeing a national push for paid family leave. The Family and Medical Leave Insurance Act (FAMILY Act) was introduced by Senator Gillibrand (NY) and Representative DeLauro (CT) calling for 12 weeks of paid family leave to be used to welcome a new baby, recover from extensive illness or be there to care for a sick family member.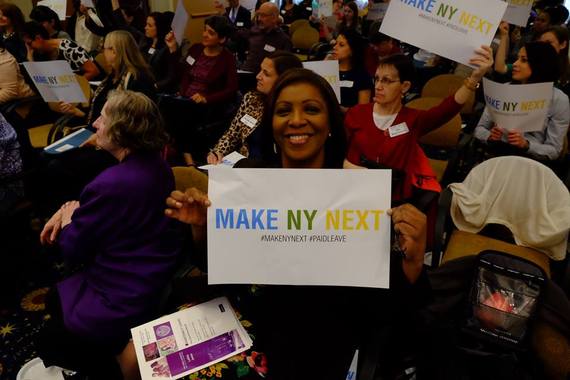 Credit-Jim Tynan, 1199UHE
That's not all moms need. While women make up almost half the workforce, they are over-represented in low-wage work such as childcare, food services, retail and healthcare. These industries and communities have a lot in common: low wages, lack of paid sick days; unfair scheduling practices, unequal pay and unsafe policing.
What's a Mother to Do?
Fight for Paid Sick Days
Nearly 10 million workers have won the right to take paid days to care for a sick child or to nurse a cold. That's because they live in the 3 states and 18 cities that have passed a law requiring employers to permit workers to accrue sick time. The Healthy Families Act is the federal bill that if passed would permit workers in firms of 15 or more to earn up to 7 paid sick days or 7 job-protected days for those in smaller firms. These are job security policies that protect workers from being fired or docked pay just because they have a cold. They also go to the heart of public health needs. Paid sick days are your mom telling you to "wash your hands" - on steroids.
Demand Fair Schedules
Too many workers, especially women, are victims of poor scheduling practices. Either they don't get enough hours or their schedule is unpredictable, ensuring that they can't add a second job, plan childcare or attend school. The Schedules That Work Act allows an employee the right to request that the employer change the terms and conditions of employment relating to hours; the location of employment; the amount of notification for work schedule assignments; and minimal fluctuations in scheduled daily, weekly, or monthly hours.
Raise Wages Across the Nation
For most Americans, wages have been flat for 30 years. It's clear why fast food workers have been striking. and why they've been joined by retail, childcare, homecare and other workers who call for decent wages, full-time work and the right to join a union. These basic rights are critical to the foundation of our economy because we know that more money in the pockets of workers means a stronger economy and more secure families.
Moms also want to see passage of the Paycheck Fairness Act and an end to pay discrimination. Finally, while these issues are part of a broader restructuring of our economy, there is something more fundamental to all moms.
The survival and prosperity of our children is basic to who we are. There is no law yet, that goes to the heart of this fundamental problem. But there are too many lives lost, snatched away by gun violence, including many women and girls who've also been murdered. Join the movement for #BlackLivesMatter .
A small request for Mother's Day - A fairer, stronger and safer society