Peggy Young worked for UPS when her doctor ordered her to stop lifting heavy boxes of 20 pounds or more. UPS denied her any accommodation, forcing her out on unpaid leave, canceling her medical insurance and kicking off a seven-year legal battle.
Today Peggy had her day in court -- the Supreme Court.
She was there to stand up for the rights of every woman who has been pushed out of a job due to pregnancy. She stood up for families denied mom's wages when economic insecurity can be most devastating. And she stood up for all Americans who've lost their healthcare because an employer fired an expecting mother who requested basic accommodations on the job.
Peggy stands on the shoulders of millions of women who've been discriminated against simply for being pregnant on the job, despite the fact that the Pregnancy Discrimination Act of 1978 (PDA) addressed these egregious actions 36 years ago. The PDA says that employers must not discriminate against pregnant women who request work accommodations that are available to other workers.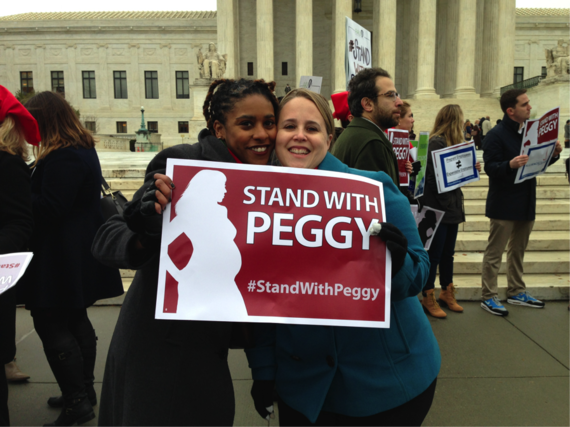 Kierra Johnson from URGE: Unite for Reproductive & Gender Equity and Ruth Martin from MomsRising #StandWithPeggy outside the Supreme Court.
Today, employers are known to accommodate workers with lifting restrictions due to back surgery, standing restrictions due to knee surgery and driving restrictions due to the incurrence of DUIs. But reducing lifting to ensure safer pregnancies and healthier children? No dice.
Peggy is not the first to draw attention to the issue.
There's no way to know how many women have been affected. The list of pregnant moms who've been denied accommodations by employers -- many, who easily grant other workers, often men, equal accommodations for their illness -- is long.
In the wake of several lawsuits since Peggy Young, UPS changed their policy to accommodate pregnant workers. Just last year, Walmart amended their policy making it clear - at least on paper - that they would provide better pregnancy accommodations. In 2008, the Americans with Disabilities Act (ADA) was amended to include temporary disabilities. And recently, the Pregnant Workers Fairness Act was introduced to further clarify the pregnancy accommodation language in the PDA, making it unmistakably clear that it is illegal to discriminate against pregnant workers.
While the Supreme Court's decision in Young vs. UPS is yet to be determined, the societal trend is clear: we're moving toward greater respect and accommodations for pregnant workers.
At Wednesday's rally, Representative Keith Ellison (D-MN) addressed advocates who #StandWithPeggy and talked about how the lack of basic rights like pregnancy accommodations, paid sick days, health care and equal pay disproportionately impact low income women of color. And how we, as a society, can and must do better.
Who knows whether the Supreme Court will uphold the pregnancy accommodation clauses in both the ADA and PDA. We only know what's just and fair for pregnant workers.
We want justice for Peggy, and we want it now.